11 Plus Size Culottes For Your Inner '90s Mom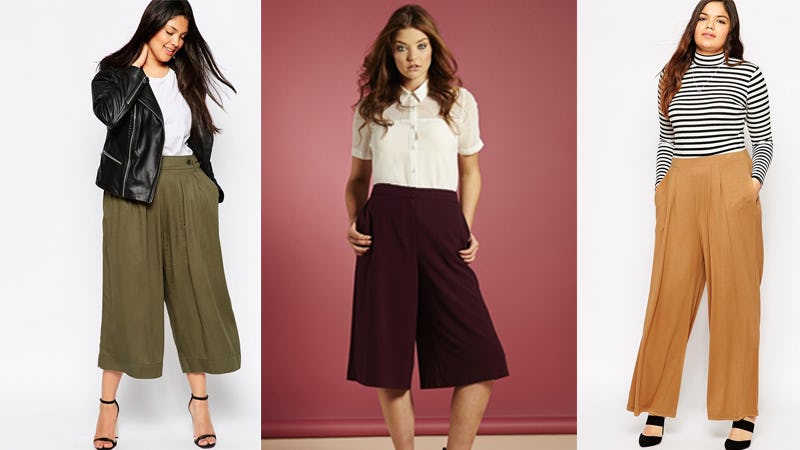 When I think about culottes (and plus size culottes at that), I think about my mother. Back when I was a kid in the early '90s, my mother used to drive my siblings and I around in a 1990 Chrysler Town & Country, screaming at all of us to shut the hell up in the back seat because she was trying to drive. The only thing that was more magnificent than her permed pixie cut was her mustard yellow culottes, which she boldly wore despite the fact that she was (gasp) a size 14.
My mother's sartorial choices in the '90s have certainly influenced my fashion aesthetic today (I still ride for a statement shoulder), but none more so than the culotte. More specifically, I am completely enamored with the idea of culottes on a plus-size woman, if only because it's one of those things that's supposed to be "against the rules for plus size women." My years of barreling towards self-acceptance with reckless fashion abandon have taught me that in truth, there are no rules. Even when it comes to swathing your ample lower half with yards of fabric, wide-cut legs, and a high waist.
Since my love for culottes has never abated, I have relied on thrift stores to supply me with the wide-legged wares. This summer, things have changed. Culottes are back in a big way, and that means that plus-size culottes are becoming more and more accessible, even though we still have to be a little bit creative in tracking them down. Here are seven of my favorite plus-size culottes available now. None of them are mustard, but my mother would still be proud.
1. The White Knights
White Crinkle Viscose Culottes With Half Elasticated Waist, $43, Yours Clothing
Though these bad boys might as well be renamed the "The Epic Stain Magnets," if you're able to pull them off without spilling wine, coffee, or any number of brightly-colored condiments on them, you're going to look amazing. Another great thing about these is that they embody two different plus size no-nos: 1. Culottes. 2. All white. Wear these with pride and continue to slay the masses with your relative awesomeness — just make sure none of them spill anything on you while they hit the ground.
2. The Coolest Culotte
ASOS Curve Co-Ord Linen Culottes in Stripe, $68, Asos
These festival-ready culottes are unlike any others I've seen, because they've got those fun stripes. However, what really makes these stand out is the fact that they are made of linen. Linen and culottes are excellent bedfellows: The wide legs of the culotte feel at home in summer environments, and the linen prevents your butt from sweating. This is a win-win situation made even better by the fact that it has a matching crop top. Now you're really breaking all the rules.
3. The Business Casual Checked Culotte
Soft Pleated Culotte, $99, Eloquii
Checks were huge this year, and though their popularity is generally dying down, it makes sense that this type of print would bleed into the summer months. Frankly, I couldn't be happier. The monochrome checks on these culottes make them totally appropriate for the office, and the bright white works for the warmer months. If you wanted to transition this look from day to night, you could keep the culottes, add a black crop top, and let your coworkers gawk at you while you sashay out of the office just in time for happy hour.
4. The Bold And The Beautiful
Claire Tribal Print Chiffon Beach Trouser, $20, Boohoo
I'll admit it: Prints like this aren't exactly my jam. However, there's something about the salmon and grey color combination, mixed with the abstract stripes, that makes me want to put these on and head to the beach for some serious lounging. All you would need with these culottes is a floppy beach hat. Seriously, don't even wear a top: No one will really notice, they'll be so busy staring at these amazing pants.
5. The Burgundy Dream 'Lottes
Culotte Shorts, $60, Simplybe
First of all, could we start collectively calling culottes, 'lottes? Just to see how it feels? No? Anyways, these culottes from SimplyBe are perfect, and I love the styling on this model. I would probably change the black booties for a different shoe, but overall, I think this image sells what these culottes are trying to represent: A tough and stylish woman who is ready to kill it at the office.
6. The Denim Dreamboats
High Waist Wide Leg Jeans, $63, ASOS
Here is the part of the list where we begin to get creative. The trouble is, though plus-size culottes are available, there are still relatively few compared to straight-sizes. Very surprising, isn't it? (No, it is not.) In order to find more options, I also searched for terms like "wide leg." I'm glad that I did, because that's when these popped up. While they don't create the billowy effect that I like my culottes to have, they are wide enough to pass as a culotte and hit at just the perfect length. These would also be ideal for people who want to experiment with culottes, but aren't ready to commit to such a tremendous amount of fabric.
7. The Little Culottes That Could
Pant with Wide Leg in Camel, $40, Asos3
Alright, I know: These are not culottes. These are wide-leg pants. However, I implore you to consider two things. One, as I mentioned before, true plus-size culottes are limited on the market right now. Two, these can easily (and I mean easily) be hemmed to create culottes. In fact, I happen to own these, and they are almost too much fabric to be pants. Taking these to a tailor to be transformed into a 'lotte would be incredibly cheap and worthwhile, because these all-jersey camel bottoms are truly a dream come true.
8. The Cool Blue Culottes
Navy Blue Crepe Culottes, $50, Evans
Crepe is one of my favorite materials, and these culottes are made with, well, a lot of it. They are the perfect shade of navy blue, and I could easily see myself wearing these with a white button-down and heels, or an oversized sweatshirt and my Birkenstocks.
9. The Abstract Culotte
Black Abstract Print Cropped Trousers, $85, Evans
This bold print will most certainly speak to many of you, and I love the fact that there are a variety of colors in the print to work with when it comes to styling them. I would also consider wearing them with all black, because these babies are wild enough to speak for themselves.
10. The Tough Girl Utility Culottes
ASOS Curve Drape Utility Culotte, $73, ASOS
As soon as I saw these culottes, I knew that I had to have them. While they aren't quite as good as my mother's mustard culottes of days gone by, they are structured in the way that I remember my mother's were: Pleated with a utilitarian edge, and with two very deep pockets. I have worn these both to work and to play, and found them to be incredibly comfortable and stylish at the same time.
11. The Wide, Slinky, Dancing 'Lottes
Flared Tie Culottes, $79, Eloquii
To me, these culottes represent how I like to live my life as a woman: I like to be salsa dance-ready, but I also like to have a built-in crotch for when I accidentally sit cross-legged on the floor. In other words, these culottes are basically like a great dancing skirt, but with a lot more practicality. Plus, there's a sash. Who doesn't love a great sash?
Images: Courtesy Brands