Star Lord Needs to Meet These Marvel Characters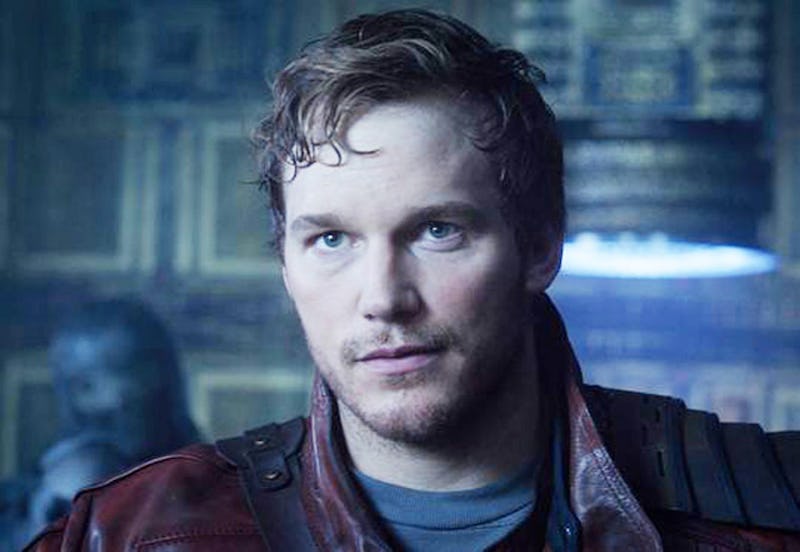 I love Chris Pratt, you love Chris Pratt, we all love Chris Pratt. The man formerly known as Parks and Recreation's Andy Dwyer is now well on his way to becoming one of the biggest action stars of our generation. Between his breakout role in Marvel's Guardians of the Galaxy as the quick-witted Star Lord (Peter Quill) and his turn in this summer's Jurassic World, Pratt is everywhere. The best part? His profile is still on the rise. In an interview with GQ, Pratt revealed Marvel's long term plans for Star Lord— sort of. "I'm tied to doing three more, or five more,Guardians of the Galaxy or whatever it is, you know, two more Guardians plus another couple..." Pratt said. So what does that mean exactly?
Marvel has two more Guardians of the Galaxy movies planned right now, which means Star Lord could potentially appear in three non-Guardians movie. Cool news or the coolest news? The two-part Avengers: Infinity War seems like the most likely option given Star Lord and his team's ties to space and the Infinity Stones. Honestly, I am not overly concerned with which movies Star Lord and Pratt will pop up in, I just want to know which heroes (and other awesome Marvel folks) he is going to meet. These are my picks for the eight Marvel characters I most want to see Star Lord interact with.
Iron Man
I cannot decide if Star Lord and Iron Man would love each other or hate each other. On the one hand, Tony would love having someone around who could appreciate his humor and need to rush into action. On the other, Peter and Tony's similarities could result in them driving each other crazy. Either way, the world deserves to see Pratt and Robert Downey Jr. sharing the screen at the same time.
Darcy
Aside from Pepper, Darcy is my favorite non-superhero Marvel character. She makes the Thor movies so entertaining. I also totally ship her with Star Lord in the weird alternate Marvel universe in my mind. Just imagine her introducing Peter to the joys of the iPod or the pair of them teaming up to tease Thor and Drax. It would be priceless!
Loki
Can you imagine Loki and Star Lord squaring off? Given their daddy issues and wicked senses of humor, I think they would be friends under the right circumstances. However, if they did end up on opposite sides of a battle, their showdown would be hilarious. Somehow, I don't think Peter's dance moves would distract Loki, but they would definitely amuse him.
Black Widow
Star Lord would have mad respect for Natasha. She is basically an Earth version of Gamora, and Star Lord was completely enamored with her. Peter would follow Natasha into battle, no questions asked because he recognizes a soldier when he sees one.
Nick Fury
Fury's recruitment speeches are legendary, but he would need to use a special technique if he wanted to bring Peter on board as one of the Avengers. I have a hard time believing Peter would join Fury's group without bringing along his rag-tag group of friends. This would mean Fury would have to talk to Rocket Raccoon, Drax, and Groot— oh, the hilarity that would ensue.
Ant-Man
Ant-Man doesn't hit theaters until July, but the character would fit in perfectly with the Guardians. Not only does he have an unusual skill-set (he talks to insects and gets really small!), but he was also a thief before he took on the whole hero gig. Peter needs a BFF, and I feel like Ant-Man could be the man for the job.
Thor
Peter visits a lot of planets, so why can't he stop by Asgard and run into Thor? Thor is not as oblivious to the ways of humans as Drax is, so he could actually have a conversation with Peter and show off Mjolnir. I also have a strong feeling that Peter would have a man crush on Thor— but then again, who doesn't?
Captain America
Poor, Cap. He would take one look at Peter and groan, "Another one?" Watching Cap handle two Tonys would be hilarious. For me, I mean. Cap would probably have a breakdown.
Images: Marvel; Giphy (8)