A New 'PLL' Moment Could "Break Twitter"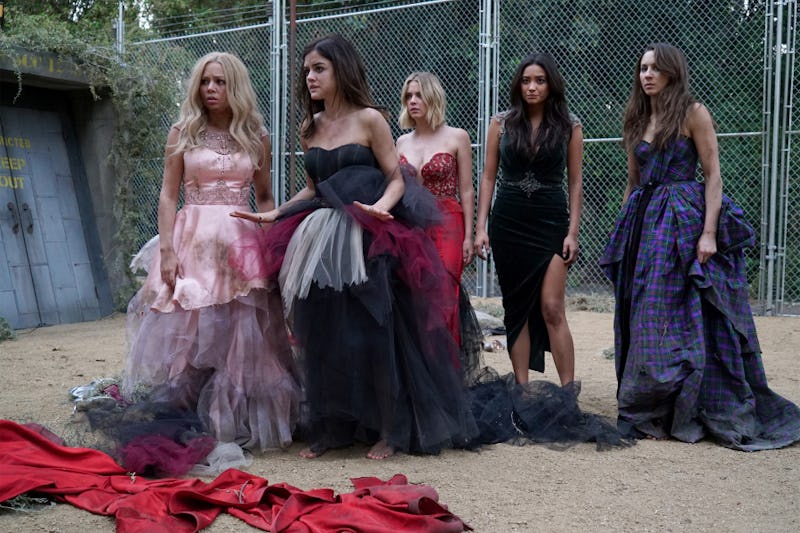 We're so close to Season 6 of Pretty Little Liars that waiting for it is complete torture — though it's definitely not nearly as bad as the actual torture that Spencer, Aria, Emily, Hanna and the recently "resurrected" Mona are facing in Charles' lair. When we last left our little liars, they were on the verge of escaping from A's dollhouse of horror, only to realize that the fence they wanted to hop to their freedom was electrocuted — because A really did think of everything. That was one hell of jaw-dropping moment, but according to PLL actress Janel Parrish's interview with ET Online, there's another insane Pretty Little Liars moment headed our way — and it's big enough to get every fan tweeting about it.
Here's what Parrish said about that OMG moment:
"I think the most unexpected moment is actually right in the very first scene of the season six premiere. Something totally unexpected is revealed in a scene that has already been shown and nobody would have possibly known that there was another angle to it. But the scene will be replayed and something will be revealed, and everyone will just be like, 'Wait, what?!'... I think just the first two seconds of season six will break Twitter."
I could come up with a million theories on what scene that Parrish could be referring to, but whatever it is, it's clearly big enough to send fans running for their phones so they can hashtag their freak outs. Of course, that's hardly new for Pretty Little Liars — most episodes could break Twitter with their weekly reveals. Here are the PLL moments that nearly broke Twitter way before the Season 6 premiere had its shot.
When It Was Revealed That Mona Is A
Fans of the book series could have guessed that Mona would be revealed as the girl behind the hoodie, but it didn't stop fans from freaking out about the It Girl's sinister nature.
When Maya Was Killed
We had just learned who A was, only to be swept up in yet another crazy mystery.
When Nate Was Revealed As The Killer
Like you really believed that Nate was Maya's cousin.
When Toby Betrayed Everyone
Sure, he was playing both sides, but still — is there anything more heartbreaking than seeing one half of Spoby in a hoodie?
When Ali Came Back From The Dead
We waited for years to learn whether Ali was alive or not, only for the answer to open up a million more questions.
When Ezra Looked Shady As Hell
No, Ezra wasn't really #EzrA, but we didn't know that at the time!
When Mona Was Murdered
Ugh, the feels.
...AND When It Was Revealed That She Wasn't Dead At All
Can you feel conned and elated at the same time? Because that's pretty much how I felt about this moment.
When We Found Out A's Real Name
WHO IS CHARLES?!?!?!?!?!?!?!
Image: Eric McCandless/ABC