You Can Now Smell Like Burt Rubber (Yes It's Real)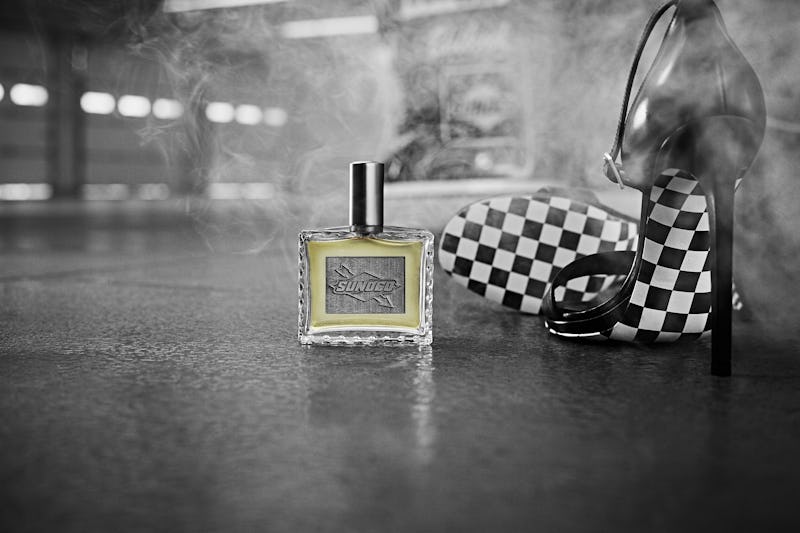 Have you ever pulled up to a gas station and thought, "man, I wish I could bottle up this gasoline and wear it on my skin as perfume"? Yeah, me neither. But believe it or not, you can now actually do just that. Sunoco is releasing a fuel-scented fragrance called Burnt Rubbér — yes, you read that correctly. Because who doesn't love the smell of burning rubber and gasoline? Duh. OK, it's a bit strange, but you have got to admit you're a little intrigued.
As the official fuel of NASCAR, IndyCar and the National Hot Rod Association, Sunoco wants you to experience the essence of racing with a complete set of heightened senses — and smelling like a racetrack is apparently part of the experience. If you're a bit apprehensive to try it — don't worry, the notes of burning rubber are supposedly rather subtle, so no one will confuse you for a walking diesel pump or anything.
Otherwise, the unisex eau de toilette has a nice sweet aroma sprinkled with delicate hints of spice. Sounds kind of awesome, doesn't it? And it's actually kind of pretty too. Unfortunately production is limited, so the only way to snag one of these bad boys is by winning it on Sunoco's Facebook page.
Check out Burnt Rubbér below.
I'm definitely entering to win.
Images: Courtesy of Allen & Gerritsen (2)