AIRealistic Will Help Celebs Say 'I Can Do That'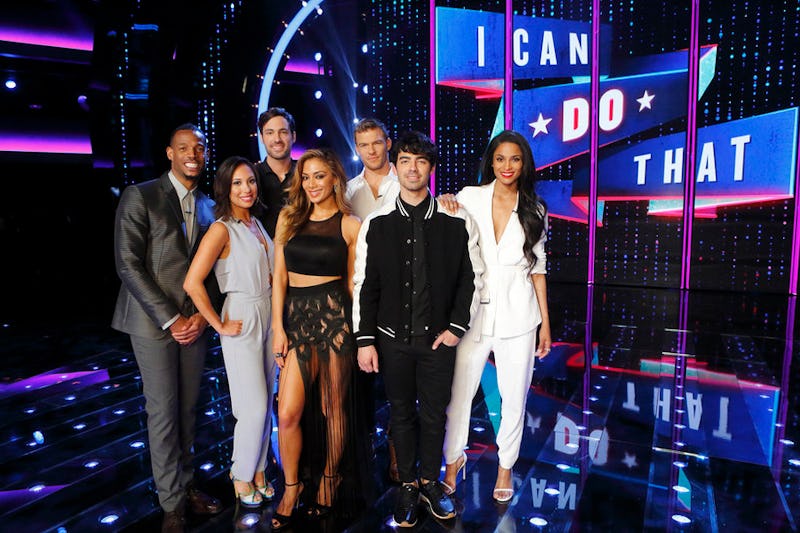 If there's one thing Dancing With the Stars has taught me — and it has taught me so much — it's that combining celebrities with something to prove and pros with an incredibly difficult craft to teach is a recipe for shocking success. Which is good, because flying through the air on a bunch of reinforced ribbons is definitely a place you'd want to be successful. That's what celebrities like Joe Jonas, Nicole Scherzinger, and Ciara (Ciara!) will be doing on NBC's new series I Can Do That : pairing up with one another and exploring their "untapped talents" by learning a skill in a matter of five days that has taken professionals years to master. Some of those professionals educating I Can Do That's celebrities in their mastered talents on the May 26 premiere will be AIRealistic, an aerial theater company known for taking their artistry on the road.
AIRealistic is a site-specific company that specializes in "unique flying solutions, combining rock climbing and sailing technologies with the art and rigging of traditional theater," according to the group's own website. Basically, this is really, really complex performance art; it incorporate circus, dance, and traditional theater to create "a very flexible organism that makes any production fly." Something tells me it would also be helpful if the celebrities learning to be a part of that organism were also "very flexible."
But AIRealistic isn't just your average traveling circus act. They create custom shows for the big leagues. A few you may have heard of: Cirque Du Soleil, the Beijing Olympics, The Los Angeles Philharmonic, and the aforementioned Dancing With the Stars.
Not only is AIRealistic certified in the big — as in, Olympic — leagues, but they're also accustomed to teaching amateur performers in their New York and LA training studios (which I should note, have pretty reasonably priced classes). Judging by the I Can Do That promo than ran upwards of one million times during The Voice this season and its, "If you throw up on me, I will tweet about it" exchange, we can count on Nicole Scherzinger and Alan Ritchson being the amateur celebrities who are trying to master AIRealistic's unique artistry in the upcoming premiere. But at least those two aren't total amateurs: Scherzinger was a bonafide dance machine during her winning stint on Dancing With the Stars and Ritchson proved he knows how to at least learn murderous fight choreography as District 1 tribute Gloss in The Hunger Games: Catching Fire.
So, best of luck on not throwing up, you two! I can only hope AIRealistic's custom act for I Can Do That will incorporate host Marlon Wayans in some way... preferably in spandex.
Image: NBC