Try These 5 First Date Looks This Summer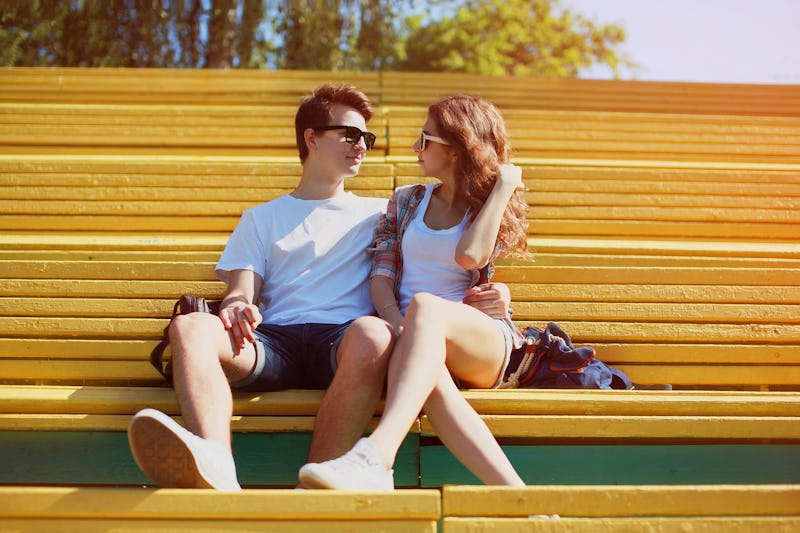 First dates are always a bit terrifying — whether you met on Tinder, through a friend, at a coffee shop, or through online dating, first date nerves don't discriminate. Finding the perfect first date outfit can help give you something to keep your mind busy, though. It'll give you something to focus on, and quell your nerves in the interim. Besides, you know, finding clothes to wear in public so as not to not be arrested is always a good thing.
There are tons of different vibes you might want to go for on a first date: sexy, adorable, playful, fun, low-key, classic, maybe even a little intimidating — and you're probably going to want to be at least a little comfortable.
That being said, "rules" about what you should wear on the first date are garbage in my book: As long as you feel confident, then who cares what's covering your body? Don't be scared of dressing too fashionable, too wild, too revealing, or too casual. Do you, babes. Whether your ideal situation is finding someone to take home to your mom or finding someone who's going to give you a fun night and lots of butterflies, feeling your most gorgeous never hurts.
If you're stuck for a date idea or what to actually wear on said date, I got you. Here are five classic summer dates and the perfect outfit to wear on each of them:
1. Mini-Golf
One of the reasons a mini-golf date is so perfect for your first time out with someone is that it's super casual and you can relax and laugh a little bit. The perfect outfit for a mini-golf date is the same: light and breezy, casual, and something you don't have to worry about too much. Dress to be able to move and bend over without having to worry about your butt showing all night.
Clockwise, From Top Left:Sleeveless Bodysuit, $16, Miss GuidedPlus Size Wrap Bodysuit, $30, M iss Guided Metallic Sneaker, $45, A ldo Shoes Plus Size Paneled Grid Shorts, $18, F orever 21 Crossbody Bag, $48, N asty Gal High Waisted Shorts, $7, H&MLevel Cuff, $20, B auble Bar
2. Patio Drinks
After-work or midday drinks on a patio let you get a little sun on your face, but also continue on into the evening if you end up hitting it off with your potential sweetie. Or, you can always call it quits after one drink and head out to dinner with your friends/back to Netflix. Whatever; your choice! Wear something fun and bright that breathes easy.
Clockwise, From Top Left:Crossing Lines Top, $48, Nasty GalSam Edelman Sandals, $70, ZapposZip Off Peplum Top, $77, EloquiiSheer Insert Midi Skirt, $90, EloquiiQuay Australia Sunglasses, $60, Hey GorgeousJ.Crew Wrap Skirt, $228, J Crew
3. Night At The Movies
A movie date may get a bad reputation because you can't talk during it, but I think it tells you some of the most important things you need to know about a person: Do they chew with their mouth open and do they know the butter/straw trick? Dress comfy but chic in an oversized dress with refined jewelry and carry a bright accessory so you can easily identify yourself. ("I'll be the one with the bright yellow bag!")
Clockwise From Top Left:Beaded Flatform Sandals, $30, Forever 21Kite Handbag, $150, Matt And NatMondrian Necklace, $80, MejuriCascade Dress, $118, Mimu Maxi
4. Food Truck Tastings
Food is good, but sitting around with long gaps to fill with conversation can be a bit too much pressure sometimes. Walking around and hitting up food trucks will let you hang out, wander, and try a bunch of stuff. Dress in a look that's fun and comfortable while remaining fashionable in denim joggers and practical in a snapback and flats. Pack a few water bottles with sangria and stash them in your backpack for the ultimate curbside picnic.Clockwise From Top Left:Stripe Tank, $38, Nasty GalFloral Flat, $55, NordstromPlus Size Stripe Tank Top, $29, TorridPlus Size Denim Joggers, $90, AdditionelleVegan Leather Backpack, $68, Nasty GalDenim Joggers, $28, Forever 21GRRL PRTY Snapback, $35, Grrl Prty
5. Outdoor Concert
Meeting up at a huge outdoor event lets you feel a bit more comfortable and do something fun together. It also lets you see how your date is in high-pressure situations and if they're cool holding your purse for you while you go to the port-a-potty. Stay cool in a breathable romper, some cute ankle boots to keep your toes safe, and give the look a boost with a metallic accented bag.
Clockwise From Top Left:Levi's Trucker Jacket, $45, LevisCatalina Romper, $70, LoftPlus Size Levi's Trucker Jacket, $45, LevisNine West Crossbody Bag, $69, MacysMontauk Me Through It Boots, $50, Mod Cloth
Images: Fotolia; Courtesy Brands