9 High-Tech Inventions To Take On Your Next Trip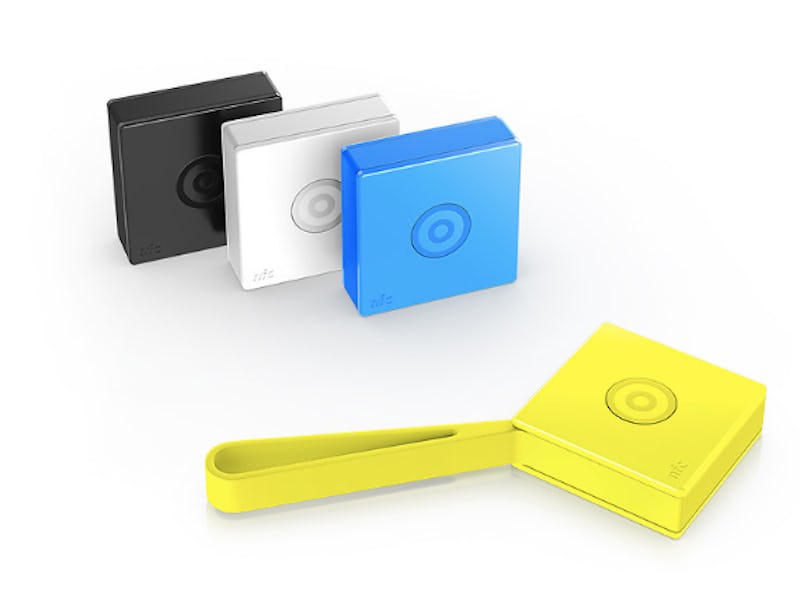 Travelling is often seen as a way to get away from it all ... except that most of us probably take our iPhones, cameras, and laptops with us. These days, travel has to be pretty tech-friendly — and, luckily for even the most technophobic of us, companies are scrambling to make their products as fuss-free for travelers as possible, and adding features to help people in transit. The Apple Macbook was at least partially designed to be the ultimate laptop for businesspeople on the go around the world, and passports themselves have been going sci-fi for years with the increase in biometric identity chips. Switching off now involves at least a little bit of switching on while you're on the way.
There are a few problems for serious techies who want to see the world, however. Power source is a major one, protection from theft another. But technology for travelers has begun to infiltrate areas outside the laptop-and-phone domain, producing ideas like real-time translators, biometric suitcases that only unlock with your fingerprints, and microchipped "smart tags" to reduce the risk of your underpants being lost in transit.
These days, if there's something you're scared about while traveling, from insect bites to having your credit card stolen on the beach, there's a piece of technology to deal with it (I quite like the idea of having a safe inside my flip-flops, personally). Some are hideously expensive, while others cost less than a postcard; but one day, all of these high-tech inventions might be as standard as suntan lotion and sand in your bikini.
1. The Smart Suitcase
An IndieGogo campaign has unleashed the Bluesmart, a suitcase for people who like every part of their travel life to be connected — and the features are pretty impressive. The Bluesmart can be locked and unlocked via your phone, tracked worldwide, weigh its own contents, charge your devices, and alert you if it's separated from you. It's also been approved by the TSA and all the airport regulators worldwide, so no rocking up to discover they're going to take it apart and blow it up. It's retailing at $329.00.
2. The Personalized Postcard
This is just cute. Apps can contribute hugely to your travel experience, as anybody who's tracked a plane or checked the weather on their phone knows. They can also, however, make it easier to make people at home envious.
The Postagram app is a sweet way to avoid the tourist-trap postcard shops and make and send your own, without the fuss of finding a printer or searching for a stamp. You select a photo from your phone, make it into a postcard with an optional message, and the app will print and send it for you — anywhere in the U.S., Canada, or Europe. It costs a maximum of $1.99 per post and will make your mother disgustingly happy.
3. The Laptop Bag That Charges As It Goes
Phorce bags are essentially traveling battery packs for everything from laptops to phones to music devices, and they can do as many as four devices at once, giving up to 110 hours of extra power. That's kind of insane, even for a $700 price tag.
North Face has also produced one in backpack form — it's less expensive, at $229.00, and comes with a "Joey" pocket in the front that can give most devices 3.5 full battery charges. The lithium battery's also supposed to be able to cope with a lot of bumps and watery adventures.
4. The Portable Water Sterilizer
If you've ever had Delhi Belly or any kind of water-borne disease while travelling, this will seem like a complete life saver — which, of course, it is. The SteriPen is a handheld UV water purifier, and can kill 99.9 percent of water-borne germs and diseases in whatever water you stick it in. It's powered by alkaline batteries and can purify a full liter of water in 90 seconds. It's also, importantly, watertight — and pretty reasonable at $69.95.
5. The Real-Time Translator
Indiegogo is the site of this particular idea, too — and while it's less far along than the Bluesmart suitcase, it's still a marvel to behold. Sigmo is literally meant to be a Babelfish, but with less slime in the ear: it's designed to be a small, handheld real-time translator for 25 languages. It's tiny — barely the size of a square of chocolate — and can be used with earphones or speakers and during phone calls.
Apparently, it just uses Google Translate at the moment, but is working to incorporate weird idioms and phrases (because how is a Mandarin-speaking person going to understand the phrase "on the ball"?) in the future. Right now, they're predicting that it will be around $65, but keep an eye on the developers for news.
6. The Luggage Tracker
If checking your luggage gives you separation anxiety, this one's for you. Trakdot tracks your luggage using a tracking device inside your suitcase, hooked up to an app on your mobile — and specializes in giving you a "congratulations! You have underwear!" text when your luggage arrives in the same place you do. It can sense the movement of the plane and switch itself into airplane mode while in flight, and tracks itself using the local phone network once it's landed. It's not the only tracker on the market, though: LugLoc does the same thing, and both are $69.99.
7. The Charging Card
If you just travel with your phone but always seem to lose your charger, there are a lot of options to make your life easier, with the bare minimum of cords and fuss. Miniature credit card-sized portable chargers are all the rage, able to fit in your wallet, and give your phone a boost without the need for bulk.
The TravelCard is the one that's had the most hype, with a Kickstarter campaign that went viral, and retails at $45 — but it's not the only option. The Dark Energy Reservoir ($79.99) doubles as both battery and external USB back-up, while the LithiumCard is designed to be super-fast and is also $45.99. All are a good bet for travelers who need to keep things simple and secure.
8. The Cooling Tee-Shirt
"Smart clothing" is definitely a brave new frontier for people who travel in pursuit of adrenalin rushes and extreme experiences, from hiking to skiing. Fabrics are becoming an increasing area of interest for companies trying to make travelers cooler, warmer, or just more comfortable while tackling something interesting. One area of serious interest? Cooling clothes.
ExOfficio's "Sol Cool" line is designed for people trekking around in heat, and the fabric of the clothes contains the compound xylitol — which you may know as a sugar replacement, but also seems to have significant cooling properties when it comes to human body heat, creating a nice cool sensation next to the skin. The fabric is also very high-wicking and UV protected, so you can still wear clothes in searing heat without boiling. A women's shirt costs $60.00.
9. The Tag For Belongings
If you're the kind of person to leave stuff behind when you exit a hotel room in a flurry, a tag for your belongings might be a good idea. The Treasure Tag from Microsoft is designed to find stuff you've lost and notify you if you've managed to accidentally leave it somewhere inconvenient — both of which are pretty useful for travelers with limited time.
It works by attaching "tags" to four of your most important possessions (yes, there are only four at a time, so focus on the stuff you always lose) and tuning them to an app on your smartphone, normally a Lumia. It also, weirdly, lets you take selfies by pressing the button on the tag, which will set off the camera on your phone. It starts at $30.00 for one tag — and if you'd prefer something even smaller, StickNFind and Lupo both use sticky tags and Bluetooth to track your precious possessions.
Images: Bluesmart, Postagram, Phorce, SteriPen, Sigmo, Trakdot, TravelCard, ExOfficio, Treasure Tag