Hey, Remember When John Oliver Talked FIFA?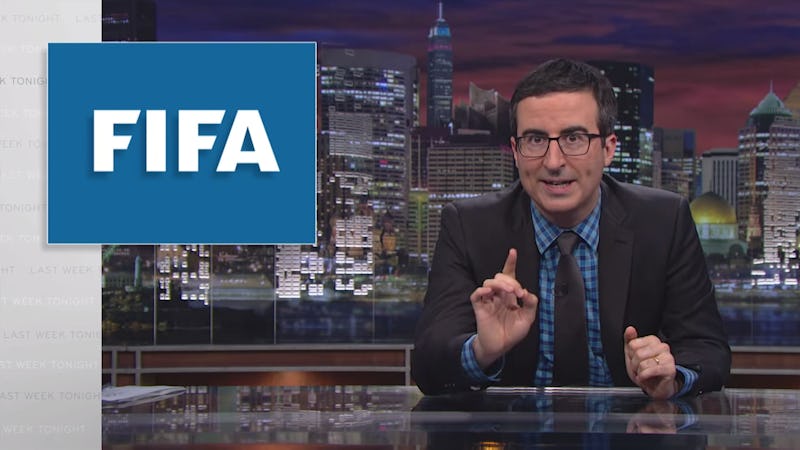 By now, you've probably heard about the massive FIFA arrest in Switzerland. After years-long investigations by the FBI and other U.S. authorities, the Department of Justice has indicted 14 FIFA officials on charges of racketeering, wire fraud, and money laundering. But even beyond these charges, FIFA has been accused of broader corruption for years — corruption that U.S. Attorney General Loretta Lynch calls "rampant, systemic, and deep-rooted." How? Last Week Tonight's John Oliver explained exactly why he believes FIFA is corrupt in a segment from last year, and it's the perfect refresher course to give you a better understanding of Wednesday's arrests.
Oliver's segment on FIFA was part of a Last Week Tonight episode that aired on June 8, 2014, nearly a year before Swiss law enforcement entered the Baur au Lac hotel on Wednesday morning to arrest several FIFA officials attending the organization's annual meeting. Among the charges were accusations related to bids for the 2018 and 2022 World Cups, which went to Russia and Qatar, respectively. But the charges leveled against them might only scratch the surface of corruption accusations that, according to Lynch, "[span] at least two generations of soccer officials." If you're left wondering what kind of corruption she's alleging, Oliver has already presented all the answers. Let's take another look.
Oliver opens the segment by saying, "I would like to show you my sausage." No, not that sausage (we all wish). What he's referring to is the sausage theory, which says if you love something, never find out how it's made. In this case, the thing he loves is soccer and how it's made refers to FIFA's governing of the sport.
Oliver sets up his argument with some context, by showing clips of various soccer fans from around the world calling the sport a "religion." In other words, soccer is a huge deal to millions of people in numerous countries.
When David Beckham got a tattoo of Jesus, the response from most soccer fans was, "That's huge for Jesus. That's a big deal for him."
Oliver himself is an avid soccer fan, but his love for the sport is at conflict with his feelings about — you guessed it — FIFA.
FIFA — you either know it as the Fédération Internationale de Football Association or that soccer video game you have.
However, if you're not familiar with FIFA at all, Oliver is here to tell you that it's a "comically grotesque organization."
In fact, telling someone about the inner workings of FIFA for the first time is a bit like showing someone 2 Girls 1 Cup. You do it mainly so you can watch the horrified expressions on peoples' faces.
And here's where Oliver expounds on FIFA's corrupt ways, giving viewers a laundry list of them.
1. The 2014 World Cup In Brazil
In order to host the World Cup, Brazil built a brand-new $290 million stadium in the remote Amazonian city of Manaus. OK, that's a lot of money, but hosting the World Cup must surely be lucrative and worth the investment? Nope. FIFA makes the money, not the host country, says Oliver.
Brazil, let me put this in terms you might understand: Think of money as pubic hair and FIFA as wax. They're going to be all over you during the World Cup, but when they go they're taking all the money with them, including some from places you didn't even know you had any money, leaving you teary-eyed, going, "What happened here? I'm never doing this again!"
2. FIFA's Tax Demands For Host Countries
In a clip, Professor Han Kogels of Erasmus University in Rotterdam says that FIFA and its subsidiaries are fully tax exempt. In the case of Brazil, they had to let FIFA forgo $250 million in taxes.
3. What FIFA Does Leave Behind Is New Rules
In 2003, Brazil banned alcohol from its stadiums because of alcohol-related deaths. However, since Budweiser is a major sponsor of FIFA, the country was forced to lift that ban, Oliver says.
Impersonating and mocking FIFA Secretary General Jerome Valcke, Oliver says, in a heavy French accent:
How you say, uh, fuck your laws and your public safety.
In 2010, when South Africa hosted the World Cup, the country was forced to establish the World Cup Courts, Oliver says, which enforced a draconian judicial system that sentenced the accused to hefty jail terms without a real judicial process. Two Zimbabwe men were sentenced to 15 years in jail the day after being arrested, Oliver adds.
That was unsettlingly fast. That's like when you order Chinese food and it comes five minutes later. "Thanks very much, but that was too quick."
4. FIFA's Long History Of Corruption Allegations
Oliver then plays a series of clips showing reporters and pundits discussing FIFA's many corruption allegations, ending with Dave Zirin, sports journalist and author of Brazil's Dance With The Devil, saying, "Bribery and FIFA go together like peanut butter and jelly."
But they shouldn't, though. Peanut butter and jelly are supposed to go together. FIFA and bribery should go together like peanut butter and a child with a deadly nut allergy.
5. FIFA's Boardroom
If you think FIFA can't get any more cartoonishly evil, this is their headquarters' actual boardroom. That's right, FIFA apparently modeled where they meet on the War Room from Dr. Strangelove.
6. FIFA Tells A very Different Story
Oliver then points out that despite the overwhelming evidence of FIFA's greedy, shady practices, FIFA maintains that it's a nonprofit organization. In a clip of an interview with FIFA President Sepp Blatter, he says that the organization's $1 billion is a reserve.
A reserve of a billion dollars. When your rainy-day fund is so big, you've got to check it for swimming cartoon ducks, you might not be a nonprofit anymore.
7. Sepp Blatter As A Human Being
Oliver then goes deeper into the president as a person. According to a news clips, when asked how should women's soccer be made more popular, Blatter answered, "They should wear shorter shorts."
Even his name should have been a red flag. If your name is Sepp, at the bare minimum you've strangled someone in a bar fight — that's just a fact.
8. The 2022 World Cup In Qatar
The 2022 World Cup has already been decided, and it's going to take place in Qatar, which Oliver says is "an awful idea." (The event was scheduled for the winter of 2022, rather than the summer, in the time after Oliver's segment.) The weather aside, International Trade Union Confederation General Secretary Sharan Burrow has also called Qatar a "21st-century slave state" where migrant workers are basically trapped and work in dangerous conditions. In other words, it makes absolutely no sense to hold the World Cup there.
9. Soccer Is An Organized Religion And FIFA Is Its Church
Think about it, Oliver says.
Its leader is infallible, it compels South American countries to spend money they don't have building opulent "cathedrals," and it may ultimately be responsible for the deaths of shocking numbers of people in the Middle East.
Watch the entire segment below:
Images: Last Week Tonight With John Oliver/YouTube