Outfits From The 'She's Not Me' Video, Ranked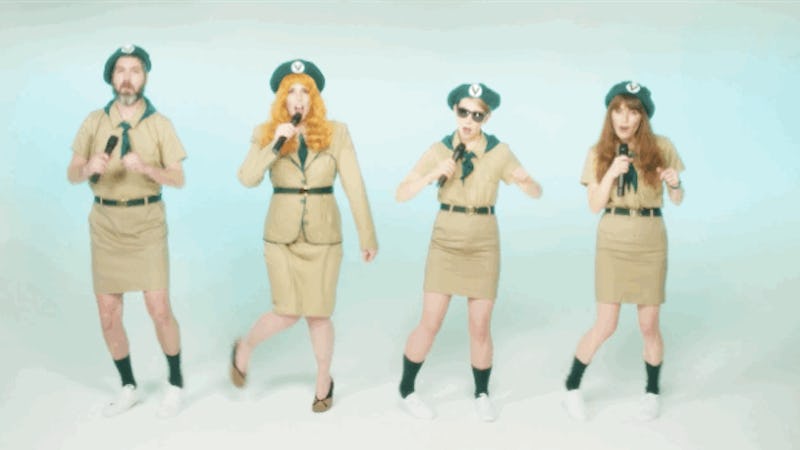 If you're not a fan of Jenny Lewis than I have no idea what music you listen to, because my Spotify library is basically 75% Rilo Kiley and the rest music from the songstress' solo career. Jenny Lewis released the video for "She's Not Me," the latest single from her recent album The Voyager, on Wednesday, and, given that Lewis is my Taylor Swift and my Beyoncé (told you I was a fan), I'm obsessed. The video makes direct reference to various film and television roles Lewis held in her previous life as a child actress in the late '80s and early '90s.
This means one thing — okay, two things — that the video is hilarious and that it features some stellar old school fashion.
"The video is about former identities and incarnations of one's self," Lewis told BuzzFeed. In the singer's case, this means revisiting her time spent acting in such classics as The Wizard (alongside Fred Savage, WHO KISSES HER IN THE MOVIE. I repeat: Jenny Lewis and Fred Savage have locked lips) and Golden Girls.
Naturally, the flashback-y nature of the video means the wardrobe is a veritable cornucopia of #TBT-worthy outfits, from the Girl Scout-y uniforms to the overalls layered over a yellow button down. Like any good fashion writer, it's my job to judge music videos not based on the cinematography or direction, but on the costume design. So let's rank the outfits in the "She's Not Me" video, from least amazing to most amazing, shall we?
7. Totally '80s
I mean, there are cream colored Bermuda shorts happening here. I couldn't possibly rank this highly.
6. Hellville
This ensemble gets a slight save because overalls are trending right now, but the bunchy yellow button down underneath is not doing it any favors.
5. '90s To The Max
OK, so she's dressed like a little kid, but the yellow turtleneck/white boots combo is on fleek, as are the pigtails.
4. Troop Beverly Hills
This might not be the most fashion-forward (it's a beige skirt suit for crying out loud), but I appreciate how coordinated it is.
3. Sunshine Cadet (And The "Gilded Girls)
The saddle shoes! The muumuus! Zosia Mamet in a grey wig!
2. The Rainbow Suit
This is Lewis' signature look these days, and boy is it flawless. It would be my number one pick if it wasn't for...
1. Rainbow Suit, Mug Shot Edition
YAS QUEEN. Not trying to glorify going to jail or anything, but how fierce does she look here? So fierce.
Images: Screenshots