Can You Spot The Real-Life Murderer In 'Aquarius'?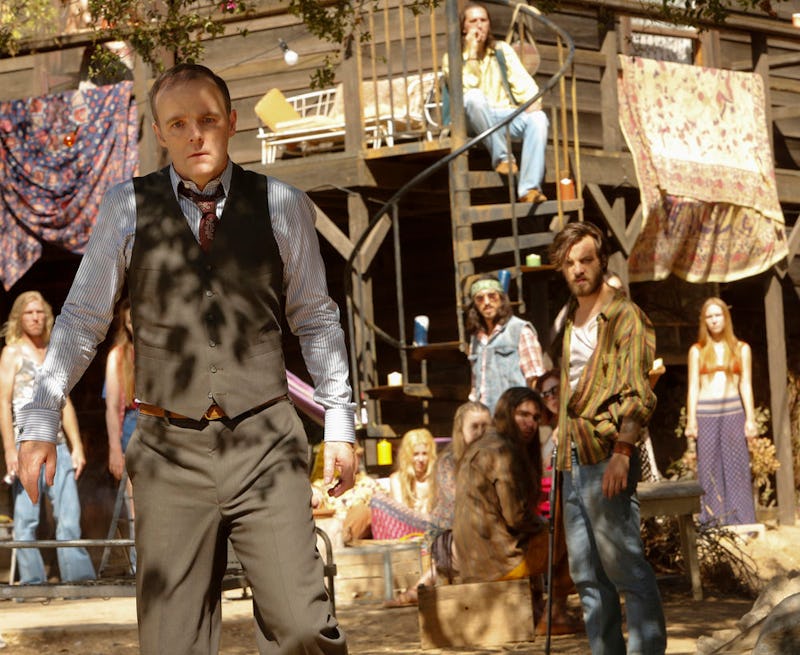 From Serial to Law & Order, we're all pretty obsessed with true crime stories. Fortunately, Aquarius, the 1960s-set, David Duchovny-led show premiering on NBC on May 28, is definitely about crime. Duchovny plays homicide detective Sam Hodiak, who is investigating the disappearance of an old girlfriend's daughter. But how real is this new series? Is Aquarius based on a true story — or even a book, play, or movie?
Not exactly. The story for Aquarius came straight from the head of creator John McNamara. "I thought of this idea of an older cop during the 1960s and how a 45-year old would see hippies," McNamara said in an interview with Deadline. "Then, what if he was paired with a narc who is 22? That [concept] was three years of thinking for me."
Deadline also notes that he originally pitched the story as a series of novels, but that producer Marty Adelstein told McNamara he'd miss out on the opportunity to use all of that groovy '60s music. But, just because Aquarius isn't based on a real-life account of a crime, that doesn't mean there are no real-life elements to it. Here are six ways Aquarius mixes fiction with fact.
There's A Real, Specific Time And Place
The show takes place in Los Angeles, California in 1967 — the Summer of Love! (Can you dig it?) This show won't be full of vague references to it just being "the '60s". They'll really have to root it in what was going on that year.
Hodiak Is Chasing A Real-Life Murderer: Charles Manson
That daughter of his ex-girlfriend that Hodiak is looking for? It turns out that she's run off with a wannabe musician by the name of Charles Manson. It doesn't get any more real than that. The story begins two years before the infamous Tate and LaBianca murders, so, at the time, Manson is still just a petty criminal gathering followers. Actor Gethin Anthony (you know him as Renly Baratheon from Game of Thrones) said he did his research to get into the Manson mindset. "One of the useful things about playing such a notorious man is that there's a wealth of information out there," he told Showbiz Junkies. "But it really became about listening to his voice... There's an interview that he did with a studio engineer in 1967 before he was a part of the crimes and imprisoned that I found very useful to take me back to the point of the history that our stories take place." Spooky!
The Real History Of The '60s Comes Into Play
Manson isn't the only real-life period touchstone that the show's going to engage with. "There are huge story lines about civil rights and feminism and how young people were dealing with those issues," Anthony said to The New York Observer. "So there's a lot going on, and it's not solely about Charles Manson. He plays a large part of telling the story, but it's not just about him."
In Fact, All The Actors Had To Do Historical Homework
It wasn't just Manson that Anthony had to research. "We got like a college reading list from our show manager John McNamara," he said in the same Showbiz Junkies interview. "It was a big old list of books and films and music to listen to which is probably the most fun bit. Actually all of it was fascinating, but the music of the era is just fantastic."
...Speaking Of Music
Like Adelstein foretold, McNamara did love using the real music of the period as the show's soundtrack. "I played the music on blast constantly," actor Grey Damon, who plays Hodiak's partner, told Channel Guide Magazine. "I just tried to immerse myself in the world as best I could. I fell in love with Otis Redding." (I did, too, Damon.)
But, The Story Is Still Fictional
"I think it's mostly fictional," actor David Ducovny said in a video interview to promote the series. "My character is fictional. All of the characters except for Manson and maybe some of his more famous acolytes are fictional. And I think even this Manson is fictionalized. It's not in any way trying to tell his story."
So, just enjoy the story, OK?
Image: NBC; Giphy (6)