5 Eye Makeup Tips To Define Monolid Eyes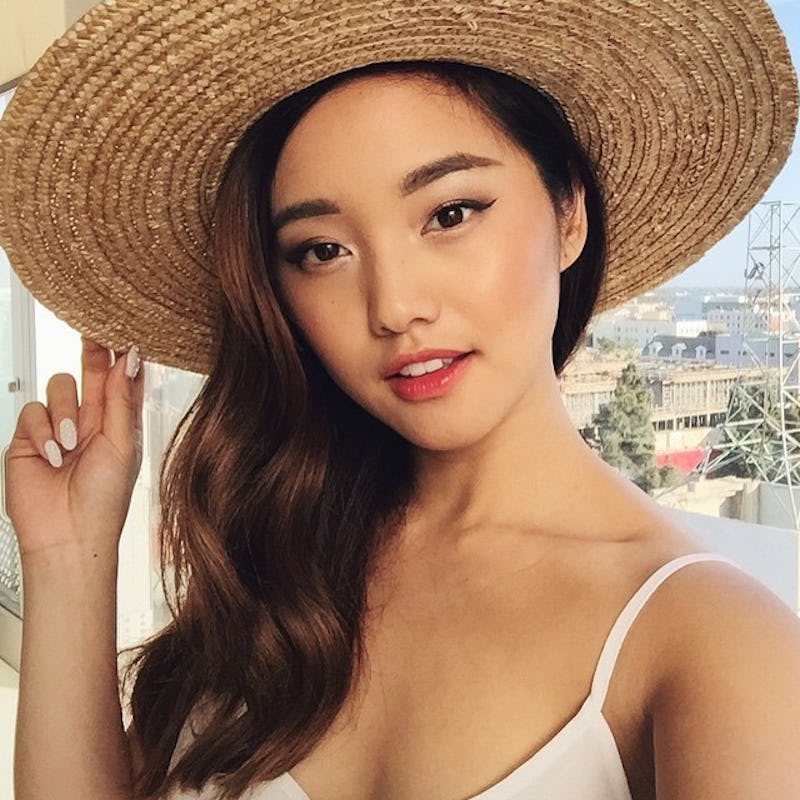 As if putting on eyeliner wasn't enough of a struggle in itself, having monolids just makes putting on eye makeup seem pointless, and as someone with monolids, I totally understand. Don't be discouraged, however, because there are secret (soon to be not-so-secret) eye makeup hacks for monolids that'll help you define your dainty eye shape. If you're unsure as to whether you have monolids or double eyelids, whip out your mirror and slightly close one eye. If you see a blatant crease above your upper lash line, you have double eyelids. If you don't, well, hello, fellow monolid sista.
Before I get into the hacks, I have to confess that I actually have one eye with a double eyelid and the other one is a monolid — I know, super weird. They used to both be monolids, but for some reason after going to college, my right eye began to form its own double eyelid. I'm gonna guess it was the sleep deprivation and ample amounts of caffeine, but I digress.
When it comes to doing my eye makeup, I have to set aside a good half-an-hour just to do my eyeliner because my-OCD-self can't stand asymmetrical cat-eye wings. On top of my OCD nature, I feel like I can never get my monolid eye to look like my double eyelid one. So much confusion, I know. Needless to say, I've learned a lot of tricks.
Here are 5 helpful hacks that I use when it comes to gussying up my monolid eyes.
I never understood the importance of tightlining my upper lash lines until I found the perfect creamy, anti-smudge pencil liner — Urban Decay's 24/7 Glide-On eye pencil. Tightlining involves applying eyeliner between your lashline onto your waterline. It defines your eye shape, while making your lashes look fuller. I know many of my friends with monolids would try to draw dramatically thick cat-eyes because their monolids would end up hiding 75% of what they drew on anyway, but that ends up wasting a lot of product, not to mention, it can get messy. I found that instead of going higher up, why not go lower? You might not think that it will do much, but just try it out and you'll see the difference.
Urban Decay's 24/7 Glide-On Eye Pencil, $20, UrbanDecay
I know some people really hate using liquid liner, but its preciseness is able to give the illusion of having double eyelids. Using a liquid liner, draw your crease on the outer thirds of your eyes only and then drop your liner to your lash line. For that extra definition, drag out your liner slightly outside the corners of your eyes to create a little wing. Don't go too crazy with your wing, because the illusion of the crease looks best when you're going for a more natural look.
Try: Stila Stay All Day Waterproof Liquid Eyeliner, $22, Amazon
In order to give my eyes more dimension, I go for smoky eye looks. What I love most is that you can smoke out your eyes with any color in your eyeshadow palette. I love natural looks, so I usually go with my smoky brown shades. Remember to define your eye socket with dark-ish hues, highlight your eyes with shimmery colors, and blend it all together.
Try: Lorac Pro Palette , $44, Amazon
If you want to continue using eyeliner, but don't like having to spend a lot of time on evening them out, you can easily hide the uneven looks with your lashes. If your lashes are sad and sparse like mine, then using volumizing mascara can really help to define your eyes and open them up.
Try: Blinc Mascara, $26, Amazon
5. Use Eyeshadow Instead of Eyeliner
Because monolids always end up folding and hiding all your eyeliner, people often try to overcompensate by drawing super thick lines. It can look good, but only if you're keeping your eyes open at all times. But because that's not physically possible, when you blink or sneeze or do anything to close your eyes, the thick eyeliner can end up looking harsh and jarring. By drawing your cateye and wing with eyeshadow, you can still apply as much product as you would with eyeliner, but now it won't look as harsh. Just be sure to blend it out so you don't have a concentrated powder look.
If you're still having trouble, there are some awesome YouTubers out there who give great tips on monolids. I like to follow Jenn Chae on From Head to Toe, Sophia Chang on Fashionista804, Claire Marshall on HeyClaire and Weylie Hoang on ILikeWeylie. Best of luck, and remember: your monolids are gorgeous! This isn't about transforming them, it's about making them stand out.
Images: imjennim, daisyheadbymary, la.femme.dargent, heyclaire/Instagram, Giphy (2)