How You Can Watch 'Aquarius'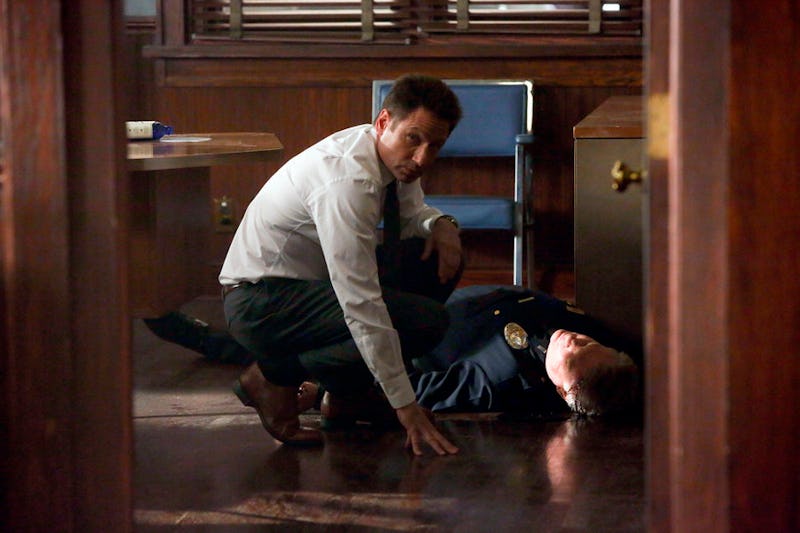 This is the dawning of the Age of Aquarius. No, not the era of hippies and free love, though that plays into it. Instead, on May 28, NBC will premiere a new cop drama called Aquarius . In it, David Duchovny (from The X-Files) plays Sam Hodiak, a World War II veteran turned homicide detective in 1967 Los Angeles. He's asked by an old girlfriend to investigate the disappearance of a young girl, who's run off with Charles Manson. Sounds juicy — but how long will the Age last? How many episodes of Aquarius will NBC run?
Like everything else these days, Aquarius is a limited series; its first season will have just 13 episodes. I know what you're thinking: "Just 13 episodes? I could watch that in a weekend — if only it weren't on a network." Well, rejoice, all who love to marathon TV! NBC knows how lazy, I mean, dedicated you are, and has planned accordingly. After the show's two-hour premiere, the network will make the entire series available online, on-demand, and through the NBC app (which is a thing that apparently exists). Here are five reasons why marathoning it is the way to go.
It's A Little More Raw
According to the New York Times, the iTunes version of the show will have rougher language and more nudity. Two of my favorite things! The newspaper notes that the dual-version format actually helped sell the show overseas, where risqué content is more the norm. "Who knew they loved breasts in Europe?" Duchovny quipped to the paper.
It Was Conceived As 13 Episodes
Aquarius is one of those shows that skipped pilot season and the normal TV development route. Instead, in this format, NBC was relatively hands-off. Creator John McNamara explains his interaction with NBC Entertainment Chairman Bob Greenblatt to Deadline this way: "He said, 'Thirteen episodes on the air, I'll sign the deal today. Here is the license fee.' It wasn't huge, but he promised little creative interference."
That means they didn't have to write and produce a few episodes, leave things open-ended, and hope that the network picked up the rest of the season, like most shows do. They got to write and produce all 13 at once, so it's one cohesive story worthy of watching.
You Want To Show The Networks Who's Boss
NBC notes that this new format caters better to the audience of today — hey, that's us! "We are fully aware how audiences want to consume multiple episodes of new television series faster and at their own discretion," Greenblatt told TV Guide. I don't know about you, but I think networks should be encouraged when they give us things that we want. So, let's marathon away!
You Only Get One Month
NBC is only making the streaming version of Aquarius available for one month, so you have to get right on it.
Because You Marathon Everything Else Anyway
I mean, honestly. Why should Aquarius be any different?
Image: NBC; Giphy (3)