This Online Store Lets You Try On Clothes For Free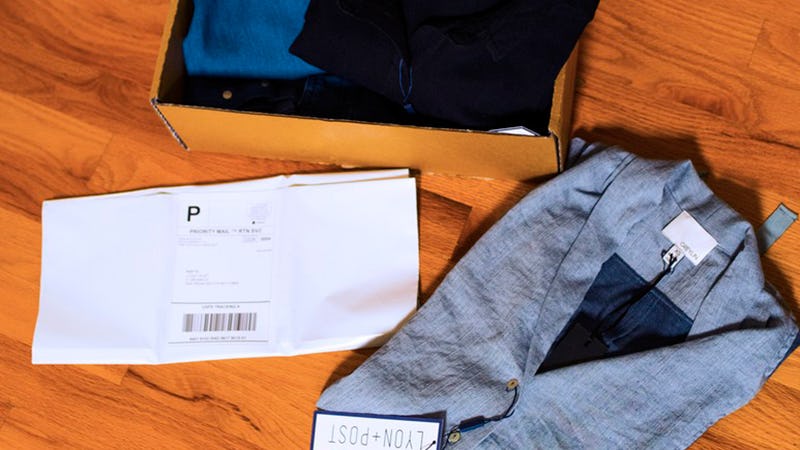 Online shopping can be the best thing and the worst thing at times, you know? It's great to be able to shop for things from the comfort of your home, but the trying on aspect of shopping online isn't always fun— until now. A new site, Lyon + Post will change the way you shop for designer clothing, by offering free at-home try-ons before you decide to buy. Hell. Yes.
Lyon + Post is a new online service that allows you to select items that you'd like to try on and have those items sent to your house. Unlike other stores, which make you buy the clothes before you can get them into your hands, you'll only get charged for what you decide to keep. Sounds a little too good to be true, am I right?
Basically, this makes it so that you can try on multiple colors and/or sizes of a piece of clothing without tying up money on your card. This is especially great because Lyon + Post offers a variety of designer brands including Chiara Ferragni, Raoul, and Sachin & Babi, so buying in multiples could get pretty pricy. Now, you can be sure that you're getting the best possible piece for your money.
Doesn't that sound amazing? To see if it really is all it's cracked up to be, I decided to give it a little spin.
When you log on to Lyon + Post, you'll be asked you create your profile.
You'll be asked to enter your address, billing information and sizing information. While you do have to provide your billing info up front, you have seven days to decide what you want to keep from when your clothes arrive to you.
After your profile's created, you begin to shop. You can shop by brand, by price point, or shop everything all at once!
Add anything that you want to try on to your "queue." The top four items in your queue will be sent to you the next day. The Lyon + Post customer service is great about notifying you when your package has shipped and providing you with tracking information, so you can get excited for it to arrive, which should be in about two to three days.
Now, decide what you want to keep. I had so much fun the first time that I decided to go for round two! So I packed up my first four items and sent those back.
At this point, because I had more than four items in my queue, Lyon + Post sent me my next items automatically. So, you could keep this process going as often as you wanted! Shop. Try on. Repeat. I think I just found my new favorite three step process.
Images: Lyon + Post; Dario Ortega