Who Stars In 'The Secret Life Of Marilyn Monroe'?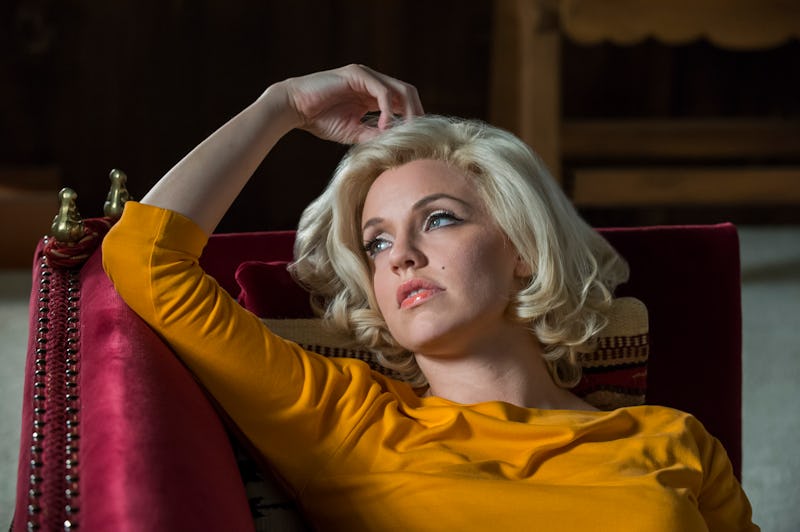 Ready for a new take on one of the most misunderstood Hollywood starlets in history? Starting Saturday, Kelli Garner will play the titular role in The Secret Life of Marilyn Monroe. She'll star in the Lifetime miniseries alongside Susan Sarandon, Jeffrey Dean Morgan, and Emily Watson. The series will cover the early years of the icon's family life, in particular her relationship with her mother.
The "character" that is Marilyn Monroe has been taken on by several actresses recently, from Michelle Williams in My Week With Marilyn to two-time Academy Award nominee Jessica Chastain, who will play the movie star in the upcoming film Blonde. Casting the role of Marilyn Monroe was the actual plot of the doomed NBC musical series Smash. There's no doubt that Marilyn Monroe, as an actress and as a human being, is a fascinating national mystery who we'll always be trying to understand.
So who is Kelli Garner, and why is she fit for this role? In addition to bearing a resemblance to the late icon, Garner's career is critically acclaimed career and has varied between both stage and screen. She may not be as much of a traditional movie star as Marilyn Monroe, but she's a working actress with just the right amount of experience to make The Secret Life of Marilyn Monroe something not to be missed.
Independent Spirit
Before independent cinema was all about slouchy sweaters and mumblecore, Garner appeared in a number of Sundance hits. She starred with Ryan Gosling in Lars and the Real Girl. You can also find her in Dreamland, Thumbsucker, Normal Adolescent Behavior, Bully, as well as the recent fantasy thriller Horns that starred Daniel Radcliffe. As far as mainstream studio films, Garner had a small breakout role in The Aviator, directed by Martin Scorsese and starring Leonardo DiCaprio. She played Faith Domergue, another real-life actress.
"Come Fly With Me"
The 31 year-old actress starred in Pan Am, a short-lived ABC series about flight attendants in the 1960s, with Margot Robbie and Christina Ricci. Garner played Kate, the intelligent and savvy sister of Robbie's character. Garner also played Patrick's sister in two episodes of Looking on HBO.
Stage Heights & Beyond
Off-Broadway, Kelli Garner appeared in Dog Sees God and a 2008 production of Chekhov's The Seagull. She also starred in Eric Bogosian's subUrbia, and was later replaced by fellow indie darling Gaby Hoffman. The actress has also appeared in various commercials and music videos — she's "whatshername" in Green Day's video for "Jesus of Suburbia."
Garner has done a little bit of everything, which makes her star turn in The Secret Life Of Marilyn Monroe all the more exciting.
Images: Ben Mark Holzberg/Lifetime; Getty Images