A Guide To NOT Getting Drunk At Your Own Wedding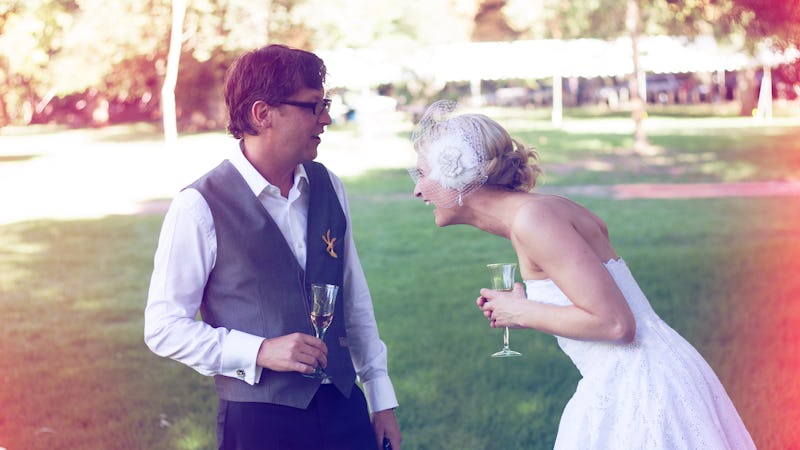 Your groom has probably seen you at all stages — sober, way too sober (you wanted to try a cleanse!), somewhat tipsy, and three sheets to the wind drunk. But on the day when you're the bride, chances are you're having an open bar at your wedding, and you don't want to get intoxicated to the point of absolute embarrassment, and perhaps, family shame. After all, you spent so much money getting your makeup done, that putting your face super close to a toilet mere hours later would be a total waste of the bridal budget.
Is it fine to want to let loose at your own wedding? Of course it is. After months of planning and coordination chaos, you deserve to have a drink or five. However, you don't want to drink to the point that you barely remember your own event, or even worse, drink to the point of doing something that just isn't you — like grinding on the dance floor with your new father-in-law, or telling your crazy aunt how you really feel.
Finding a perfect balance isn't too difficult. You're likely pretty balanced while drinking during normal days. The problem is, normal days don't come with the same amount of stress a wedding brings, nor do you have to spend them wearing a heavy, elegant dress that costs more than a month's rent.
Here are a few ways to avoid turning your lovely wedding into a rehash of your 21st birthday party.
1. Eat something before the ceremony
This is key. So many brides worry about looking too food-babyish before the ceremony starts, but it's super important to eat something light and non-greasy before the festivities begin. A good bet is a deli sub, or something quick from Subway. Obviously you'll want to avoid the iffy foods (like, sushi is delicious, but you might be hungry later, or have a bad reaction), but you shouldn't avoid everything.
Drinking on an empty stomach is almost a guarantee that you'll be pretty loopy before the Daddy/Daughter dance even starts. Don't risk making such an emotional moment weird, since that's a memory that'll stick with you forever.
2. Think about the inconvenience of the bathroom
If your dress is floor-length, or if it looks anything like something a Disney princess might wear, you'll probably need some bridesmaids to help you go to the bathroom. It's an embarrassing situation, but hopefully less embarrassing based on the fact that you've (thankfully) chosen your strongest, most trustworthy girls to help you pull down your uncomfortable, giant shapewear undies in such a tiny stall. They've seen worse, right?
More alcohol means more bathroom trips. Nobody wants to lift a dress more than twice during the reception. Don't make this the "night of five bathroom trips" due to the open bar.
3. Stay hydrated
Drinking water will make you feel a lot more clear during the night of the wedding. By sipping on some water before and after each drink, you'll avoid a hangover and also help pace yourself throughout the night. I mean, even though your venue promised that you and your groom would never be without a drink in hand, they never said it had to be an alcoholic drink, right?
And, yes. I know this might cause a bathroom trip or two (see: point #2), but if the pacing is at a good level, you should be OK.
4. Distract yourself with bridal duties
If you're already two drinks in and feel the need for a third, distract yourself by making sure you accomplish everything on your "polite bride" checklist. Thank guests by table for coming, mingle and get to chat with as many people as you can, and help encourage your sister with stage fright by telling her how amazing her speech will be. Today, being a bride is like having a job. You can have fun, but you still need to make sure all of your work is done by the end of the night.
5. Dance your ass off
Work off the booze and get your dance on! A few drinks will give you some liquid courage, so put it to work. Between dancing and chatting up your old college acquaintances, there's a good chance that you won't even have the time to get too wasted. Get moving, and make sure you're only sitting down for the meals.
6. Keep track of your intake
It's really easy to get carried away, especially if you notice your celebratory toasting champagne keeps magically getting refilled. Make sure not to have any "screw it, it's my wedding!" lapses of judgment, since you might end up drinking way more than you bargained for. Also? Sometimes alcohol can hit you all at once, especially when you're a little nervous. Try not to bypass the tipsy stage too soon.
7. Fool your friends with clear liquids
When you're the guest of honor, you might have some peer pressure to get your drink on. Especially if you're surrounded by old friends from your early 20s who were somewhat bad influences in the past. They're used to unleashing the drunk version of you, and although it's your wedding, tonight might not be any different. If you last saw your buddies during graduation, they're definitely going to go back to their devilish college ways.
A way to fight off the pressure is to fake your drinks. Like vodka soda with lime? Nix the vodka this round, and nobody will ever know. (This is also a great tactic for secretly pregnant brides, who aren't ready to announce that they're expecting, but also don't want to stir up any rumors.)
8. Drink light
As in, alcohol-content-light. If your go-to drink is tequila, try finding a popular light beer you like prior to the reception. That way, you can get your drink on without getting out of control. Plus, if it's a seasonal beer, you'll immediately get nostalgic for your fantastic wedding night every year it's available. On your one year anniversary, share a beer with your new husband and reflect on how crazy (and amazing) the year has been since your monumental day.
Images: Ryan Polei/Flickr; Giphy (8)