Fendi's Bag Bugs Are Pretty Creepy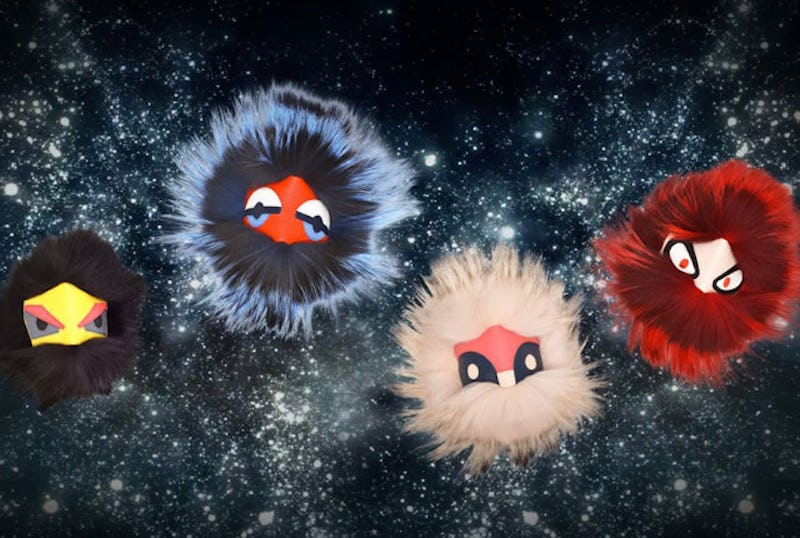 Fashion is all about taking risks, but is Fendi's newest offering just too... weird? Fendi kicked off its 2014 Holiday Capsule Collection with quirky features from embroidered eyes on its classic handbags to fuzzy accents, and their latest accessories venture, bag bugs, is the most baffling by far. For an established brand whose Peekaboo tote and Baguette are icons of timeless style, a little whimsy might not be a bad idea. However, the line between cute and creepy is a fine one, and bag bugs are poised to go in either direction.
Advertised on the Fendi website as a "posse" of tiny accessories "forcefully spreading its good luck charm across the globe", the fuzzy Fendi buggies look like a cross between a child's stuffed animal and a cat toy. The Fendi website debuted a droll video introducing the collection to the world, presenting Fendi's buggies as they perform a number of adventurous pursuits from muscle building to sailing the high seas.
The bag bugs, or "Buggies," come in eight kooky versions, from the red-tinted "Snobius" to the light brown "Lucifur". The furry accessory has found its way onto the bags of haute couture aficionados who love a bit of shock value in their ensembles, signifying its introduction as the latest idiosyncratic trend. Cara Delevingne, an authority on all things outlandishly fashionable as well as the spokesmodel for the collection, recently rocked the brand's 2Jours purse with a bag bug. And Naomi Campbell proudly carried hers attached to the Selleria "Anna 1322".
Nevertheless, the bags have yet to achieve mass appeal. At $700 a pop, bag bugs simply aren't your everyday offbeat accent, and an upgrade to the bag bug's full sized Baguette model costs upwards of $4,000. For an adorable, miniature addition to your outfit, these Buggies pack quite a punch in price with little utility to speak of.
Perhaps the trinkets are meant to be aspirational, or simply farcical, but it's unclear who the target consumer for the item is. Given the choice between an equally costly pair of Christian Louboutins and a furry bauble, the decision seems pretty simple, although stranger trends have become popular. This year alone, Vogue deemed Birkenstocks the chicest ugly shoe to great fanfare, and Harem pants have been worn by wayward souls from Justin Bieber to Kim Kardashian. Whether or not the Buggy trend will be as "contagious" as the Fendi website predicts remains to be seen, but this may be one trend we'll leave to the pros.
Images: Fendi