Guess What Mall Brand Just Got Better?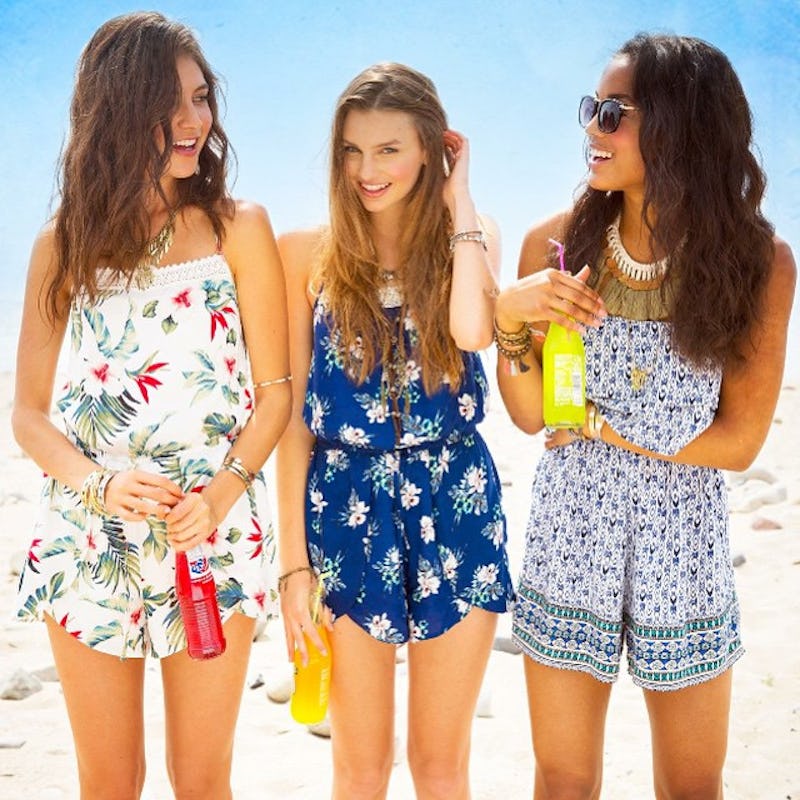 Remember the days when instead of scoping out deals online, we all went to the mall to grab our fresh summer gear? Well, Hollister's new updated styles are transforming a mall brand into something worth checking out again. Not only are their classically beachy pieces summer staples, but the brand has tuned into some of the season's biggest trends. Two words: Matching separates.
When it comes to summer wear, you want something stylish and versatile, light and skin-baring, and always in a fun print. And Hollister has just that. From festival-worthy halter tops to barbecue ready off-the-shoulder crop tops, I'm literally shocked at how many things I like and want. And although it's not quite clear what brought on the addition of such trendy pieces, there is a theory. With the way that malls are going (you have online shopping to blame), who knows how long they'll be around. And the big people at Hollister might have realized that, which is what I call good business. I mean, they already collaborated with Lucy Hale, and that was probably their first step.
All of this coming from someone who doesn't own thing from the place. But that's all about to change because of their new arrivals. I mean, I don't so much care about what the label says, as long as it's my style — hence why I shop majority of the time at thrift stores. I might just have to break that spout to pick up a few of these summer styles. Especially because they feature some of those quality low mall prices.
Take a look at my favorite pieces from their new arrivals.
Gingham Jumpsuit
Ever since I saw Bridget Bardot's wedding dress, I knew I needed gingham in my life. And this jumpsuit is a great way to get it. Perfect for those outdoor parties that go later, or those days you only want to wear one piece of clothing. (Strapless Rayon Jumpsuit, $49.95, hollister.com).
Off-The-Shoulder Crop Top
I feel like we all owned this once before in our lives, but now that's it back, it brings a totally different look. It's an easy way to look boho and free, without any tan lines. (Ruffle Off-The-Shoulder Crop, $24.95, hollister.com).
Tie-Back Halter Top
This is the best festival gear that I've ever seen. And because it's so simple, you can pair it with everything from jean shorts to a midi skirt. (Smocked Tie-Back Halter Top, $19.95, hollister.com).
Floral Crop Top
The best part of matching separates is that once you own them, there's nothing stopping you from wearing them with tons of other things. I can see so many outfit possibilities with this little number. (Floral Neoprene Crop Tank, $29.95, hollister.com).
Floral Wrap Skort
I have yet to buy a skort, but I'm yet again recognizing how versatile they are. For when you want to look cute without pulling a Britney/Lindsey/Paris. (Floral Neoprene Wrap Skort, $39.95, hollister.com).
Images: HollisterCo/Instagram(1)