I Was Shaming Myself For Planning My Own Wedding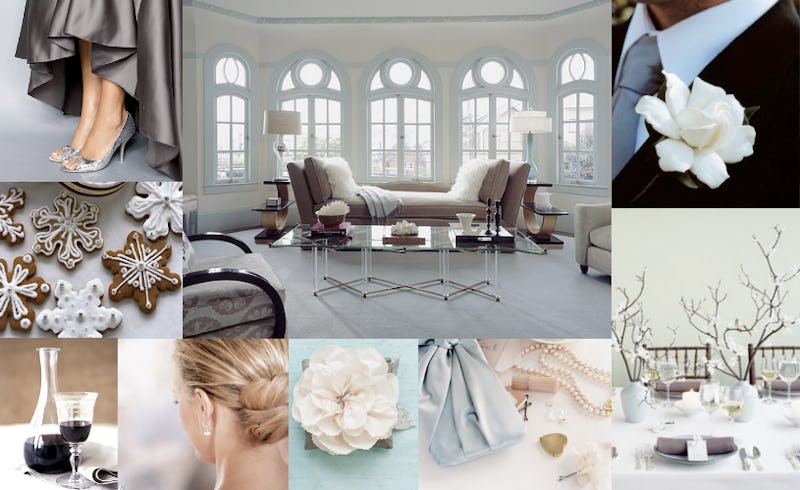 Recently, it happened again. It was midnight, about an hour after I first crawled into bed, and I was willing myself to stay awake. As my fiancé slept peacefully beside me, I basked in the twilight glow of my iPhone, unable to put it down, even as my eyelids grew increasingly heavy. I felt exhilarated, excited, even high. Yet the euphoric feelings were tinged with something else: shame. But I simply couldn't stop perusing Pinterest wedding photography. Dear God, I marveled, yet again. What's happened to me?
Like countless other independent, progressive women of a certain generation, I've long prided myself on not being, well, bride-like. Those women who can speak of nothing else but wedding gowns and mason-jar décor and pastel color palettes in the months leading up to their nuptials? Who try on 50 different sparkly wedding gowns in the middle of a David's Bridal, flute of champagne in hand, barking orders at hapless sales associates? Who spend more time on Pinterest boards than The New York Times website?
No way, I assured myself. I'll never be like that.
But then I got engaged. And just like that, I became a perfect stereotype of the wedding-crazed bride-to-be.
'How's the wedding planning going?' a well-intentioned friend would ask. 'Oh, I've barely had time to think about it!' I'd lie quickly, before transitioning to a discussion of important career stuff.
My descent into wedding mania began roughly a half hour after my fiancé first got down on one knee, when I found myself posting not once, but twice to Facebook about my impending wedding. That same day, I furtively typed "wedding gowns" into the Google search engine on my phone, pouring through page after page of dress ideas and imagining what I'd look like in organza, lace, and satin.
That was only the beginning.
Soon, I was regularly losing myself in the wonderland that is TheKnot.com, with its endless tutorials and how-tos. I was conducting a new Google-image search daily, scrolling through images of "ocean wedding décor" and "emerald wedding jewelry" and "unconventional wedding ideas." I drafted a wedding spreadsheet (color-coded, of course).
But as my wedding fervor grew, I tried desperately to downplay it.
How's the wedding planning going? a well-intentioned friend would ask. Oh, I've barely had time to think about it! I'd lie quickly, before transitioning to a discussion of important career stuff.
When I downloaded the Pinterest app, I told myself it was purely for practical purposes. But in truth, I just wanted access to the site's endless supply of glorious, inspiring, intimidating photography. I made a page for my pins — "The Inevitable Pinterest Wedding Board" — and promptly shared it with no one. My disillusionment with the idea of the crazy bride made me hate who I was becoming. Was I turning into the girl I always swore I'd never be?
Until, one day, it took exactly two minutes for a friend to make me realize that everything I believed about the shame of planning my wedding was wrong. After providing yet another "oh, whatever" response to a question about wedding planning, I was told that I should stop being so, well, weird. Sensing that I was clearly more into the wedding than I was letting on, my friend assured me that it was okay to put time and energy into planning my nuptials. I had a right to care.
Her statement seemed so obvious — it's OK to be excited for your own damn wedding — that I began wondering why I ever thought that wasn't acceptable behavior to begin with.
In part, I'm sure, my shame was rooted in my own issues. But it also had something to do with the way our society views brides. Women who devote time and energy into planning their wedding are often cast in the woeful role of Bridezilla, a damning stereotype that even has its own WE reality show (tagline: "What can happen to a woman somewhere between 'Will you marry me?' and 'I do'?") Worse yet, this stigma is associated with nearly every female stereotype in the book — vapidity, superficiality, neurosis, narcissism, control-freak bitchiness ... the list goes on. Do a quick stock-image search of "crazy bride," and revel in the images of mascara-streaked cheeks and primal yells.
It's women who are assumed to go insane when planning the purported biggest day of their lives. If you believe the hype, every woman will become at least a little unhinged as she marches toward her march down the aisle.
All of which may explain why I tried so hard to pretend I wasn't a Pinterest addict with a color-coded wedding-planning spreadsheet in the first place. What if people heard about my escapades, and assumed I was basically this?
Except, here's the thing: I'm really not insane. I've never dedicated myself to wedding planning at the expense of the many other commitments in my life. I've never had mascara leak down my face in a fit of rage. I've never had a nervous breakdown about floral arrangements. Like countless other brides (and grooms), I simply care about planning an awesome wedding, and I am actually having a really fun time doing it.
Somewhere along the line, I'd internalized the sexist myth that wedding fervor turns otherwise rational women into crazy, neurotic, superficial bridezillas. In reality, wedding fervor simply makes me happy — and that's nothing to be ashamed about.
Now, if you need me, I'll be on Pinterest.
Images: coco+kelley, Lea Ann Belter/Flickr