New 'Bachelorette' Ad Prompts Troubling Response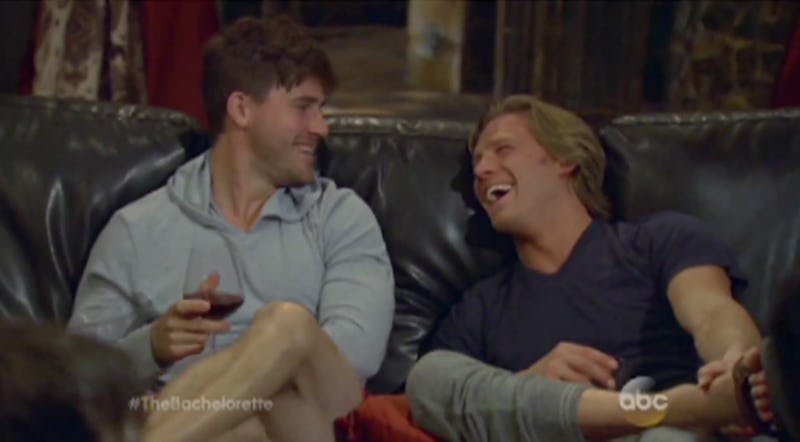 ICYMI, The Bachelorette just released a new promo for Monday's episode, and it's sparking major outrage — for once, outrage that has nothing to do with misogynistic questions about Kaitlyn's sex life. I wish I could say that's a good thing, though, but it seems to be the opposite: In a new Bachelorette promo titled "Brokeback Bachelor," the editing of the commercial seems to suggest an apparent homosexual relationship between contestants Clint and JJ. According to TMZ, the so-called relationship doesn't exist, however — and from the looks of JJ and Clint's recent tweets and Instagram posts, the bachelors are the ones laughing. However, here's why they shouldn't be.
I understand why The Bachelorette likes promos like this one (how else will you draw in viewers week after week?) but, if the TMZ report is true and this isn't a real romance, then this promo's editing is problematic.
What's more offensive, however, is the reaction to the promos from none other than the bachelors themselves. Based off their social media, Clint and JJ are loving this promo and, from the look of their tweets and Instagram postings, are treating it as a prank — thus, essentially trivializing and making a "joke" out of sexuality.
Oh, and just in case you didn't think Clint could get any classier, he also pokes fun at Kaitlyn's response to the ridiculous drama surrounding her decision to have sex with a contestant on the show:
All of these comments make light of this alleged "relationship," but it's Clint's tweet about having to apologize to his dad that I take the most offense with. There are plenty of people who really do struggle with their sexuality and with the process of coming out, so to joke that being involved with your male Bachelorette contestant is something to apologize for (though Clint later denies this) is pretty insensitive to people who have faced prejudice for being who they are.
Of course, we won't know what the real deal is with these two contestants until we see Monday's episode — personally, my theory is that the show's promo is referencing a so-called "bromance" — but I sincerely hope that both Clint and JJ come to understand that even if this is just a joke to them, it's not to so many other people around the world.
Bustle reached out to ABC in response to this promo and subsequent reports, but the network declined to give comment at this time.