The Intensity Behind Jackie O's Look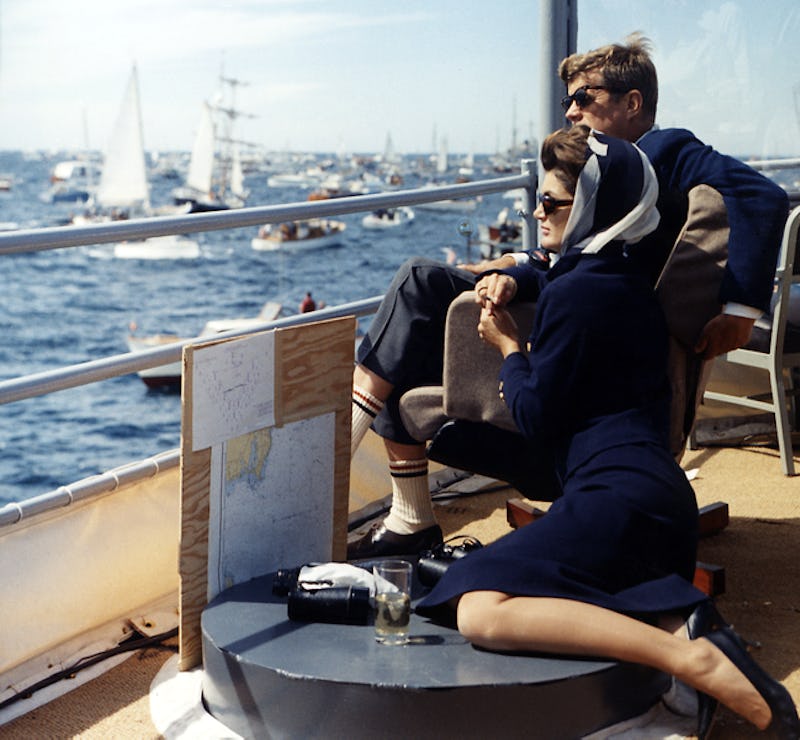 It's not easy being First Lady. Not only is your personal style incredibly scrutinized — including your body, your hair, and your makeup — but you operate under much stricter conditions than the average fashion plate. No cleavage, no extreme couture, and definitely no vampy heels.
Never has someone toed the First Lady line so effectively as Jackie Kennedy, whose unstuffy but ladylike style made her one of America's most enduring fashion icons. She's famous for her shift dresses, silk scarves, and oversized sunglasses, but 17 letters to one Marita O'Connor, her personal shopper at Bergdorf Goodman, reveal a woman with a savvy sense of exactly what it took to maintain the Jackie image.
In the letters, up for auction November 22 (the 50th anniversary of JFK's assassination), Kennedy included fashion sketches, pages from catalogues, fabric swatches, and detailed notes about her ideal wardrobe. Regarding one pair of shoes which she returned to O'Connor, she said, "They have that vamp which I do not like." On a piece of paper headed "United States Senate — Memorandum," she wrote, "Please order me a pair of alligator shoes — size 10A — medium heel — slender — pointed toe but not exaggerated — no tricky vamp business ... I like elegant & timeless. I must have these for Inauguration Day so you'll have to rush." Between paragraphs, she sketched out the shape of her perfect Inauguration Day shoe.
The letters also reveal the exhausting level of detail it took to be First Lady. She asked O'Connor to keep a collection of fabric swatches for each of her dresses and a little book keeping track "of the ones for which I have hats." Outfits also required the proper gloves, the proper shoes, the proper bag. For these very public ensembles, it was a matter of presenting a unified whole — the perfectly coordinated hat, the appropriately heeled shoe — rather than mixing and matching, as we tend to do today (even Michelle Obama has become famous for her high-low fashion sensibility).
Despite her fashion savvy, Kennedy didn't enjoy every element of her presidentially-appropriate wardrobe: "Oh dear it was so pleasant when I didn't have to wear hats! They will pauperize me + I still feel absurd in them!" she wrote.
With the meticulous attention paid to matching fabrics and exact "elegant & timeless" specifications, it's incredible that Kennedy still managed to put her distinct stamp on every outfit, becoming a hugely influential force of American fashion rather than just an appropriately clad President's wife. The woman was much more than a well-placed pillbox hat.
Through each fabric swatch and hand-written note, it becomes more and more apparent that Jackie knew exactly what she was doing. "Would you be good enough to send Mario the material to make the shoes in," she wrote. "Tell him I want them in the same model as my black faille evening pumps and impress on that rather disorganized Italian that they simply must be ready in time."