Who Runs 'Halt and Catch Fire?' Girls.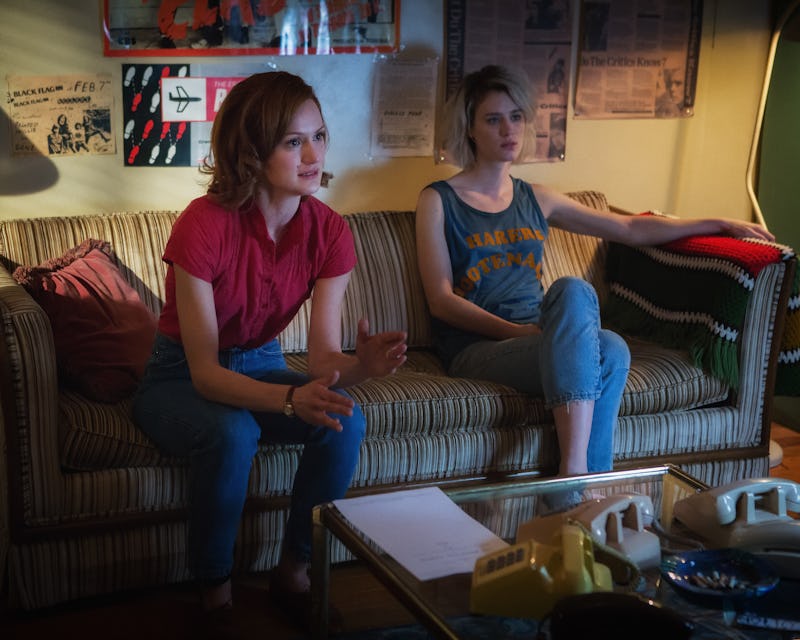 You'd think a show that's all about personal computers and the tech industry in the 1980s would be all about the men. Women, unfairly, often aren't included with the titans of the era, like Steve Jobs or Bill Gates. After the season premiere of Halt and Catch Fire, which airs on AMC on May 31, it looks like there might be a shift. Halt and Catch Fire Season 2 seems to be all about the ladies, and that's totally good news.
That's pretty much a big departure from Season 1. There were an equal number of male and female characters, to be sure. Joe MacMillan (Lee Pace), Gordon Clark (Scoot McNary), Cameron Howe (Mackenzie Davis), and Donna Clark (Kerry Bishé) all wanted to put their personal stamp on the IBM-clone computer they were trying to build, Cardiff Electric's Cardiff Giant. (The name "Cardiff Giant" was a nod to this famous hoax, so it should've been obvious it wasn't going to go so well.) Still, while they all had their strengths in the industry, it was clear that Joe was in charge, Gordon was head engineer, and Cameron seldom got her way. Donna had great ideas, but she was often too busy to help, since she had to balance her own career at a competing company and act as primary caregiver to her children.
No longer. Here's how Halt and Catch Fire's second season is all about the girl power.
Cameron & Donna Are In Charge Now
Season 1 ended with Cameron founding Mutiny, her own startup — one that lets you play games over phone lines, imagine that! — and recruiting Donna to join her. When Season 2 picks up, Cardiff Electric had been sold to a larger company, leaving Gordon with a big paycheck and no company, and Joe is just kind of... not doing anything. Cameron and Donna are the only ones with a company to run, and they're leading a ragtag team of geeks towards innovation. It might not last, but the first trailer for this season seems very Cameron-and-Donna-centric.
...And They're Badass About It, Too
In the premiere, they have to square off against a local fence about some counterfeit stolen equipment they bought — and they come out on top. I don't know about you, but I like it when girls get to play a little dirty on TV.
Donna & Gordon Have Switched Domestic Roles
Right when Donna's ascending the Mutiny ranks, Gordon finds himself without a job. Last season, Donna felt Gordon didn't appreciate the fact that she both held down the steadier career while raising their daughters basically on her own, as he was tied up with the Cardiff Giant. In the Season 2 premiere, Donna's the one off creating something new, while Gordon is in charge of fixing dinner for their (adorable) daughters (and by dinner, he means ice cream). Stay-at-home dad is a very good look for Gordon (if he could only give up his coke habit).
There's A New Girl In Town
Last season, Joe and Cameron were locked in a weird, manipulative on-again-off-again relationship that mostly seemed like he was calling the shots to control her. Not cool, Joe. This season starts with him having a new girlfriend, Sara Wheeler (Aleksa Palladino), who isn't in the tech world and seems to be the one in charge of where the relationship is headed. Serves him right.
They Get The Most Innovative Filmmaking
The highlight of the Halt and Catch Fire Season 2 premiere is a long, unbroken shot that glides in circles in and out of rooms and down corridors while different characters make laps around a house, darting in and out of frame to talk to each other and then run off to handle different crises. It's a pretty impressive piece of filming choreography. (Then again, I'm a sucker for long takes.) So, who benefits form this technical brilliance? Cameron and Donna again. The house is Mutiny HQ, and the camera follows Donna as she circles the living room full of coders, hallways choked with faulty wiring, and bedroom-turned-Cameron's office dealing with the day-to-day business of keeping Mutiny afloat.
The premiere is worth watching for that scene alone, making sure the women are the characters you remember as Halt and Catch Fire Season 2 kicks off.
Images: Annette Brown/AMC; northbndtrain/Tumblr; Tina Rowden, Richard DuCree/AMC