9 Sophia Burset Quotes To Prepare You For Season 3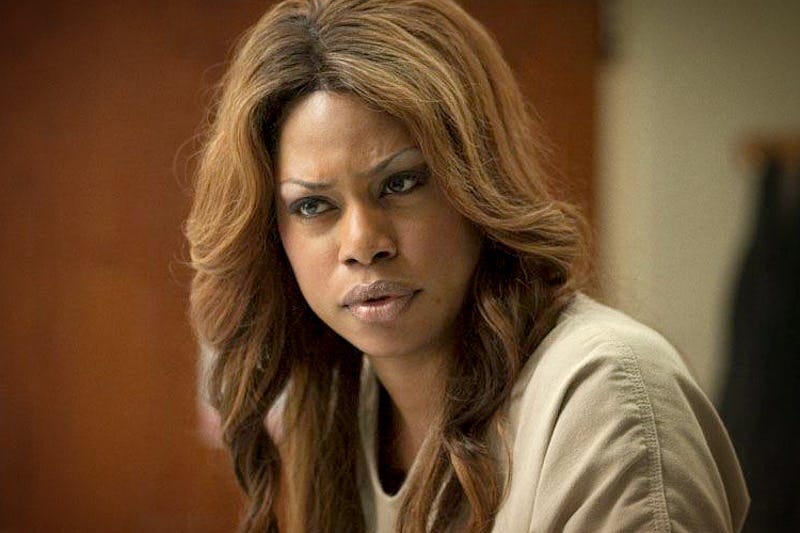 On Friday, everybody's favorite actress and activist Laverne Cox turns 31years old, and it seems like a good enough reason to celebrate her most famous character: Sophia Burset from Orange is the New Black. The prison show's third season will be on Netflix on June 12th, which is good news for basically everyone, but Cox seems especially excited. She told Entertainment Weekly:
The third season is my favorite of all the three seasons to shoot. I got to do some stuff that I've never gotten to do before that I've always wanted to do on camera. The stories just hit me in my gut, every single one.
On Orange is the New Black, Cox plays Sophia, a transgender woman who is imprisoned for credit card theft. Her character often seems like one of the most grounded on the show; she tells it like it is and is confident without being overly cocky. Her sarcastic remarks are some of the best lines on the show, and her wisdom can be the most insightful.
From the hilarious to the emotionally intense, here are nine amazing Sophia quotes to honor the phenomenal Laverne Cox's birthday, and to get you even more excited than you already are for Season 3.
On Female Anatomy
"For the love of God, girls, the hole is not inside the hole!"
On Closure
"If I would've seen him, I don't know, may have felt like closure. But we don't get a lot of that in this life now, do we?"
On Prison Life
"Human beings can't live like this."
On Piper
"You have some f***ed up priorities."
On Competition
"I can take good care of you... but, even if you don't go to me, don't go to Danita! She will burn the sh** out of your scalp."
On Duct Tape Sandals
"Metallics are very in this season."
On Love
"Pain, horrible pain that you want again and again."
On Injuries
"I knew them b****es was lying when they said you left here looking like Omar from The Wire."
On Checking Herself Out
"Holy sh**. I look hot."
She always does.
Images: Netflix; Giphy (9)