Jesse Tyler Ferguson's SCOTUS Sketch Is Hilarious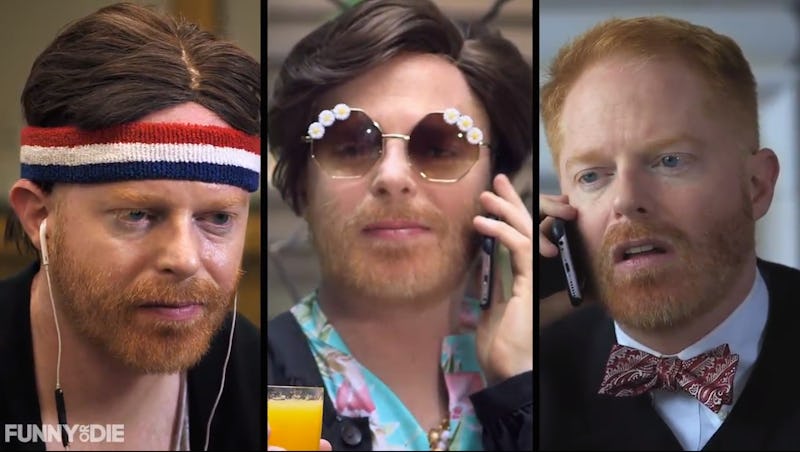 Jesse Tyler Ferguson of Modern Family has never been shy about advocating for same-sex marriage. And this week, he found the perfect union between humor and advocacy in his Funny or Die video imitating Supreme Court justices before the upcoming decision on gay marriage. The sketch promotes the Supreme Save the Date initiative, started by Ferguson's company Tie The Knot, which sells bow ties to raise money for LGBT rights groups. Supreme Save the Date encourages gay couples, or singles, to make wedding invitations to send to Supreme Court justices before they make the life-changing decision in June.
In the Funny or Die sketch, Ferguson dresses up as Chief Justice John Roberts, Justice Samuel Alito, Justice Elena Kagan, and of course the Notorious Ruth Bader Ginsberg (you can't make a SCOTUS video without including RBG). Chief Justice Roberts is confused about why he's getting so many wedding invitations in the mail and calls his work pals to see if they're getting them too. Ferguson's portrayal of each justice is hilarious — Chief Justice Roberts is really full of himself, Justice Alito is a macho gym rat, Justice Kagan is a huger partier, and RBG is a hard-core gamer. Who knows — this could all be true.
All the justices seem to care about is the free cake and champagne they can gorge on at all the weddings, because, let's be honest, that's really the best part about wedding season. It should come as no surprise that RBG solves the mystery of the wedding invitations. In true RBG fashion, Ferguson (imitating RBG) explains why we need marriage equality in the video, saying:
These save the dates are a symbolic demonstration that we are all the same... These couples are like any loving couple who just want to be married and they're waiting for us to make it legal, but our forefathers founded this great nation based on the belief that we are all created equal and...
And then RBG interrupts her thought to yell at her video game.
The end of the video encourages you to send a "save the date" card to SCOTUS to show how this decision will affect real Americans. It's incredibly easy to participate — all you have to do is go to the Supreme Save the Date website, pick an invitation template, fill in your and your partner's names and state, and pick a wedding date and a justice to send it to. Even if you don't currently have a partner, you can write "future partner" in place of a name to show that this decision will impact you some day. The organization will mail them all to the justices in June, hopefully sending the message that the LGBT community needs and deserves marriage equality.
Images: Funny or Die (4)