7 Hair Scarf Styles To Add To Your Summer Routine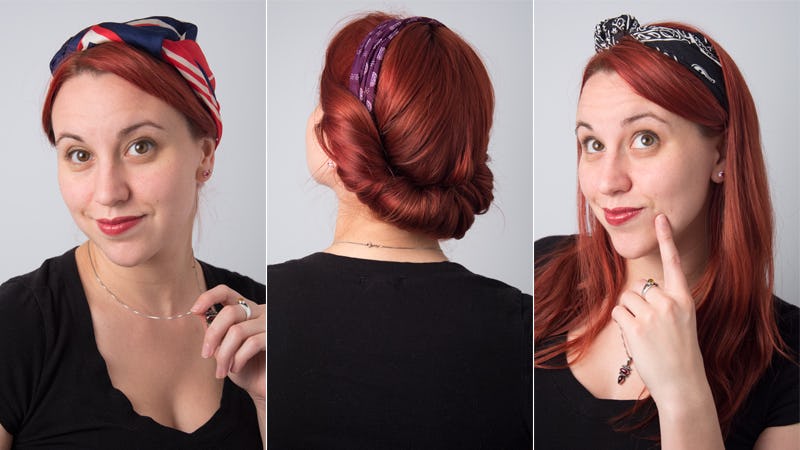 When it comes to fashion trends experiencing a revival, we're seeing more and more that hair scarves are making a comeback. And with summer on the way, the timing couldn't be better. From lounging by the pool in style, to protecting your locks while walking the beach, if you're craving a few easy, new ways to add some extra visual flair to your wardrobe and daily hair routine, hair scarves might just be the answer you've been looking for.
Really, they're wonderful all summer long — providing dual temperature benefits by keeping your hair off of your neck so you can enjoy cool breezes during your favorite daytime summer activities, or adding a little extra warmth for chilly nights, without resulting in matted hat hair. Not to mention, the full coverage styles help maintain colored hair longer, stave off wind and sun damage, and look brilliant doing it.
Of course, just as scarves come in a rainbow of colors, shapes, and textures, so do the wraps we wear them in. Some scarf styles are minimal, splicing a simple band of color into your previously plain, hair-down hairdo. Other styles incorporate the benefits and beauty of a full retro 'do, which can look incredibly classic and polished. The lists of pros and cons varies per style according to your hair type, how smooth the texture of your scarf is, and how polished you're aiming to look.
With a rich history, and varied roots from working class, to nobility, religious significance, to practicality, hair scarves and wraps have long been a way of life, and a subtle, sometimes necessary form of fashion. So what better way to add richness and depth to our daily beauty practices than honoring our past (and present) with modern variations of tried and true hair fashion techniques?
Whether you're paying homage to your personal roots, or just looking to cover up the uncolored roots of your hair and want to take advantage of the scarf's moment in the sun, here are a few fun and summery twists on the hair scarf.
1. Hippy Chic
One of the more retro styles I'll feature today is this festival ready '60s and '70s inspired scarf band. Very easy to accomplish, this look works well in long and short hair, the only key being that you'll want to keep your bangs or two sections in the front of your hair forward of the band. Again, this is an extremely versatile look, and can be paired with nearly anything for a fun, whimsical feel.
Really, as you can see, the only essential part of this process beyond just tying a scarf on your head is that sectioning of your bangs, or faux bangs, I mentioned. Doing so really changes the appearance of your hairline, and offers a nice change of pace if you don't have bangs. Be sure to choose a uniquely patterned scarf — this is an opportunity to get funky!
2. Retro Knot
This retro look goes a little further back, to the time of Victory Rolls. Yep, I'm pulling our inspiration from the '30s and '40s here. Whether you don a bandanna for a rockabilly look, or keep things sweet and innocent with a silky floral scarf, this simple style looks great on any gal.
Again, section your hair into faux bangs, or leave your real bangs forward, and put the remainder of your hair into a low ponytail. Fold your bandanna or scarf in half, then half it again, and wrap it around your neck. Then, simply pull the ends up toward your brow and tie a secure knot. Double or triple knot the scarf (depending on how long the tails are), and tuck any remaining fabric under the band you've created. Finally, remove your hair tie and arrange your hair around the band. Voila! Sassy!
Pro Tip: If you have fine hair, consider using a bandanna over silk — they hold more firmly. Or, if you're dedicated to your favorite silk scarf, secure your scarf by pinning low, near your ears, and possibly up under the knot. Remember, bobby pins hold best with the wavy side down.
3. Headband Curls
Not only is this look stylish and adorable, it helps keep you cool in the summer humidity, and provides a lovely method for achieving no heat curls.
Begin with your hair down, wrap a scarf around your head, and tie it securely in the back. From there, take small sections of hair and wrap them from the front to the back, around your scarf. This style can be left halfway completed for a sweet, half-up, half-down look, or you can continue on, wrapping all of your hair around the scarf. As you curl the last of your hair up into the wrap, you'll have to grip fairly firmly and rearrange the scarf a bit.
Pro tip: You may need to secure this look with bobby pins, but wait until you're done wrapping all of your hair, it will be easier to tuck the length of your strands under the scarf if it is unsecured.
4. Banded Bun
While nothing complicated is occurring in this look, the addition of the scarf can be a lovely way of adding some personal flair to your standard bun. Especially if you're the type of gal who more often than not just tosses her hair up into a ballerina bun first thing in the morning. This way, you keep the ease of the bun, but look as thought you've put in a bit more effort.
Start by styling your hair into your bun of choice — high, low, or otherwise. Next, wrap a scarf around the bundle of hair, adding depth and design to your plain Jane knob. Super simple.
5. Riveting As Rosie
Show your patriotism this 4th of July with a red, white, and blue scarf, tucked neatly into a retro wrap — fitting enough for Rosie the Riveter herself. Or, incorporate some lovely floral patterns, and scarf it up while you garden. Offering nearly full coverage, this look protects your hair from the elements, and keeps your face free of fly-aways.
For the retro vibes shown above, you'll want to start with a square scarf or bandanna. Fold the scarf in half, creating a triangle, then place the triangle's tip at the top of your head, letting the length touch the nape of your neck. From there, pull the long ends of the scarf forward toward your brow and secure them with a knot. Tuck any remaining fabric into and around the knot, leaving a polished look with clean lines. For another variation on this look, you may want to check out these seven summer hairstyle hacks.
6. Braided Beauty
This look is fairly straightforward, so I'm not going to spend a lot of time on it, however, it's pretty lovely, so it's worth mentioning. You'll want to use a long scarf (typically, something near the length of your arm-span works well), so that even after braiding it into your hair, you have a nice set of tails to embellish your braid. Wrap the scarf around your head, tie at the neck, then section your hair off and braid until completion. Use the scarf or a hair tie to hold the braid.
7. Dual Rosettes
Beautifully classy, my final scarf style is the wrap embellished by a rosette. Below I'll provide imagery to coach you through two distinct ways of approaching this style — a fully covered wrap, or basic and banded. As you can see, the style makes for a lovely headpiece, and can either protect your hair, or simply provide a nice accent to your outfit.
With each of these looks, I like to begin with my hair up, and two sections in the front pinned in a manner that gives that same illusion of faux bangs. Obviously, you can do without this — play around, and make the style all yours. Personally, I feel like my forehead is better suited to showing a bit of hair when I wear a full-coverage wrap.
I begin by placing the scarf around my head, and twisting the two long ends on either side of my head. As I twist, I pull the ends upward, eventually twisting them together atop my brow. To create the rosette, I simply continue the twisting motion, then tuck any remaining ends into the twists beneath the rosette.
The banded look starts off a bit more simple, with the scarf folded over and pulled into a twist right away atop my head. From there, everything is essentially the same, ending in a similar, sweet rosette. Enjoy!
Images: Jen Schildgen