7 Actresses Who Should Play Mindy Lahiri's BFF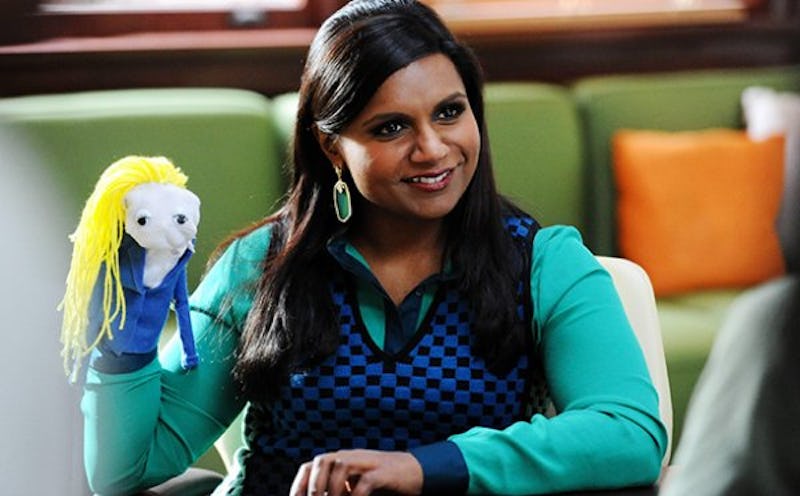 Mindy Kaling shared the best news ever during a BookCon interview with The Hollywood Reporter: Season 4 of The Mindy Project is set to bring on a female best friend for Mindy. When the series debuted, Mindy's bestie was a character played by Anna Camp, but she was phased out after the first season. Since then, Mindy has been largely surrounded by guys. While I love Danny, Morgan, and Peter (oh, how I miss him!), every woman needs another awesome woman to hang with on the regular. It is way past time for Mindy to find herself a new female BFF and I cannot wait to see who the show casts...I mean I literally cannot wait so I'm going to go ahead and give them some suggestions.
I'm sure any actress Kaling and company pick will be amazing, after all The Mindy Project has always had one of the best casts and guest casts on TV, but I am going to keep my fingers crossed that one of these ladies makes the cut. Each one of them is funny in their own right, and they could help take The Mindy Project to the next level as the show embarks on a new chapter on Hulu.
Karen Gillan
I'm still bummed Hulu did not rescue Gillan's exquisite ABC comedy, Selfie, but I'm not going to dwell on the show's untimely demise. Instead, I'm going to focus on how perfect Gillan would be as Mindy's stylish, British BFF. Gillan has proven she can pull off the role of a hysterical, pop culture obsessed character, and isn't that exactly the kind of person Mindy would want to hang with? Add in Gillan's proven comedic chops and I think we have a winner.
Keiko Agena
Agena has almost exclusively been a guest star since Gilmore Girls ended and that needs to change. She is a fast-talking, funny lady who needs to be remembered for more than just her (amazing) work as Lane Kim. She is the kind of actress who has chemistry with anyone and her turns on House, Scandal, and Shameless have shown her versatility.
Lenora Crichlow
Hollywood keeps trying to convince me Crichlow should play all the sitcom BFFs, so I'm just going to embrace the idea even though I know she could carry a show on her own. If Crichlow looks familiar it's because she has played the BFF role in both NBC's A to Z and ABC's Back to the Game, but she was also remarkable in the incredibly underrated British series Being Human. Crichlow is a rare talent who can make you laugh and break your heart in the course of a single scene. I would love to see her bring that energy to The Mindy Project.
Jenna Fischer
Anyone up for an Office reunion? Fischer and Kaling go way back, and thanks to The Office, Kaling already knows how to write to Fischer's strengths. She would be perfect as a fellow mom-to-be who Mindy could bond with, and it would be a blast to see Fischer play a character as un-Pam like as possible. Kaling really needs to make this happen somehow.
Erica Tazel
Tazel was woefully underutilized on Justified, but when she did get screen time, she stole the show. Even though Justified was a drama through and through, Tazel was given ample opportunity to show off her wry sense of humor. This women needs a comedic role yesterday is what I'm saying.
Samantha Bee
Yes, I know Bee is getting her own late night show on TBS, but I choose to live in a world where she can multitask. Bee would be the perfect actress for Kaling to play off of thanks to their similar energies. I can see Bee bringing an eccentricity to the role of Mindy's BFF that would work perfectly within the quirky world The Mindy Project exists in.
Sarah Chalke
Chalke is a comedy vet who has carried shows and been a supporting player. In all of her projects, Chalke exudes a natural likability, charm, and offbeat sense of humor. I think she and Kaling could be TV's next great comedy duo if given the chance, and if Kaling wanted to write her in as a new OBGYN, Chalke has plenty of experience with scrubs.
Images: Fox; ABC; Showtime; NBC (3); FX; Comedy Central