The Porn Version of Pinterest Is Here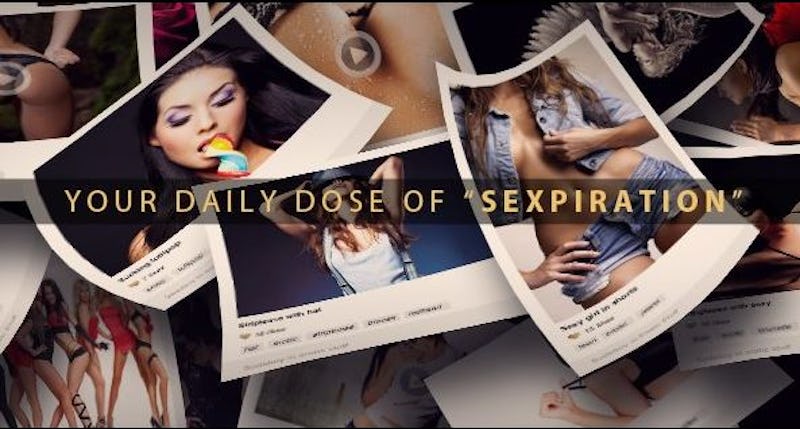 We've all heard about the pre-Internet era, when seeing simulated sex involved actually going out to a movie theater. Back then, porn was a communal experience. Pinsex apparently wants to bring that back. Modeled after Pinterest, Pinsex is a "free adult social network" that stresses the social aspect of sharing and viewing XXX-rated photos and videos online. Pinsex users can create and curate their own boards (called collections), follow other users' collections (including some curated by porn stars), and browse images by categories (which include things like amateur, big dick, Euro, emo, milking and orgy).
In a video about the site, the Pinsex creators urge folks to join in order to "be a part of the sexual revolution" (are you telling me our parents got key parties and all we get is a lousy Pinterest-mimicking porn clearinghouse?). But launched a little less than a year ago, Pinsex is actually a bit late to the porn-pinning game. Similar sites such as Snatchly have been around since 2012. And that same year, Sex.com — the most expensive domain name ever purchased — revamped to feature a Pinterest-like facade.
Pinsex does seem to have some novel features, such as associated web cams and sex toy shops. In a section on how to get the most out of Pinsex, they introduce us to a user who calls himself Napoleon (sporadic bolding all theirs):
As most of males around the world, (Napoleon) likes watching videos from Pornhub, Xvideos, Porntube, Efukt, etc. and sometimes he also visits erotic blogs in tumblr sites. Before Pinsex, he used to save his favorite porn video and images by "copy-pasting" the URL in a document. It was a hassle. Now, he organizes all his porn content from several different sources in one place, divides it into boards so he can quickly find and re-watch his videos anytime.
Pinsex: Liberating you from the immense hassle of having to copy-paste in order to see strangers screwing! This is what it's come to, world.
I don't think women are exactly Pinsex's target demographic, but sites like these do have the potential to be more women-friendly than a lot of porn clearinghouse websites, like Pornhub. On sites like those, users are bombarded with all types of images and videos, so maybe you just want to look at a nice little BDSM video and suddenly you've got naked, pig-tailed teens and MILF gangbangs assaulting your eyes. "We tried to make it softer, easy, simple," Pinsex CEO Christian Thorn told The Daily Dot. On Pinsex and similar sites, there are no pop-ups and you can chose who you follow, so you'll theoretically see only the types of things you want to see.
Image Pinsexcom/Facebook