Meet Your Next ABC Family Crush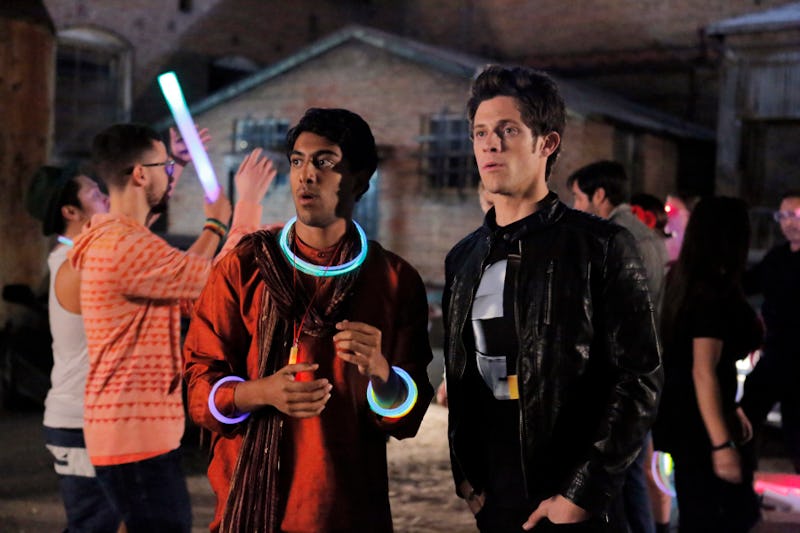 ABC Family is dipping its toe into the procedural waters — and what a doozy of a procedural it is. Stitchers, which premieres June 2, is a procedural mixed with a sci-fi show mixed with a thriller and with some romantic tension thrown in just for fun. The show centers on a covert government program that "stitches" people into the minds of the recently deceased to help them solve crimes (yes, like a more scientific Pushing Daisies). You'd think for something so new, ABC Family would want to get some really famous faces in there to tempt an audience to test it out, but a lot of the cast is relatively unknown as of yet. So who is Kyle Harris, who plays Stitchers ' Cameron, the brilliant neuroscientist wunderkind in charge of the program?
Harris might not be a household name — yet. But, ABC Family does have a record of spotting the actors who go on to do big things. Does the name Shailene Woodley ring a bell? Once upon a time she starred on Secret Life of the American Teenager and now she's taken over Hollywood. Kyle Harris could be the next big star to come out of the network. So, here are a few things about him that you need to know before he has his breakout moment.
You Might've Seen Him On TV Before
Harris has graced the small screen before, in shows like Beauty and the Beast, High Maintenance, and, most notably, The Carrie Diaries, where he played Mouse's Ivy League BF, Seth. Granted, these were not very prolonged roles; if you know of Harris from these TV series, you might have a photographic memory.
He Came From The Stage
According to The Hollywood Reporter, Harris got his start in theater, where he "starred in the National Tour of West Side Story and on Broadway in James Lapine's Sondheim on Sondheim ." As all theater geeks know, Sondheim is hard. The kid must have some chops. I hope Stitchers finds an excuse for him to sing.
He's A Friend To Zoe
Who's Zoe, you ask? A girlfriend? Female BFF? No, it's this Jack Russell Terrier. Zoe doesn't seem to be as into performing as Harris.
He's Going To Bring A Screwball Vibe To Stitchers
Are you afraid the show is going to be nothing but mind-melting science-speak? Harris assures that Stitchers has more of a His Girl Friday thing going on than you'd expect. "You've got the super smart guy who's been sheltered in a lab or a science textbook his whole life, but whenever he's got his banter with Kirsten there's an attraction and there's a charm," he tells Seat 42F. "And yet, there's a one-up battle that happens throughout the entire season between the two of them and the comedy mixed in with this whole procedural science sci-fi jargon." Underneath all that going-into-dead-people's-minds stuff, it sounds like kind of a love story!
This Is What He Looked Like As A Child
And It. Is. Amazing. I'd wear those dino PJs today.
He Thinks He's A Nerd
"I try to be as cool as I can," he told the Red Carpet Report in an interview. "I fail."
Aww, Harris. Dinosaur pajamas aside, I think you're pretty cool, and I can't wait to see you in Stitchers.
Image: Tony Rivetti/ABC Family; kmoolah/Instagram