All About Amy's Fiance Arthur On 'Secrets & Wives'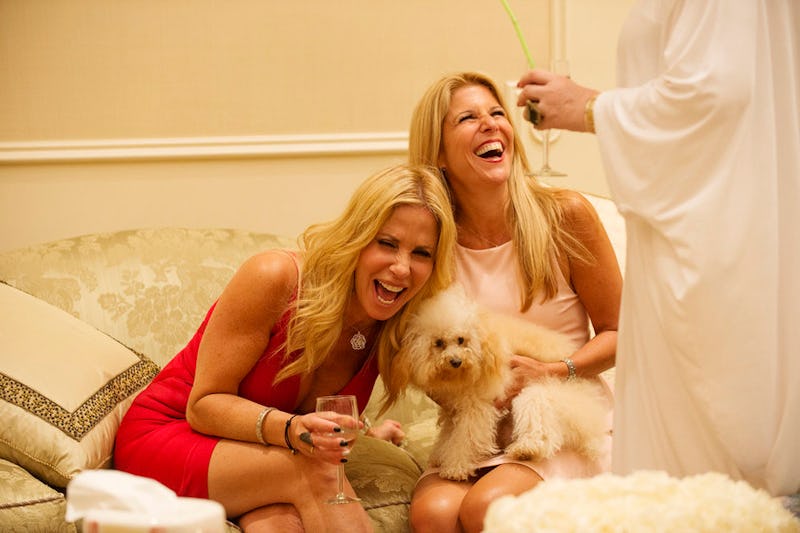 Bravo's new docu-series Secrets and Wives, premiering Tuesday night, follows the lives of six longtime Long Island gal pals, but Real Housewives this is not. According to the official Bravo description of the series, this intertwined group of women have shared many memories, marriages, divorces — and men — between them, but they're looking to reinvent themselves to start a new chapter of their lives. The rest of the gals want Amy Miller to reconsider her drama-filled relationship with on-and-off again fiance Arthur, but who is he? And what will Amy finally decide for new phase of her life?
She's also got her 20-year-old son Max from her first marriage living at home with her, so Miller has her hands full when it comes to her search for self-fulfillment. According to New York Newsday, Secrets and Wives was filmed in the North Shore of Long Island last summer. Miller has been longtime friends with her castmates — and that's what the ladies said sets the show apart from the Real Housewives franchise, according to Wetpaint.
And Miller told the newspaper that she really enjoyed doing the series. "People ask, 'How can you do this?'" she said. "It was fun. I mean, this was fun." But in some clips on the Bravo website, it doesn't look like Arthur provided much of that fun. Here's what I know about Arthur — and if it means he's good enough for this Long Island lady.
The Other Wives Don't Approve Of Him
This is such a well-known fact that it's even in Miller's official Bravo bio. "While her friends express strong disapproval of her current relationship, they can't help being protective and want to see her happy," it says. "Amy never puts herself first and is always worrying about everyone else."
Their Engagement Is All Drama
Well, I mean that's what the descriptor "on-and-off again" means to me.
He Is A Short-Tempered Man
In the above clip, Miller is just enjoying a peaceful lunch with Andi Black, who is giving her advice on the relationship, and suddenly Arthur comes by, mumbles, "This is not happening. This is f--king terrible." The drama has begun.
He goes into the restaurant, where Miller follows, and off-camera he apparently has a total tantrum. Ouch.
He Doesn't Like The Other Wives Either
Probably because he knows they don't like him. In that same clip above, he most definitely heard Black telling Miller that the drama isn't worth the trouble. "What a complete a----le that he would embarrass her in front of everybody," Black says in the clip.
The Night They Got Engaged Is A Cherished Memory
In this clip, Miller shows off her awesome walk-in closet and she's so cute. She talks about how she once had a small closet, but loves her new big one and it gives a sense of Miller's sweet personality. She even talks about a white shirt that she wore the night she was engaged and how it always reminds her of that night. Aww.
Opposites Attract, Perhaps?
After watching the above clip, I noticed that Miller's sweet personality is almost a direct opposite of Arthur's very large and in charge personality. She seems to be a nurturer and maybe that's why they're so attracted to each other.
But will they ever make it down the aisle? We shall see this summer.
Images: Barbara Nitke/Bravo (2); Giphy (2)