9 Best Mariah Carey "Infinity" Music Video Moments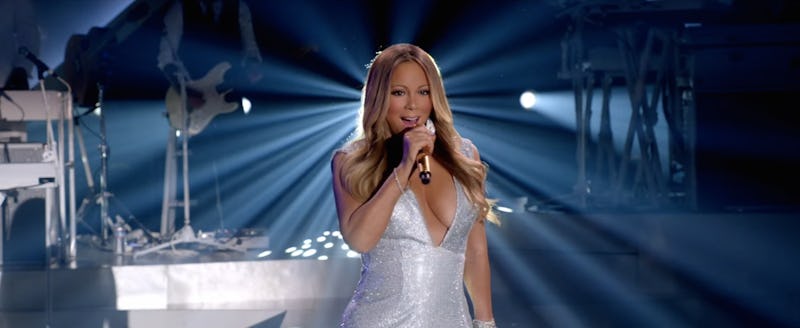 Whether you love the song or hate the song, or whether you love the song and just hate the lyrics, "Infinity" is another hit for Mariah Carey, and marks a return to the kind of songs that made her such a huge star to begin with. Of course, Carey's "Infinity" music video had to be a charming ride for all of her fans as well, and, indeed, it was. It featured not only Carey, but guest appearances from Jussie Smollett aka Jamal Lyon from Empire, among others, and it was a great combination of product placement, Carey celebration, and pure, unadulterated wish fulfillment. I mean, how many of us will ever get to stay in hotels overlooking a billboard of our own faces? That's right; almost none of us.
In the music video, Carey is seen performing at a concert and charming all of her fans as they reach out to her on the stage, getting pampered to go out to sing, and enjoying a little champagne in her closet. Then, she makes herself a few matches with some famous folks, but the one who captures her heart and her attention is Smollett — because he brought a puppy with him, and Carey is more interested in that. Thankfully, it all works out in the end, resulting in a hilariously sweet video that is sure to delight her fans.
Here are the nine best moments below.
1. When She Praised Herself
If there was a billboard of my face outside my window, I would wander out to raise my hands up like I was hugging it too.
2. When She Was Being Pampered
Because this is totally how I get ready in the morning. Totally.
3. When She Had Champagne In Her Closet
Someone please put champagne in my closet.
4. When She Made Dates From The Couch
Praise that we live in a world where anyone can get a date without leaving their house.
5. When Tyson Beckford Flexed
I can't.
6. This Wink
I really, really can't. Although, honestly, she should have kept the liquor. It could have gone in her closet!
7. When She Was Given A Puppy
Smollett clearly knows how to charm a woman. This wouldn't work on me, because I'm afraid of dogs, but I appreciate the sentiment.
8. No, Seriously, She Kept The Puppy
And closed the door in his face. As Beyoncé says, a diva is a female version of a hustler.
9. When She Also Kept The Boy
Awww, a happy ending for Carey, for Smollett, and for that adorable puppy!
Check out the video below.
Image: Youtube (10)