I Tried Storing My Beauty Products In The Fridge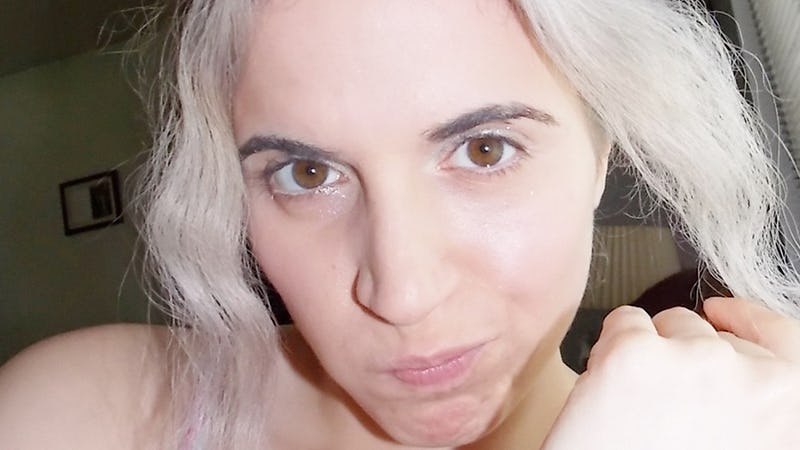 With the newfound humidity and heat making my makeup melt faster than an ice cream cone, I definitely knew it was time to tweak my skincare routine a bit. I'd heard fellow beauty fans wax poetic about the benefits of using chilled skin care products. Storing your lotions and serums and eye creams in the refrigerator will apparently amp up depuffing and moisturizing properties, as well as just generally change your world.
When it comes to my everyday regimen, I'll admit my daily routine is probably a little more extensive than the average human. Unlike most people who alternate between two to three or products, I usually use at least eight products ( I know, I know) to guarantee my skin stays supple and smooth. Still, my oil blotting wipes and sheet masks can do so much, especially on days when the humidity is high and your face is freaking out courtesy of all the salt in foods you'll find at most summer BBQs.
To find an easy skin saving remedy, I took my woes to Google, looking for easy hacks to keep my skin cool and refreshed. After several blog and YouTube clicks later, I stumbled upon Michelle Phan's video promoting the idea of storing your beauty products in the fridge. I figured this especially hot and sticky summer was the best time to try out this technique I'd been hearing so much about.
Yes, the idea of your facial creams chilling with your leftovers sounds totally bonkers, but beauty bloggers everywhere seem to love this hack, as they store everything from nail polish to eye creams inside the fridge. And with claims of extended shelf life and of course tighter and more radiant skin, I decided to give this tip a whirl, seeing if it made any sort of difference.
Applying room temperature cream on the left side of my face, and chilled products on my right, here's what happened when I wore both creams for seven days straight.
Day 1
Being that my sleeping schedule is totally erratic, I count on skincare products to prevent any zombie-like effects. Sure heavy duty concealer really works wonders too, but I'm a firm believer that taking care of your skin is really what matters most. So, after a restless night of tossing and turning and listening to Bjork's Voluspa album to lull me back asleep, I woke up the morning to put this experiment to the test.
After a night in the fridge, I applied the cooled restoring cream on the right side of my face, while slapping on the room temp cream on the left. Upon application, I loved how cool and soothing the cold cream felt on the right side, especially after my eyes were getting baggier beyond belief. However, 30 minutes later, both sides of the skin felt equally moisturized. Perhaps on day five or six, my results will be different.
Day 2
Repeating the same routine from the day before, I still didn't see any big changes. Yes the cool side of my face felt awesome once the humidity poured in, but an hour later, both sides of my face were equally moisturized. Then, I started to jump to conclusions. I began to wonder if the so-called refrigerating fanatics had secret access to a Gallifreyan fridge that clearly hasn't been released to the public yet. I even started to ponder if Sephora will be still around come 3005. I bet the Doctor would know.
Day 3
Changing things up a bit, I decided to see how my typical makeup application was affected by this experiment. After applying both creams on my face in the morning, I then waited a bit, and then applied on my foundations, blushes and illuminators as usual. 45 minutes later and still no difference on either side of the face. I can't believe people actually buy refrigerators to store creams, lotions, and perfumes. Maybe it is all hype after all.
Day 4
Alas, still no definitive results. I managed to catch up on sleep after a romcom marathon with my besties. The nearly eight hours felt frickin' amazing! Anywho, I left the air conditioner on at night to see if it would amp up the chilled side of my face, but still no major difference.
Day 5
Mugginess aside, my skin is loving the moisturization on both sides of my face. My skin isn't feeling any tighter or perkier on the chilled side of my face, but at least I know my skin is sucking up both products like a vacuum. To amp up the stakes, I tried putting both creams on two times a day. Hours later, the outcome was the same as the days prior.
Day 6
I'm no stranger to life ruining migraines, which leave you confined to your bed with the shades down and a pair of sunglasses on. Thankfully on this day, the chilled cream was a godsend, as the cooling sensation really gave me some relief from my splitting headache. In fact, it felt so good that I compromised this experiment (I was pretty convinced it wasn't making a difference at this point) and applied on the cold cream to both sides of my face. Still no amazing skin results, but it felt hella good when combined some peppermint essential oil I had lying around.
Day 7
And on the seventh day, it was a day out again for me. Slathering on some CC cream, shimmer cream, and loads of finishing powder, I figured by now the experiment had run it's course. Le sigh.
Unlike the beauty glamazons who swear by this offbeat hack, I found that refrigerated creams made no noticeable difference on my skin. Sure it felt nice on a hot day and was super helpful when I was plagued with migraines, but overall, both sides of my face proved to be equally moisturized just the same. Maybe next time I'll try refrigerating nail polish. I wonder if it will keep them lasting longer!
Images: Courtney Leiva (8)