7 Fashion YouTubers Who Are Body Pos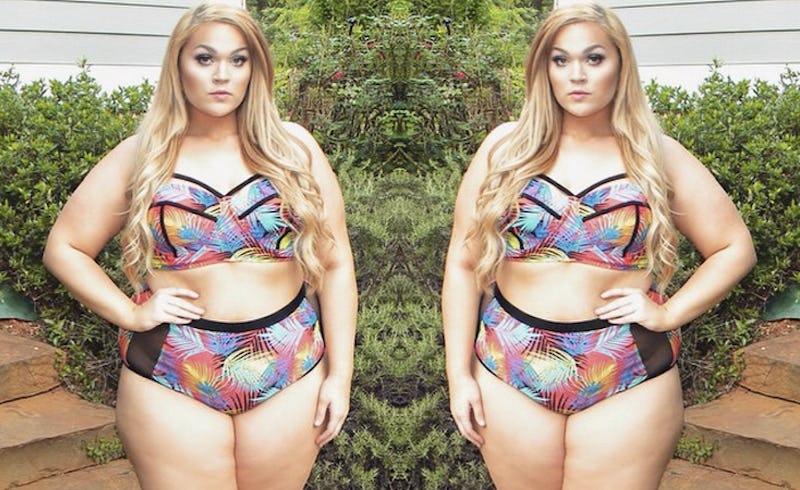 OK, I may or may not watch YouTube tutorials at least two+ hours a day. I am all about the body positivity movement, which is why the plus size fashion YouTube community is so important to me. Unfortunately, plus-size fashion vloggers don't tend to receive receive enough shine compared to the their straight-size fashion and beauty YouTube counterparts. But they certainly deserve lots of the shine.
For Millennials and Gen Z, YouTube is arguably viewed at the same or even higher rate than normal television. What is even crazier, still, is that you can find a tutorial or video on almost any topic you can fathom on YouTube. Like many others of my generation, I have a particular penchant for the typical beauty tutorials and fashion styling videos quite often found on the Tube.
Recently, though, I have discovered plus-size fashion vloggers who are spreading great body positive messages by speaking on various topics — from "plus-size women are not one size fits all" to "why people think men hate fat women." In a world where so many of the most renowned fashion and YouTube bloggers still vastly fit into "aspirational" societal beauty standards, these YouTubers are certainly leaving their mark. The body pos proponents also do the typical fashion haul videos that I secretly (or un-secretly) adore.
So here are seven plus-size fashion vloggers that are spreading incredible body positive messages on Youtube.
1. LoeyLane
Loey of LoeyLane is one of the most popular plus-size fashion vloggers on YouTube and there is a great reason for this. With 304,000+ subscribers, she has people across the world waiting for her to drop a new video of her strutting in a bikini. When she isn't doing that, you can find her speaking on various body positive topics.
2. LearningToBeFearless
Alexandra of LearningToBeFearless definitely has that unapologetic confidence when it comes to her body. While she films the standard "what is in my purse" clips and vlogs about her everyday life, she still finds time to share her opinions on plus-size topics — with a focus on how detrimental it is that society continues to tell women what they can and cannot wear.
3. The Curvy Fashionista
The first thing I noticed about this fashionista was her luscious locks that I wish I had. Nevertheless, Marie Denee (aka The Curvy Fashionista) is the true queen of "keeping it real." She shares her favorite plus-size fashion trends from every season, and other fashion related videos to boot. While doing so, she also delves into how she learned to love herself, how plus-size women are not one size fits all, and other facets of body positivity not rooted in fashion.
4. Tashapolis
Tasha from Tashapolis is not your typical "fashion vlogger." You will actually find her making review videos about her favorite books and television shows. She does not necessarily speak out about being plus-size, however, she wears what she wants without worrying about her size — which is always body positive.
5. Sarah Rae Vargas
"Fashion. Beauty. Body Positivity" is Sarah Rae Vargas's motto for her YouTube channel. (My favorite videos from her channel are from the Dear Fat Girl series.) She is very open about her sexuality as well, which is yet another raw form of body positivity and feminism.
Don't worry, though: She makes utterly incredible fashion and beauty videos as well. Plus, she has the most adorable children and they pop up in her vlogs from time to time.
6. CeCe Olisa
CeCe's YouTube channel is different because she shares more of her everyday life within vlogs. Even better, she creates body positive workout videos and highlights her fitness routine to promote health-without-body-shaming. Olisa wants to beat the stereotype that plus-size people cannot be healthy, and I believe that she is doing a great job at it.
7. Passion Jones
Passion Jones is one of my favorite YouTubers out of this bunch. Like the other 147,000+ people across the world, I watch her makeup tutorials and fashion try-on hauls quite often.
What makes her unique from other fashion and beauty YouTubers is that she shares her favorite clothing items and brands to introduce plus-size women like herself to designers and brands they may not have known about otherwise.
Images: LoeyLane, Passion Jones, CeCe Olisa, LearningToBeFearless, The Curvy Fashionista, Tashapolis/Youtube; sarahhhrae, loeybug/Instagram