'PLL' Is Out Of The Dollhouse Now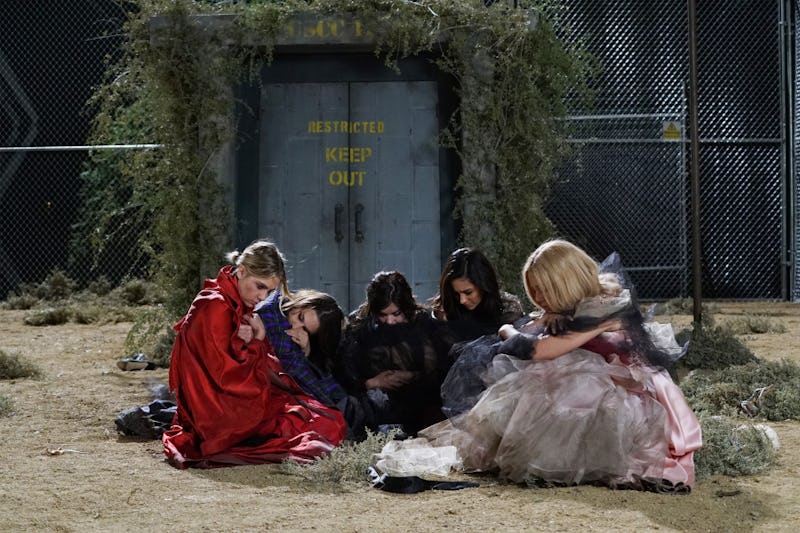 That's a wrap on your dollhouse, Charles. After being scarred for life by Charles' torture on the Pretty Little Liars Season 6 premiere on Tuesday night, we can all finally be rid of the dollhouse. Spencer, of course, came up with the brilliant plan to burn Charles' home movie, drawing him out of his surveillance room and distracting him long enough that the Liars escaped the dollhouse on Pretty Little Liars . And, luckily, had a great surprise waiting for them on the other side of all of that treacherous chaos. Who ever said there's never been a happy ending on PLL?
As the Liars were climbing for their lives to get out of that creepy and expensively decorated bunker, they came out through a trap door and landed right into the arms of Ali, Caleb, and Ezra, who were shortly followed by the police and Toby. And you thought I was joking about that happy ending, right? WHAT COULD BE HAPPIER THAN A HALEB REUNION LIKE THAT? Nothing. Nothing could be happier. But any good PLL fan knows that this nightmare is far from over for those of us that are still wondering who Charles really is and for the Liars who have to try to go back to the real world after the craziest experience of their lives. Watch the full scene below.
We already know for sure that things aren't going to be easy — the promo for next Tuesday's episode already showed the girls wondering whether or not they'd actually escaped for real. That might seem impossible right now, mostly because I don't want to believe that I Marlene King would do that to us, but — aside from that Haleb reunion that brought me to tears — there's no way this is over. Not yet, at least.
Images: Eric McCandless/ABC Family