Camellia Oil Could Be Your Secret To Perfect Hair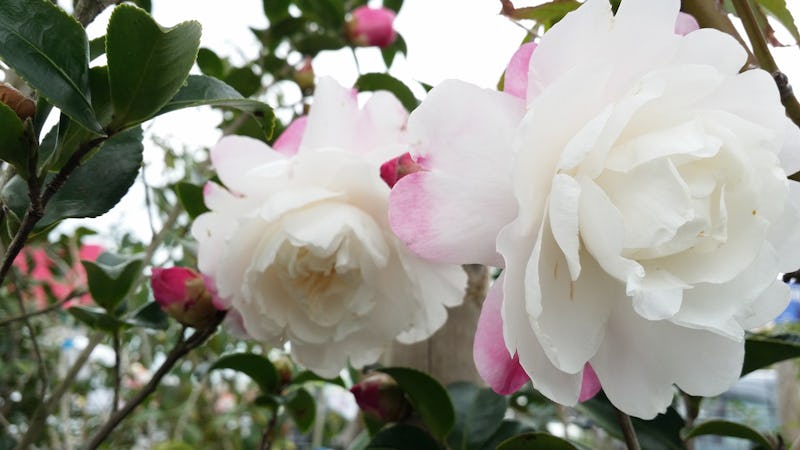 Anyone who has even the slightest obsession with our dear Coco Chanel is likely familiar with the camellia's pretty white blossom, but the oil from this flower is just starting to make its own waves in beauty care. Thanks to my hair's emotional stages of dryness, I've gotten to know that camellia oil benefits for hair are probably one of the main reasons Chanel was so obsessed with it. Camellia oil is hands down one of the best oils, particularly for the summertime hair blues many afro-textured babes face. Basically, any hair types that suffers from a case of the frizzies, the pains of humidity, and overall moisture loss can easily fall in love with this natural, lightly fragrant oil.
My own hairs emotions are usually in three phases of dryness. (1) The "I'm-only-dry-because-you-literally-have-not-touched-me-in-5-days" phase. (2) The "Are-you-seriously-wearing-your-hair-out-in-this-cold-as-crap-temperature" phase, and (3) "I've-accidentally-gotten-wet-and-I'm-extremely-dry-and-very-tangled" phase. The latter being the most common phase. Sorry, hair: I love you, but I'm not wearing an umbrella during a gentle mist no matter how stubborn and coarsely you behave afterwards. It's just not happening. Fortunately, camellia oil has been known to give all hair types a touch of softness. to otherwise dry hair.
When I first heard rumblings of this oil's excellent healing properties, I was already doing a Google search on how and where to find the best camellia oil before the person was even finished talking. According to sources at The Fashion Spot, the best camellia oil comes from the Oshimo Islands of Japan. Also known as tea seed, camellia oil is rich in omega 9 fatty acids. It's about 80 percent oleic acid which is similar to macadamia nut and olive oil. It can be a bit misleading to learn that omega 9 fats are not essential fatty acids because the body can create them on its own. That sounds like it's something you don't need, right? Wrong. This seemingly irrelevant fact is actually pretty important when picking the right summertime oil. Camellia oil is going to be similar to the oil your body naturally produces, keeping pores cleansed (not clogged) and your scalp hydrated (not smothered).
According to sources at Curly Nikki, camellia oil is rich in vitamins A, B, C, and E while being a great source of antioxidants and plant collagen. Most notably famous for its ability to seal in moisture and restore the color of grey hair, the nutrients of camellia oil are also beneficial for healthy, smooth skin.
Once you try one of these easy hair and skin recipes with camellia oil, you'll be totally addicted to this natural oil for its anti-aging benefits and of course, keep your tresses on fleek all summer long.
Camellia Hair Sheen
Fight humid days one spritz at a time with this camellia hair sheen spray. Build this recipe in a tinted spray bottle to keep your oils from spoiling. I used one cup of double-boiled water, one teaspoon of vegetable glycerin oil, one tablespoon of sunflower oil, and three tablespoons of camellia oil. Then, I added ylang ylang and jasmine essential oils for extra nutrients and a truly intoxicating scent. Shake your new hair sheen up vigorously and apply on wet hair or brittle, dry ends.
Hot Oil Treatment
Hot oil treatments work particularly well for my own hair in the summer; it helps restore the moisture that powerful AC units have stripped and makes my hair incredibly soft while the sun clearly just wants to burn it off. For an easy hot oil treatment that you can use in between washes, I use a quarter cup of camellia oil, a quarter cup of coconut milk, half a tablespoon of castor oil, then I add 18 drops of sage essential oil. Heat your ingredients over a low flame and apply on wet hair starting at the ends and traveling up towards the roots. For best results, wrap your hair in a hot towel or use a heating cap under a low-heat hairdryer. Keep your hot oil treatment in for at least 20 minutes and rinse well.
Image: Osahiro Nishihata/Flickr; Giphy; Kristin Collins Jackson