7 Rad Pieces Of Bike Technology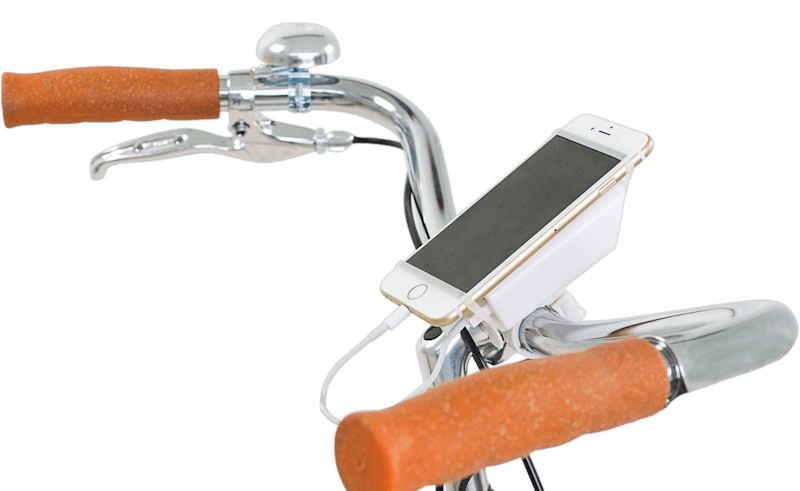 Cycling isn't just for hipsters and hippie-granola types any more. Riding a bike is rapidly becoming one of the most popular ways to commute in the world. It's part-environmental concern, part-get fit craze, and part-looking smugly at your coworkers as they wait for the bus. And as cities like London discover their bike lanes clogged full with people pedaling to get to work on time, bikes are getting more and more high-tech.
Luckily, there are now lots of ways to combine being a bike nerd and being, well, an ordinary nerd. The technological innovation of the bicycle has come a long way since it debuted in the 1800s (numerous French and German inventors compete for the credit on that one). We've seen three-wheeled contraptions, penny-farthing bicycles with their massively mismatched wheels, and the "safety bicycle" developed by an Englishman in 1885. Bicycles are even credited as contributing heavily to the course of women's suffrage by making women more independently mobile. Nowadays we're all about electric bikes, tracking devices, and racing bikes made of carbon fiber so lightweight any tiny change in their shape might cost an Olympic rider seconds. But on the basic level, the shape — two wheels, some brakes, a saddle, and handlebars — has remained essentially unchanged for a century.
But if you want to pimp your bike with new tech — and have deep pockets — this is the list for you. Some of these ideas are new off the production line, but as the idea of seriously teched-up bikes and riders become more common, they may become seriously commonplace. Get these seven pieces of bike tech while they're still original.
1. The Bike That Tells You Where To Go
3D printing has entered the bike world. Olympic cyclist Sir Bradley Wiggins will soon attempt a new world record on a bike with 3D-printed titanium handlebars. But it's not just for super-elites. A new 3D-printed titanium bike is aiming to change the market for novices — and has its own apps embedded in it.
The Solid bike by TI Cycles is designed for complete bike newbies, and alongside the cred of having a bike that's literally been printed for you, it comes with some very helpful connected tech. The frame's got two apps: one, My Bike, is powered by pedaling, and updates you via your phone when the bike needs maintenance. The other, called My City, tunes into different routes and vibrates the handlebars to tell you when to turn. This is literally a self-directing bike. Whoa.
2. Anti-Theft GPS Trackers
There are a bunch of products on the market aiming to reduce the risk of every bike owner's nightmare: coming outside to discover a gaping empty space on the bike rack. Earlier this year, Connected Cycle debuted smart pedals that both track your fitness and monitor the bike's location permanently, including when it gets nicked. Bike thieves busted.
BikeHawk's idea, however, is to have three different GPS trackers hidden on different parts of your bike — on the handlebars, tail light, and seat post — all of which sync up to an app that'll text you if the bike moves after it's been locked. They're also fitness trackers and route planning devices in their spare time.
3. The Bottle That Keeps Water Cold Forever
If you're a hardcore cyclist who likes to spend their weekends climbing hills and has never met a piece of Lycra you didn't like, this is the piece of tech for you. It's a super-insulated bottle called Podium Ice by Camelbak that keeps water cold as much as four times longer than its closest competitor.
It works using something called aerogel insulation, which is powerful enough to make your usual thermos look like a coffee mug. No more disgusting lukewarm draughts after you've pretended to be Lance Armstrong for four miles.
4. The Wheel That Makes A Bike Smart
Developed in Cambridge, Massachusetts, the Copenhagen Wheel (named after the most bike-friendly city in the world) is a wheel that attaches to an ordinary bike and turns it, well, smart.
It's partially a power thing: the Wheel has a motor that means you can whizz around without relying entirely on your own energy. But it's also got a host of other smart features, including a self-recharge which gets power for the battery every time you brake. Plus, of course, there's an attached app that measures calories burned, plans routes, and can lock the wheel to stop somebody with aspirations of running off with it.
5. The Bike Light That Doubles As a Phone Charger
Number one: always have a bike light. If you cycle on busy roads at night without one, you are an idiot and deserve to ride the bus for the rest of your life. Number two: you really have no excuse now that there's a light on the market that operates as a phone charger at the same time.
FlyKly's Smart Light is a snap-on light that also works as a phone holder and a charger. I'm not sure about their suggestion that you can use its handy handlebar position to check your route on the go — maybe focus on the road? — but it's definitely eco-friendly; it uses your pedal power to fuel its charging capabilities on the go.
6. The Collar That Becomes An Airbag
This is one of those innovations that looks hilarious but is actually seriously sensible. If you're seriously not a helmet person for whatever reason, there's an option out there for you: a collar that becomes, in the event of a crash, a head-enclosing full-strength airbag. You'll look like a cloud, but your skull will be intact.
It's marketed by Hovding, and is a basic collar that looks like any other fold-down plastic hoodie, just with a little more bulk. The sensor detects if you've been in a crash and inflates immediately, but the whole shebang needs repowering after every nine hours of cycling.
7. The Helmet That Folds Flat
If you don't have a helmet because they're bulky and unfashionable, which is, alas, a fairly common reason among cyclists, there's another option. The Morpher Folding Helmet both sounds like a '90s TV show about aliens and provides a space-saving solution to your helmet-based worries: it folds flat as a pancake when it's not on your head.
The idea is pretty simple, but it's won a bunch of awards — like most good inventions, it seems completely obvious now that somebody finally decided to do it. Pop it in your handbag and then pop it open and surprise your coworkers when it's time to cycle home!
Images: Morpher, Hovding, Flykly, Copenhagen Wheel, Camelbak, BikeHawk, TI Cycles