7 Best Shoes For The Sweatiest Feet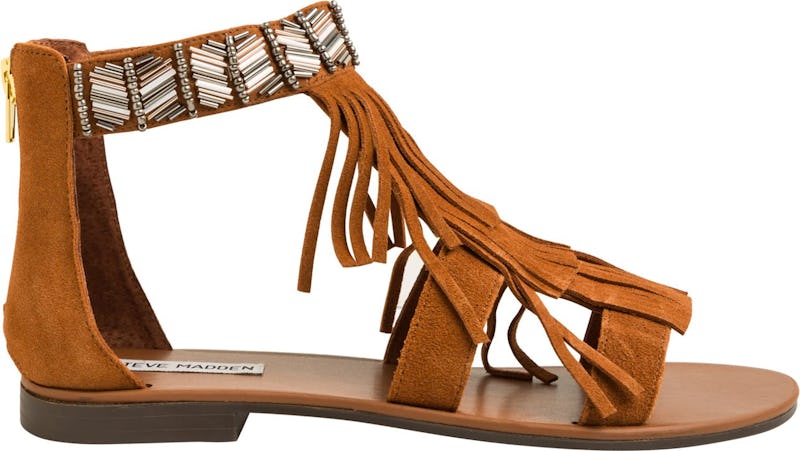 The warm weather is finally here and I cannot wait for the summer days filled with ice cream cones, sunbathing by the pool, and random road trips — but you want to know what I am not excited about? The seemingly impossible task of finding shoes for sweaty feet. Yes, I will be the first to admit that my feet get excessively sweaty during those dreadful humid days in the spring and summer months. And while it's nothing to be ashamed of, it doesn't make wearing seasonal-appropriate shoes an easy feat.
Choosing footwear while struggling with sweaty feet is a struggle all of its own. What kind of shoe materials are sweaty-feet friendly? How can I remain stylish while having dry feet during these hot months? Should I wear socks and closed-toed shoes just to keep my sweat contained?! These are just some of the questions that surround the issue of choosing shoes while struggling with sweaty feet during this time of year.
While being barefoot is, IMO, one of the greatest options to leave your feet sweat-free, that is not realistic all the time. I mean, you cannot usually be barefoot at the office or while grocery shopping (the latter would be quite gross). There are other great alternatives to having dry feet during these warm months, though.
Here are seven forms of footwear that will keep your feet sweat-free this summer while letting you remain stylish.
Nike 'Benassi JDI' Print Slide Sandal, $30, Amazon
These slide sandals are the next best thing to being barefoot. Your feet will catch all of the little breezes in these sandals. Plus, they can be styled well to create the sports luxe look that is trending right now. Nike slide sandals are a step up from flip-flops and I appreciate them.
Jeffrey Campbell 'Cors' Suede Peep Toe Booties, $165, Amazon
Wanna wear ankle booties on a hot day without having sweat-drenching feet? No worries, just opt for suede peep-toe booties instead of leather ones. Suede works well at absorbing your sweat, and is more lightweight than leather.
Birkenstock Silver Birko-Flor Mayari, $94, Amazon
OK, please do not send me hate mail for actually having Birkenstocks on this list. They are one of the greatest shoe options for avoiding sweaty feet! Birkenstocks have a lightweight, durable, and shock absorbing sole that is ideal for us sweaty folks. These silver Birkenstocks are the most stylish color, too, and will go with any look in your closet.
Nike Roshe Run Sneaker, $65, A mazon
Looking for a sneaker that you can work out in without having soaked feet? If so, choose a sneaker like the Roshe Run, which has a mesh material at the upper portion of the shoe. You can wear these sneakers with or without socks, due to their lunarlon midsole and cushioned collar. You will have dry feet and feel like you are walking on a cloud when you wear these sneakers.
Leather High Heeled Sandals With Bow, $100, Zara
No more sweaty feet on girls' night out or date night. Instead of your closed-toe pumps, choose open-toed suede heels. These suede heeled sandals come in a fun yellow that is extremely stylish. Your dry, fashionable feet will stand out at night when you wear these shoes.
Steve Madden Gianni Fringe Sandal, $44, Jet
While fringe gladiator sandals are extremely trendy this summer, they can be rather hot, and are not necessarily dry feet-friendly for people who already struggle with sweaty feet. These sandals are simple yet still have the fringe detailing that we crave. Also, they are suede — which is any foot-sweater's favorite material.
Lilly Glitter Strap Jelly Sandals, $20, Boohoo
I know what you are thinking: "Jelly sandals and wet feet" sounds like a disaster; but hear me out. People who struggle with sweaty feet can wear jelly sandals if they are open toed and have a non-jelly sole. These sandals, for instance, will not have you sliding around everywhere. Plus, your feet will probably be dry anyway, due to how open and breezy these jelly sandals are.
Images: Courtesy Brands