41 Covetable Fashion and Beauty Gifts Under $500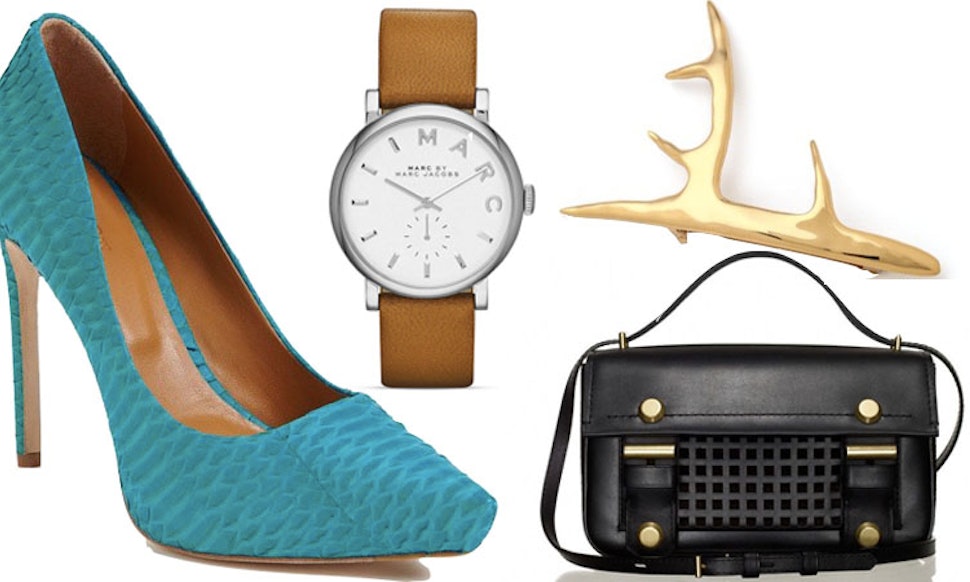 Picking the right gift for the style-conscious girl can be tricky: You want to get her something that flatters both her shape and her sense of fashion. This hand-picked lot should do the trick. There's something for everyone here, no matter her taste (or your budget — nothing's more than $500).
Oh, and while you're flipping, you might just find something that you want to put on your own holiday wish list. Or two things. Or five. Not that we're speaking from personal experience here, not one tiny little bit.
Bubble Necklace
For the quirky, design-conscious girl who likes to be a conversation-starter, this artful piece is a no-brainer.
Bubble Necklace, $118, Moma Store
Essential Travel Bag
This travel bag is the kind of essential that will make her wonder how she went anywhere, ever, without it.
Kate Spade Saturday The Weekender Bag, $180, Kate Spade
Designer Heart Tee
The styling options with this playful designer tee are endless.
PLAY Comme de Garcons Red Heart Tee, $118, J.Crew
Studded Loafers
These loafers' classic shape means she'll wear them every day, but the studs give them just a little bit of attitude, which shows that you know her edgy side well. Try not to keep them for yourself.
Rebecca Minkoff Alvin Too Suede Loafers, $225, Rebecca Minkoff
Silk Peplum Top
The peplum isn't going anywhere. This top isn't as rigid as some, which means it's a much more flattering, wearable version of the trend.
Madewell Silk Scallop Peplum Top, $108, Madewell
Rose Gold Bangle Watch
Here's the reason to advocate for rose gold, beyond the trend factor: She'll never feel silly wearing gold jewelry with a silver watch, or vice versa. And it's always a standout piece.
Kate Spade Rose Gold Cobble, $225, Kate Spade
Contrast Trim Blazer
The contrast trim means fun; the silhouette means business. This jacket is super-versatile, like her.
Gap Ponte Academy Blazer, $88, Gap
Backpack With Laptop Slot
The backpack trend is big, and this one borrows from the boys with its tomboyish lines. It's rugged, and it's got a slot for her laptop, too.
C6 Small Backpack, $155, c6life
Weather-all Parka
Live in a cold state? The ultimate jacket. Period.
Fjallraven Greenland Parka, $375, fjall raven
Gold Statement Ring
Versatile Workout Tank
You've dreamed of a tank that you'd actually want to wear from yoga to lunch, but you've yet to see it… until now. If she's a workout fiend, she'll live in this top.
Cory Vines Racerback Tank, $25, Cory Vines
Silver Message Cuff
The girl who's a bit more understated will appreciate the subtlety of this sophisticated, handmade piece.
Joie Perfume
Scents are a very personal thing, so when you find one that's universally liked, snag it — or give it.
Gold Pyramid Necklace
This piece has just enough stand-out factor to turn into a wear-everyday necklace.
Bing Bang Sacred Pyramid Pendant, $150, Bing Bang Nyc
Statement Pump
The pump that goes with everything, and comes in every color, and will make her feel sexy every time she wears it.
Rachel Roy Gardner Pump, $250, Rachelroy
Essential Silk Blouse
If she doesn't own an Equipment blouse, she's at least thought about getting one. Do her the favor.
Leather Skirt
The shape flatters anyone, and the style is a classic — with some edge.
Love Leather A-Line Leather Skirt, $320, Intermix
Metallic Oxfords
Is Cole Haan's classic oxford, updated in keeping with this year's metallic trend, something she'd never get for herself? If so, you've just found the perfect gift.
Cole Haan Gramercy Oxford Cap Toe, $198, Cole Haan
Tall Leather Boots
A present that she'll get miles and miles out of, both figuratively and literally.
Diane Von Furstenburg Genna Tall Heeled Boot, $498, dvf
Pantone Makeup Palette
If you've got a designer or artist on your list, this nod to the Pantones she refers to daily is a smart pick. There's no color on this palette that she won't want to use.
Sephora + Pantone Universe Elemental Energy Eye Shadow Palette, $38, Sephora
Professional Blowdryer
A good blowdryer makes all the difference — and if anyone knows it, Drybar, the pro blowout salon with locations all over the country, does.
Drybar Blowout in a Box, $220, Sephora
Pro Makeup Brush Set
If she doesn't have a great set of brushes, this is a gift that's always appreciated.
Too Faced Teddy Bear Hair Professional Brush Set, $65, Sephora
Small Stud Earrings
All of Dogeared's little stud earrings make fantastic gifts, so scan through the line to find the design that's right for her, be it an anchor, a lightning bolt, a sand dollar, a skull, or these roses.
Dogeared Small Rose Stud Earrings, $36, Dogeared
Leather Sleeve Sweater
You could give her another sweater… or you could give her this.
Tracy Reese Leather Sleeve Sweater, $328, Tracyreese
Embossed Leather Skirt
For the girl with a wild side — and a sense of high-style. (The two are often at odds.)
Maje Donatella Crocodile Embossed Skirt, $280, Maje
Updated LBD
Business in the front, party in the back.
Ali Ro Samara Dress, $298, Aliro
Geometric Print Dress
This is the dress everyone is going to be asking her about every time she wears it. Be the person who gave it to her.
Sandro Relief Geometric Print Dress, $390, Sandro-Paris
Metallic Coated Jeans
There's one way to wear a metallic pant, and that's to look insane. Or, there's this way — in a sleek, muted hue.
J Brand 620 Diffused Super Skinny Jean, $253, j brand jeans
Sleveless Silk Dress
This silk Yumi Kim frock is dress up, dress down — one belongs in every closet.
Yumi Kim Taylor Dress, $198, Yumi Kim
Silk Lace Print Blouse
For a twist on the lace trend, give this silk top with its so-right-now pattern. The bow in the back is a pretty, feminine surprise.
C. Wonder Silk Lace Printed Blouse, $128, C. Wonder
Gradient Sunglasses
Cool-girl sunnies that don't scream hipster by one of our very favorite brands. Worth every penny.
Salt Hayley Violet Rose Gradient Sunglasses, $375, Saltoptics
Everyday Watch
We love this simple, understated watch that gives an everyday outfit a style upgrade.
Leather Booties
Such a chic silhouette: a little sophisticate and a little bad girl at the same time.
Corso Como Alexandra Boots, $189, Corso Como Shoes
Sheer Sweater
This is how to do the sheer trend with elegance. A piece any woman can wear (and wear and wear).
Theory Jaidyn P Exhibit Sweater, $295, Theory
Fancy Sweatshirt
The fancy sweatshirt trend isn't for everyone… or so you think until you see this beauty by McQ. (The birds are fuzzy. That is all.)
McQ Swallow Sweatshirt, $345, Alexander Mcqueen
Antler Barrette
One of the most elegant silhouettes in nature, it's also one of the most unusual gifts you could give — or get.
Pluie Antler Barrette, $110, shopbop
Ankle Boots
OK, we said everything here is under $500, but if you've got some room to splurge — or to dream — here are five ultra-luxe gifts to add to the wish list.
The best thing about these wear-anywhere boots is that the construction is as perfect as the styling.
Rag & Bone Ayle Boot, $595, Rag&Bone
Leather Work Tote
Whoever said blue and black don't go together is about to get her mind changed, stat. This bag will be her go-to carryall forever and ever and then some.
Loeffler Randall Work Tote, $695, Loefflerrandall
Ultra-Detailed Coat
The detail on this coat is, in a word, irresistible.
Tory Burch Remy Coat, $995, Tory Burch
Leather Shoulder Bag
This shoulder bag has attitude and sophistication at once, and leave it up to Reed Krakoff to turn a purse into an enigma. Whatever it is, it's covetable.
Reed Krakoff Bionic Academy Bag, $1,190, Reedkrakoff
Leather LBD
When the little black dress equals the perfect black dress.
Theyskens' Theory Ducka Dress, $1,095, theory