6 Women On Their Most Expensive Beauty Purchases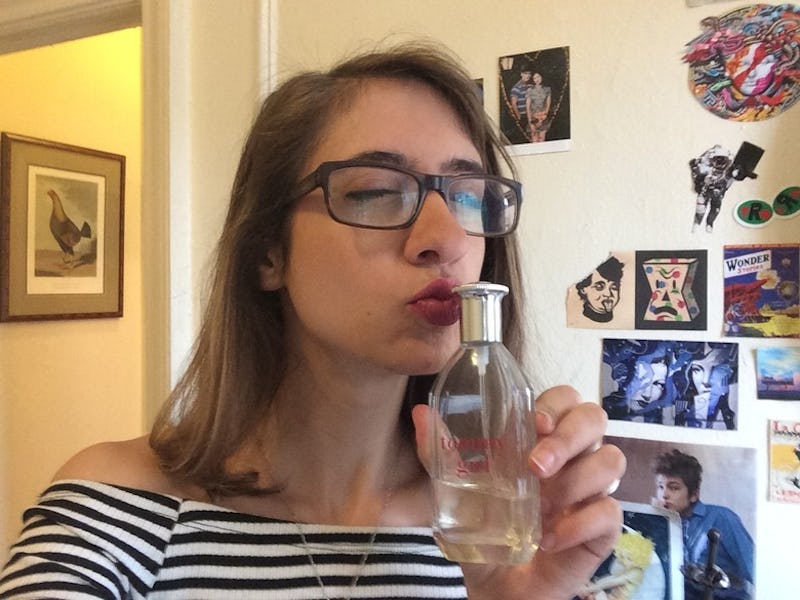 The average American woman spends $15,000 on makeup in her lifetime, of which about $3,770 is spent on mascara alone — it's an expensive habit, especially on items that you're going to either use up or eventually throw out. But why do women buy expensive beauty products that, almost by definition, have a limited shelf-life?
Having spent my fair share of time at both department store and drugstore beauty counters, I totally understand how that seemingly absurd amount quickly adds up, especially when you throw in a fancy item or two, which can have some pretty eyebrow-raising prices. Although I'm a big advocate for all-generic everything and drugstore brands, which are usually way cheaper than their branded counterparts, one place where I don't skimp is on my skincare routine because I'm a little neurotic (or very neurotic, depending on your definition). I'll splurge on a fancy new face wash or moisturizer about once a year, at about $50 or $60 a pop, but once I find a product that works for me, I'll stick to it, no matter what the price tag.
But I was curious about other women's spending habits. How do they justify these expensive purchases, and, maybe more interestingly, what do other women define as a "splurge?" In a very unscientific survey, I asked several women via e-mail to tell me about the most expensive beauty or hair product they've ever purchased. What was the product, and how much did it cost? Why did she buy that specific product? Was it a recommendation from a friend, or a review in a magazine, or even a particularly persuasive salesperson? Beauty counters are designed to make you spend more, after all. And maybe most importantly, how was it? Did she feel like she got her money's worth, or was it a total dud?
Here's what I learned from six women about their most expensive beauty purchases:
Alex
Klorane Dry Shampoo with Oat Milk, $20, Amazon
"In college, my friend told me about this amazing dry shampoo Klorane, and when I was visiting her in the city freshman year, we went to buy some because even then I hated to shower," Alex explains to me in an email. "It was around $20, I think, and literally the most expensive product I owned because I don't do anything to my hair." Years later, Alex still uses this brand of dry shampoo, but now, "I buy it on Amazon Prime in bulk."
Molly
Tommy Hilfiger Tommy Girl Eau de Toilette Spray for Women, $28, Amazon
When I asked Molly for her thoughts on expensive beauty products, she was quick to point out, "EVERYTHING IS THE SAME AT A DRUG STORE ONLY CHEAPER. YOU PEOPLE ARE ALL LEMMINGS." (Emphasis was her own. And she's right, for the record. A lot of luxury makeup brands have drugstore equivalents.) She does sometimes stop by Sephora "to do my makeup for free on the fly," but her makeup routine has been the same for the better part of 10 years. "I have been using generally the same stuff since I was 15 years old, because it's cheap, simple, and available in, oh, over 5000 stores across America. If I ever run out of my 'beauty staples,' there's usually an aisle of L'Oréal and Wet'n'Wild products somewhere close by."
Molly "can't think of a single beauty product I would be willing to purchase that's over $20," except for one. It's her perfume Tommy Girl, which she calls "my trusty, dusty, reliable brand since middle school, and let me tell you this stuff is AMAZING. I've had bartenders, bouncers, baristas, boyfriends stop me in my tracks to ask what smelled so good. I think because it's refreshing, clean, and not overpowering. It's very crisp with notes of floral." A bottle is about $40, but don't worry because "YOU CAN GET IT AT A DRUGSTORE TOO. #ballerstatus."
Austin
Dior Hypnotic Poison Eau de Toilette Spray, $60, Amazon
Austin's search for the perfect perfume began where most people's searches start: the Internet. She was looking for a scent with undertones of jasmine, vanilla, musk, cinnamon, and licorice, and slogged through reviews, but couldn't find one that hit all those notes. But then "one night in the Dominican Republic (yep...), I walked into the 'boutique' in our resort (it was more like a mall) with a few friends, smelled Dior Hypnotic Poison, and fell in love." But she wasn't going to buy it at the resort, where the prices were undoubtedly overpriced. "I went home, determined to find it on sale, and, thanks to Amazon, I did." Since then, she's bought a few more bottles, noting to me in an e-mail, "I'm actually wearing Hypnotic Poison right now and just bought some at duty free in the airport last week!" Austin jokes, "I got the worst sunburn in the Dominican Republic, but at least I found my favorite perfume."
Nico
Dolce & Gabbana Pour Femme Eau de Parfum Spray, $100, Amazon
"Maybe it's a French thing," writes Nico, "but my Grandmère taught me that you can never spend too much on fine jewelry or beauty products. They're investments after all." Although she's currently trying to use more all-natural beauty products ("Thanks, public health degree!"), there's one item she'll never transition away from. "The most money I've ever spent on a beauty product is my Dolce & Gabbana Pour Femme perfume, which my boyfriend just informed me smells like 'Red Bull vodkas... just not ON you.'" Even though she's willing to splurge on something expensive, it doesn't mean Nico's not looking for a good deal. "It's $91 for the largest size, but I found a gift set at Macy's that included a rollerball and a lotion for about $104 total. Grandmère didn't raise no fool."
Alexa
NARS Pure Radiant Tinted Moisturizer Broad Spectrum, $60, Amazon
"The most expensive thing that I buy is NARS face makeup: tinted moisturizer, bronzer, blush," Alexa tells me, and has a special place in her makeup case for the company's tinted moisturizer, which runs about $43 at Sephora. It's worth it, according to Alexa, because, "NARS is the best quality makeup I've found in my 10 plus year experience," and it works well for her complexion. But her habit becomes slightly more expensive than she'd like because, as Alexa explains, "I always get swindled into buying four more NARS products at Sephora... This is probably why I am a Sephora VIP cardholder, and probably why I need a priority adjustment."
Sarah
Tom's of Maine Long Lasting Deodorant, $7, Amazon
Sarah sent me this picture and accompanying blurb at 11 p.m. on a Thursday night, which I will leave here in its original form: "This is me and some Tom's deodorant (#ifonlyihadaselfiestick), which is definitely the most expensive beauty product I buy, because I am convinced that the few extra bucks I spend on this might make the difference between life and breast cancer." (This is because Tom's of Maine deodorant has no aluminum, and aluminum in deodorant has been linked to breast cancer.)
Final Thoughts
Perfumes and scents were the products most women were willing to splurge on. But splurges don't have to necessarily be totally unaffordable, and I was actually a bit surprised to see that no one had spent more than $100 on any one item. None of these women were willing to spend a ton of money on a product they didn't love, and even if they were willing to splurge a bit, most women tried to find a good deal, either by buying in bulk or looking online. The moral of the story is that if you find a product you truly love and that works for you, it's worth it to spend that extra cash because, chances are, you'll feel great when you use it.
Images: Courtesy Brands; Courtesy Interviewees