When Marriage is Work: 8 Famous Couple Collaborations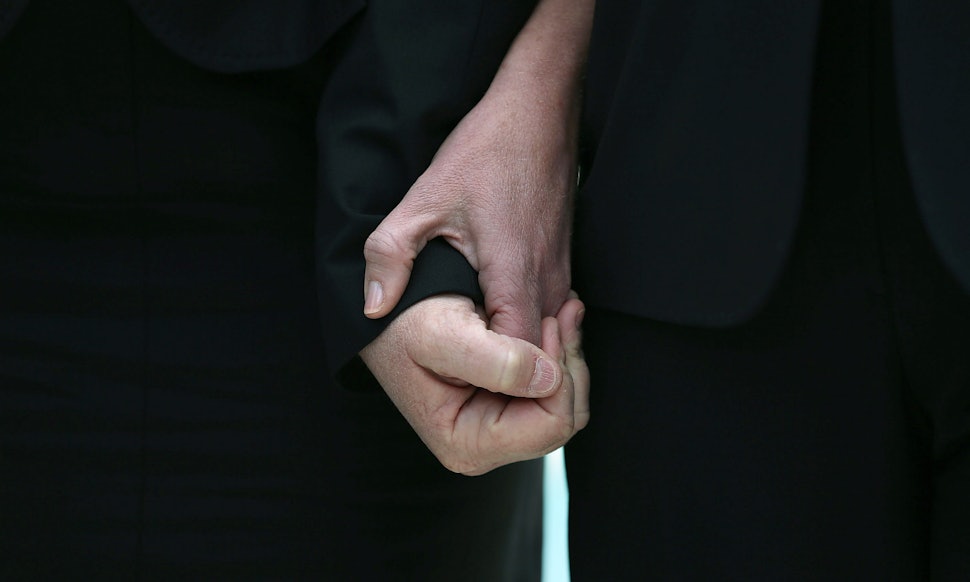 Mark Wilson/Getty Images News/Getty Images
Work-life balance is a major preoccupation of career-minded women. But if your partner is your colleague, maybe it's less of a concern. New York magazine's Justin Davidson profiled four husband-and-wife teams dominating the world of architecture. "The married-partner model has proved powerful," wrote Davidson, "Not because it fosters a homey atmosphere of concord and compromise, but because it allows two loyal but opinionated people, with compatible levels of obsessiveness and drive, to feed off each other's energies." But architects aren't the only professionals who've figured that out. From business to research to art, here are eight successful couples past and present who've gone against the adage, "Don't mix business with pleasure."
Partnerships That Leave the Workplace
Work-life balance is a major preoccupation of career-minded women. But if your partner is your colleague, maybe it's less of a concern. New York magazine's Justin Davidson profiled four husband-and-wife teams dominating the world of architecture. "The married-partner model has proved powerful," wrote Davidson, "Not because it fosters a homey atmosphere of concord and compromise, but because it allows two loyal but opinionated people, with compatible levels of obsessiveness and drive, to feed off each other's energies." But architects aren't the only professionals who've figured that out. From business to research to art, here are eight successful couples past and present who've gone against the adage, "Don't mix business with pleasure."
Artists: Christo and Jeanne-Claude
Together from 1959 until Jeanne-Claude's death in 2009, the pair spent most of their careers collaborating on large-scale environmental and political works of art and multimedia installations. They gained notoriety in 1962 for blocking off a narrow Parisian street with oil barrels in protest of the Berlin Wall, and their last project together involved building more than 7,000 orange gates in Central Park.
Illustrators: Leo and Diane Dillon
After meeting at the Parsons School of Design in 1953, Leo Dillon and Diane Sorber got married after graduation. Over the course of nearly half a century, the pair illustrated dozens of children's books together, two of which were awarded the highest honor for American picture books, the Caldecott Medal.
Anthropologists: John and Jean Comaroff
The Comaroffs, who met while studying anthropology at the University of Cape Town and now work together at Harvard, have co-published prolifically on subjects like apartheid, modern-day witchcraft, and post-colonial societies. BTW: Imagining Jean and John passing each other notes (maybe in bed?) makes it a whole lot more bearable to read papers like "The Limits of Liberalism and the Pragmatics of Difference in the New South Africa."
Criminals: Bonnie and Clyde
Bonnie Elizabeth Parker and Clyde Chestnut Barrow notoriously pooled their, um, talents to commit at least a dozen murders and numerous robberies over the course of a two-year crime spree, before finally being caught and gunned down— together. Their story has inspired music, movies and, most recently, a Broadway show.
Fashion designers: Kate and Andy Spade
Once upon a time, way back in 1993, "Kate Spade" wasn't synonymous with stylish handbags. Andy helped finance his (future) wife's idea for a company specializing in purses, and stayed on to manage branding and advertising while she focused on the artistic side.
Philosophers: Jean-Paul Sartre and Simone de Beauvoir
Two of the greatest minds of the 20th century, Sartre and de Beauvoir had an open relationship for most of their lives. The existentialist philosopher and feminist theorist undoubtedly inspired each other, sharing ideas and editing each other's masterpieces; scholars continue to debate which ideas originated with him, and which with her.
Actors: Anna Paquin and Stephen Moyer
The True Blood co-stars are said to have started dating after filming the show's pilot in 2007. They married in 2010 and still work together on the Emmy-winning drama; Paquin and Moyer have both picked up awards for their portrayal of the show's central human-vampire couple.
Entrepreneurial Chefs: Andy and Rachel Berliner
In 1987, after the birth of a daughter made home cooking impractical, the story goes that the Berliners came up with the idea for a company offering organic vegetarian frozen meals. Amy's Kitchen now employs over 1,600 people and competes with longer-established brands like Lean Cuisine and Uncle Ben's.