Rob Ford Bobbleheads Now For Sale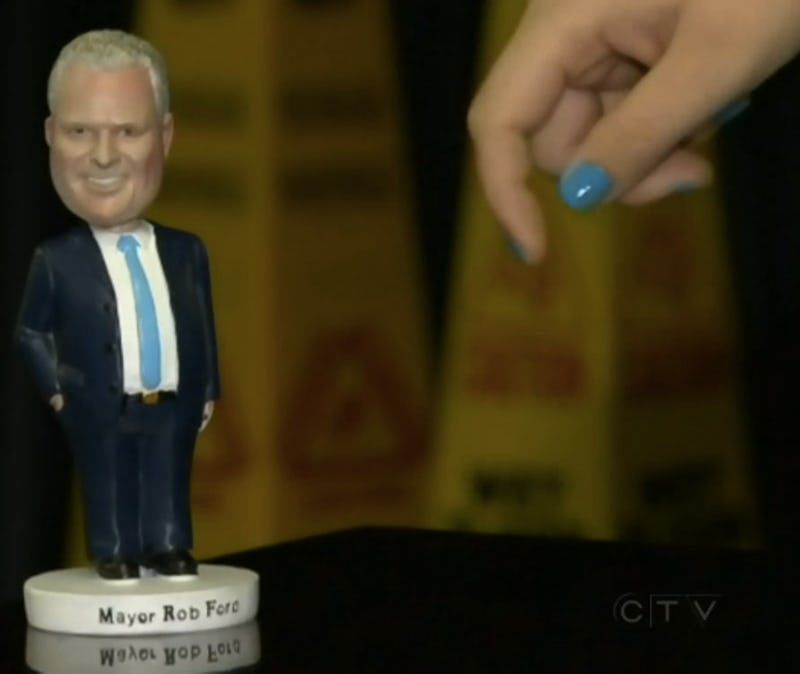 It's been an embarrassing few weeks for Toronto, and Canada's biggest city has had enough: Toronto's city council officially asked mayor Rob Ford Wednesday to please, please take a leave of absence. After a series of incidents, including Ford confessing that he'd used crack cocaine in "drunken stupors" — oh, and that viral tape that saw Ford threaten murder — the city's lawmakers are taking matters into their own hands. According to local media, Ford has ignored all previous calls to "take a break from his job," but drastic times call for drastic measures, huh, Toronto?
Oh, except that Toronto's citizens are still firmly in support of Ford, lining up in droves to purchase bobblehead dolls of the mayor. Right then, Canada.
On Wednesday morning, at Toronto's City Hall, lawmakers debated a motion to request that Ford apologizes for the, um, "incidents," and takes time off the job in order to address his own, er, "issues." Ending in a 41-2 vote, they will now sign a formal petition. Councilman Denzil Minnan-Wong told CBS News that the measure was "for [Ford's] own good, but also for the good of the city," He didn't mince his words: "He's hurt our city's reputation and there's going to be more information that's going to come out that will hurt the city even more."
We dread to think.
But Canadians are nothing if not loyal, and, for reasons unknown, a whole lot of them turned up to support Ford yesterday at a fundraising event. Believe it or not, crowds started to gather as early as 6 a.m. on Tuesday to buy a limited-edition Rob Ford bobblehead doll.
The good people of Toronto purchased this mini version of Ford for $20 apiece, and according to the Mayor all 1,000 bobbleheads were quickly sold. (You really can't make this stuff up.) "The phone's been ringing off the hook. We weren't quite sure how it was going to work out," said Ford. "But, again, I want to thank everybody for coming."
Ford noted that a new shipment will come in in a few weeks' time — don't panic, Canada! — but one pair of the dolls was still posted for sale online, at a going rate of $500. Seriously. Five hundred dollars. Each.
"You think in 2013 this is bizarre?" one bobblehead purchaser apparently said, standing in line. "What isn't bizarre?"
Image: CTV News