What Do Your Skinny Jeans Say About You? A Lot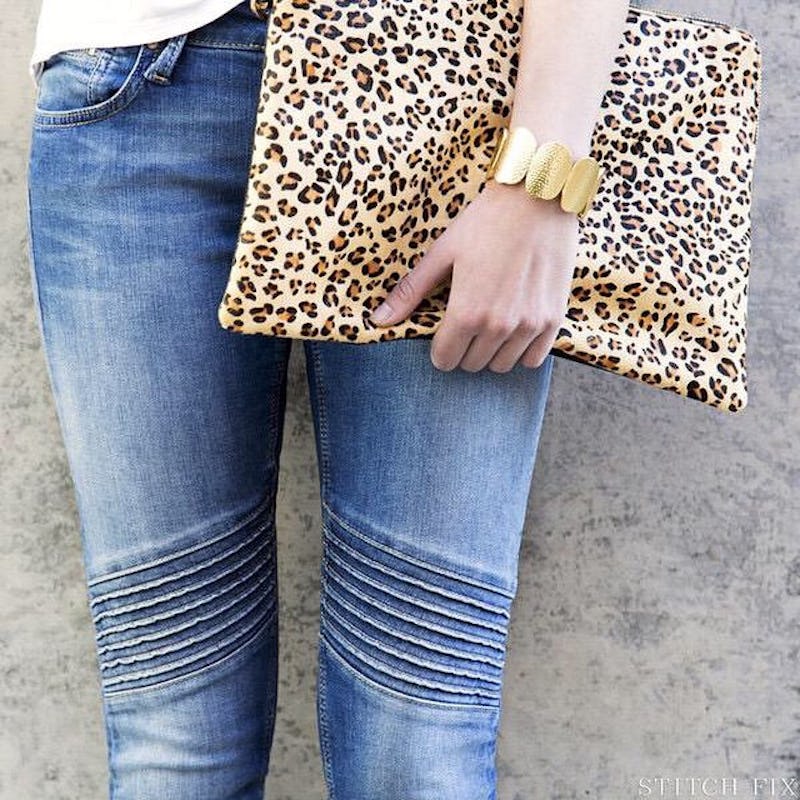 When you pull on your skin-tight skinny jeans and badass black leather jacket for a night out, you're telling the world a lot more than just that you're effortlessly trendy. Turns out that skinny jeans say a lot about you, including your happiness level, your confidence, and even where you prefer to sit on an airplane, according to a new study by Qualtrics.
The study concluded that your tightly wrapped legs indicate that you tend to report nine percent higher levels of happiness compared to your fellow flare jean wearers. Furthermore, those who wear skinny jeans are more likely to choose an aisle seat on planes. My guess is that this is because you need to take more bathroom breaks when your bladder is being tightly compressed by a skin-tight denim contraption. Let's just pause to acknowledge the fact that you're nuts if you wear skinny jeans on a cramped coach flight. There are other options out there, people!
Finally, Qualtrics concluded that those who consider themselves to be "extremely or very confident" are 12 percent more likely to rock those skinnies, which is pretty unsurprising. Everyone should feel comfortable and confident enough to wear skinnies, no matter their body size, shape, or weight, but I'm not shocked that those willing to squeeze into close-fitting denim feel pretty awesome in their own skin.
Although, skinny jeans are not exactly the most comfortable members of the denim family, those babies have the ability to totally streamline an outfit, taking it from casual to sexy, which makes them almost a necessity in every gal's closet. Check out these skinny jean variations that can be rocked by any body type. Who named them skinny jeans, anyway?
Super Tall
If your head is already up in the clouds, try a dreamy, cuffed skinny jean to make you appear more proportional, like this cuffed pant from LC Lauren Conrad.
Super Tiny
If you're itty bitty, try a high-waisted skinny jean in a petite fit. The cut will give the illusion of legs for days!
Plus-Size
ASOS Curve is a savior when it comes to plus-size denim, even skinnies! And the combination of stretch, high-rise cut, and ultra skinny fit in these babies is lovely.
Smaller Bum
If you're lacking in the derriere, contrast stitching has got you covered! Skinnies, like this pair from Paige Denim, make your butt totally twerk-able.
Petite Minnie
J.Crew's famous Toothpick jeans, put the skinny in skinny jeans — perfect for ultra thin bods.
Images: LucyMarieDenim/Instagram; Courtesy Brands