6 Reasons Why Bravo's 'Princesses: Long Island' Is the Darkest Show on Television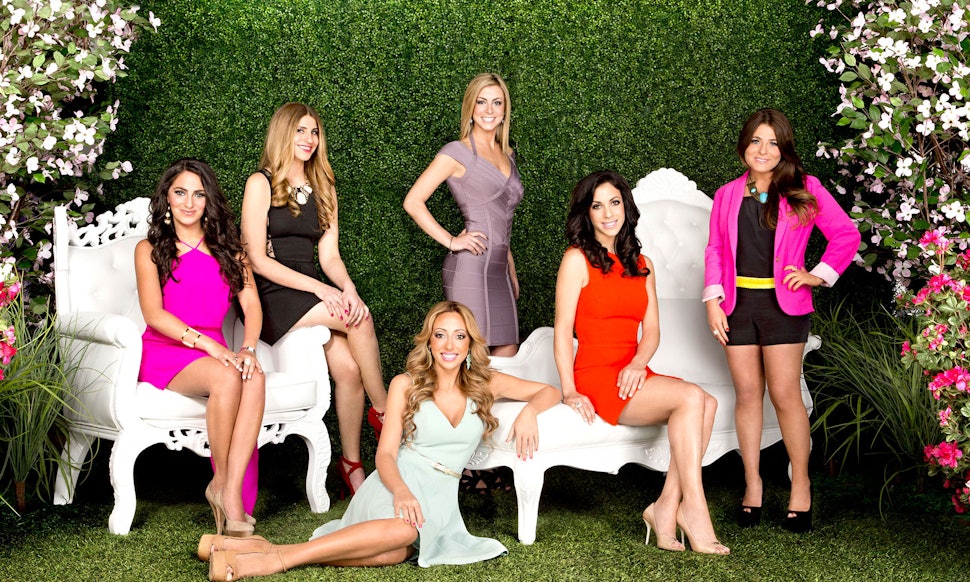 The past decade of reality TV has exposed the private lives of bored housewives, absurdly obnoxious brides-to-be, teenage criminals, and people who obsessively eat plastic on the daily. Maybe it's because I'm a Long Island native and know just how real these princesses are, but I'd argue that these girls are more unsettling even than that guy from My Strange Addiction who sleeps in a crib. Here are 6 reasons why Princesses: Long Island, currently airing on Bravo, is the darkest show on television. [Images: Bravo]
Even More Disturbing Than 'My Strange Addiction,' If That's a Possibility
The past decade of reality TV has exposed the private lives of bored housewives, absurdly obnoxious brides-to-be, teenage criminals, and people who obsessively eat plastic on the daily. Maybe it's because I'm a Long Island native and know just how real these princesses are, but I'd argue that these girls are more unsettling even than that guy from My Strange Addiction who sleeps in a crib. Here are 6 reasons why Princesses: Long Island, currently airing on Bravo, is the darkest show on television. [Images: Bravo]
There Are Daddy Issues Like No One's Ever Seen
In the Princesses pilot, Princess Ashlee and her dad get mani-pedis together. They bond over foot bath scents and he gives her the courage to try a new shade of pink, and then she tells us that the reason she's not married is because she can't find a man like her father. Now, no one's judging this guy for his interest in nail care, but things got a little out of hand when he proceeded to wheel Ashlee over to the salon's manager so she could ask him for a piggy back ride to their car. (Ashlee doesn't walk in flat shoes, you understand.)
Babs Is the Cougar Mom Who Doesn't Quit
I could have handled just the conversation between Amanda and her mother (obviously named Babs) about sharing clothes and living at home forever, but a bathing suit shopping trip that included Babs modeling bikinis for her daughter's boyfriend was just enough to push me over the edge.
Middle Class Homes Make Princesses Cry
On her way to pick up her less than ridiculously wealthy friend, Joey, Ashlee drives past my hometown and has to call her dad for moral support. "I feel really bad for them. I just want to give everybody a hug and then get out." He wisely observes that it sounds like Atlantic City and advises her to lock all her doors.
Real Princesses Don't Masturbate
Fifty Shades of Grey makes Princess Erica want to masturbate, which is inconvenient because 30-year-old maladjusted preteen Ashlee has apparently never heard of girls who masturbate.
When Religious Ceremonies Become Insane Screaming Matches
The only semi-religious Princess decides to take the girls to the Hamptons for a traditional Shabbat Dinner. That means that they pray to find husbands, get drunk, and then fight over each other's high school boyfriends until half of them are crying. "You need to sit at Shabbat. I don't need to break bread with you if you're gonna be a bitch to me."
Self-Congratulations for Sheet Folding
If you haven't picked up on this yet, Ashlee is by far the most worrisome Princess. Shabbat weekend in the Hamptons begins with her calling her mom because there's a stain on her sheets ("When I go to a hotel, I bring my own sheets — unless it's like the Ritz, and amazing, which it usually is), and ends with her calling her Dad for a congratulations on folding her own sheets. These are dark reality days, indeed.