'50 Shades of Grey' Movie Is Out On Valentine's Day: 12 Ways to Prep Your Themed Date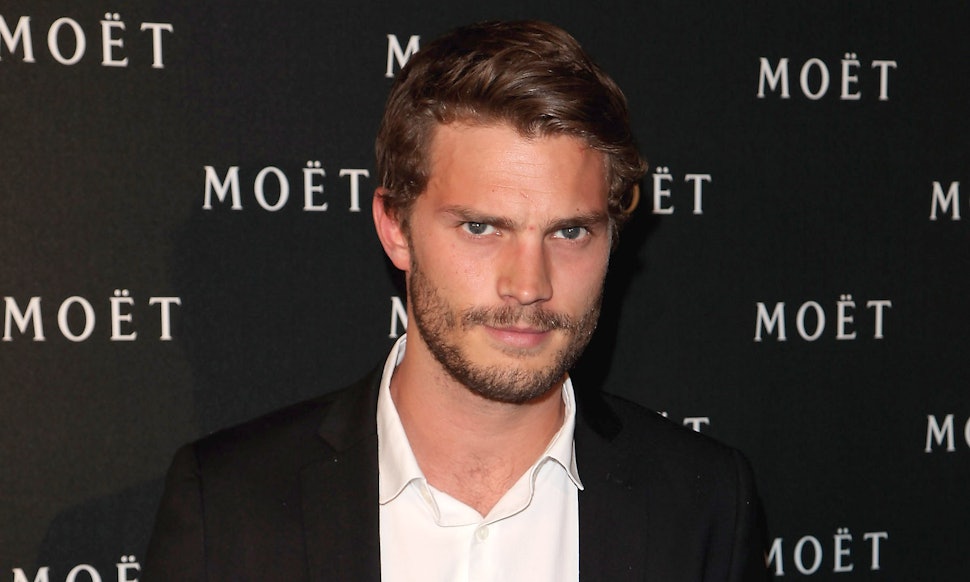 Tim P. Whitby/Getty Images Entertainment/Getty Images
Fans of the world's most famous fan-fiction-turned-bestseller were likely thrilled when the release date for the Fifty Shades of Grey movie, starring Jamie Dornan and Dakota Johnson, dropped on Wednesday morning. This Valentine's Day no one will be alone, because the option to see Christian Grey go all S&M on Anastasia Steele will be at a theater near you.
Of course, a true fan can't just watch the movie, they need to live the movie. So we've found some ways to prepare you for your date with destiny — or a poorly written romance novel-turned-probably-NC-17-movie — whether you're single, or forcing your poor significant other to endure this strange tale of red rooms of pain, borderline-scary emails, and super sexy Caesar salad. There's no time like the present to prepare for the most romantic movie of the year, right?
Get Your Ass in Some Sweatpants
For a book about Subs and Doms, there sure is a lot of talk about sweatpants. When Christian visits Ana, he can't resist "rolling down her sweatpants." Later, the sight of Christian in sweatpants makes Ana go nutty. Clearly, they hold some magical property, so pick up some heather grey Hanes sex pants before your date. You certainly won't regret it.
Throw Out Your Toothbrush
If you're really going to go full Ana, you're going to need to feel the desire to use your partner's toothbrush. "It would be like having him in my mouth. Hmm." Don't you want that kind of intimacy too, you psychopath?
These are Better Than Lingerie
Sure, you could imagine your partner removing your sexy nurse's uniform or fancy lingerie from Le Petit Coquette or you could give him something really sexy: Converse Chuck Taylors. Nothing says, "Let's do it," like removing a pair of goofy sneakers and spying the weird crisscross patter they always leave on the tops of your feet. Excuse me, I'm going to need a moment.
Sample some chocolates
Not because it's Valentine's Day and chocolatiers are practically shoving them down our throats, but so that when your man speaks, you can compare him to whatever chocolate his voice reminds you of — you know, like "chocolate caramel fudge, or something." The more you know.
Get Some Fingerless Gloves For Him
If you're doing this evening right, your partner is eventually going to ask you to suck his thumb ("Suck me, baby" are the immortal words of one Christian Grey). February may be in the dead of winter, but you're going to need to be able to have a look at those digits all night to get in the mood... for thumb sucking, that super sexy thing you totally want to do.
Take Some Salsa Dancing Lessons
So you'll know when your "inner goddess" is doing the meringue, like Ana does during one of her many sexual encounters with Christian. I mean really, how else will you know?
Christian Likes Brunettes, Take Heed
So, if you're really committed to this whole Fifty Shades evening, you'll make sure to look the part. I don't care if it took you all summer to let the sun bring out your natural highlights, Christian wouldn't take "no" for an answer and that's not creepy or disturbing at all.
Image: dno1967b/Flickr
Find the sexiest food you can think of
And if you're thinking like Christian and Ana, that's orange juice and Caesar salad. Ana finds it so sexy when Christian serves her fancy meals — like the glorified mayo and cheese-covered "salad" with fried pieces of bread and the juice that every flight attendant brings passengers at the end of a red-eye. Mmm, sexy.
Image: alishav/Flickr
Think Fancy Food, Then Kick It Up a Notch
After you're whipped into a frenzy by Caesar salad, take it a step further and bring some asparagus to the table. You can nibble on it suggestively, like Ana the first time she realizes she wants to be a Submissive, and your partner definitely won't be thinking about how weird your pee is going to smell.
Sexting is For Weaklings
While sexting is the new mode of operation, Ana and Christian use emails. So read this book as a how-not-to manual. Forget your phone, it's all about incredibly awkward sexual emails sent from one's work account, ladies.
Image: Barnes & Noble/NOOK
Brush Up on Your Vocab
You wouldn't want to be caught saying "Oooh" or "YES" during intercourse, now would you? That would just be embarrassing. Learn from Ana and brush up on your "Holy Cows" and "Holy Craps." If you want to take it a step further, I suggest Season 3 of The Simpsons — imagine how sexy it will be when you surprise him with "Cowabunga, dude!"
Image: Fox
For Comparison
When you get down to business with your partner, you may get a little red from all the spanking. However, you won't know if you've done it just like Ana and Christian until you're "as red as The Communist Manifesto." It's important to get these things right, okay?
Image: Signet Press