Christina Aguilera Performances You Need To See
Lucky is the girl who gets to spend her day perusing the archives of Christina Aguilera's best live performances, and it's even luckier when that girl is me. (Pardon me while I fist pump and scream "woo hoo" at the highest note my voice can reach.) The reasoning, of course, is simple: There's one thing I know to be absolute truth, and that is that Christina Aguilera has the voice of 1000 angels. No one can convince me otherwise. She's one of very few performers who always gives me a major case of chills with nearly every note she sings — plus she's the sole reason I shamelessly listen to Christmas music all year 'round. Seriously, her My Kind Of Christmas album gets just as much play during the balmy days of summer as it does when it's cold outside, and that's not likely to change anytime soon.
As with any successful performer, there are always a crop of naysayers, like the ones who criticize Aguilera for her insane vocals, and try to diminish her talent. To be fair, some of Aguilera's vocal runs can get pretty out of hand, but I'm the first person to admit that, if I had a voice like hers, I wouldn't ever speak — I'd literally sing everything.
Seriously, with live performances like these, I'm not sure why Aguilera even bothers with speaking:
"Hurt"
Yeah, so... don't even bother applying mascara before watching this, because you're gonna be in tears by the end.
"Ain't No Other Man" At The 2006 MTV Movie Awards
Remaining seated proves nearly impossible while watching this performance.
Etta James' "At Last"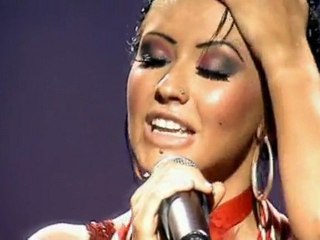 Do yourself a favor and skip ahead to the 2:40 mark in order to witness Aguilera's sheer awesomeness (and hear her unbelievable lung capacity).
"Lady Marmalade" At The 2002 Grammys
Major kudos go to Patti LaBelle for recording this song in the first place — and, of course, to Aguilera, who totally stole the show.
"Say Something" At The 2013 American Music Awards
Aguilera's typically known for raspy and elaborate vocals, but this simple performance still showcased the beauty of her voice.
"Have Yourself A Merry Little Christmas" At Disney's Christmas Parade
Thanks for making me want to decorate a Christmas tree even though I have no idea where to buy one this time of year, Aguilera.
"It's a Man's World" At The 49th Grammy Awards
Aguilera's James Brown tribute starts at the 2:15 mark — and it's every bit of amazing.
"Walk Away" On The David Letterman Show
Amongst the side effects of watching this performance: An instantly runny nose, nonstop ugly crying, and the overwhelming need to curl up in a ball on your bathroom floor.
"Lift Me Up" At Live For Hope Haiti Event
Just so you know, I saved the best for last. Trust me when I say Aguilera's heartfelt performance is absolute perfection.