Will There Be Another Season Of 'Turn'?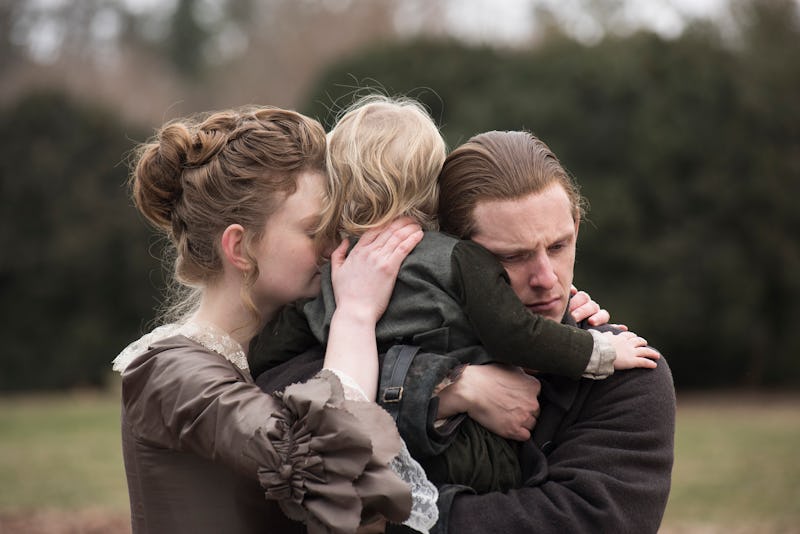 Of all the tough professions in the world, being a spy in Revolutionary War-era America certainly seems like one of the hardest. And yet poor Abraham Woodhull (Jamie Bell), who was once content to be a simple farmer (which is no picnic itself), is willing to leave that behind to become one of the founders of the Culper Ring, a true-to-history spy organization from 1778. In the Season 2 finale of Turn: Washington's Spies, which airs on June 8 on AMC, Abraham Woodhull is off to plan an assassination. However the mission ends, we're going to want to know what happens afterwards. So, will Turn: Washington's Spies get renewed for Season 3, or was this its last turn?
AMC has yet to make an official announcement. But, news should be coming in the next couple of weeks — last year, the network announced that it was bringing back the show for a second season at the end of June. Unfortunately, the ratings this year haven't been as amazing as they were last year. Season 2 has brought in an average of 760,000 viewers per episode, where as Season 1 episodes brought in an average of 1.43 million viewers. So, there's a chance that the Season 2 finale could also be the series finale. But, if you ask me, here are six reasons why AMC should bring it back for Season 3.
1. The War Isn't Over Yet!
I don't know about you, but I'd find a Revolutionary War-themed show that ends before we've formed a more perfect union to be hugely unsatisfying. The Season 2 finale title, "Gunpowder, Treason, and Plot," is a reference to a famous poem about Guy Fawkes Day — a British holiday. Patriotism alone needs to keep this show going until it reaches Independence Day.
2. Jamie Bell's Star Is On The Rise
Since it'd probably be inappropriate to admit I have a huge crush on the former star of Billy Elliot, let's just say I've followed his career closely, and he's stayed under-the-radar for the most part. He's kept to more indie action movies like Snowpierecer, had small roles in blockbusters like King Kong, or stayed off-camera in movies in The Adventures of Tintin. That all changes this summer when he becomes Ben Grimm, aka The Thing, in this year's version of The Fantastic Four. OK, maybe turning into a huge rock monster isn't the same as appearing on camera, but it's still possible for him to convert some comic geeks into Turn fans. It's clobberin'-the-Redcoats time?
3. Spies Are Always Fascinating
At least to me. From The Americans to Spy and James Bond, I'll never get sick of seeing how espionage has changed throughout the ages. Turn is unique in that the spies of the time were not slick, celebrated badasses. "Spies were hated," Jamie Bell told Show Patrol. "To be honorable was to wear a uniform and to fight on the battlefield and engage in the rules of warfare, but to be a spy was actually a cowardly thing to do. You were less than a man if you were a spy." Aww, somebody pour Abe Woodhull a shaken-not-stirred martini — he deserves one.
4. Oh, Yeah, And The History
I like how a lot of shows have recently brought history to life in unique ways. "[This season], we bring in a lot more techniques that they used to pass messages back and forth, and there's also a colonial vehicle which is known as the first submersible on record, which is fun," Bell told AMC about Season 2. So, we can only imagine what a Season 3 would bring in terms of cool historical spy technology.
5. The Ratings Are Steady
Sadly, Turn's ratings aren't as high as they were in the first season, when then show regularly averaged more than a million viewers. But, according to TV Series Finale, the ratings for Season 2 have at least held steady, with an average of 760,000 viewers each week. A dedicated fanbase is hard to find in this attention-span-starved age, so it might be worth it for AMC to keep them happy (and hope they tune into whatever comes on after Turn).
6. It Can Be Marathoned
Ahhh, music to my ears. AMC has made the entire second season of Turn available online until August 7. If people catch up, either before the finale or after it, they're going to want to know what happens next. AMC doesn't want to disappoint, does it?
Images: Antony Platt/AMC; Giphy (5)