7 Ways To Wear Boots In The Summer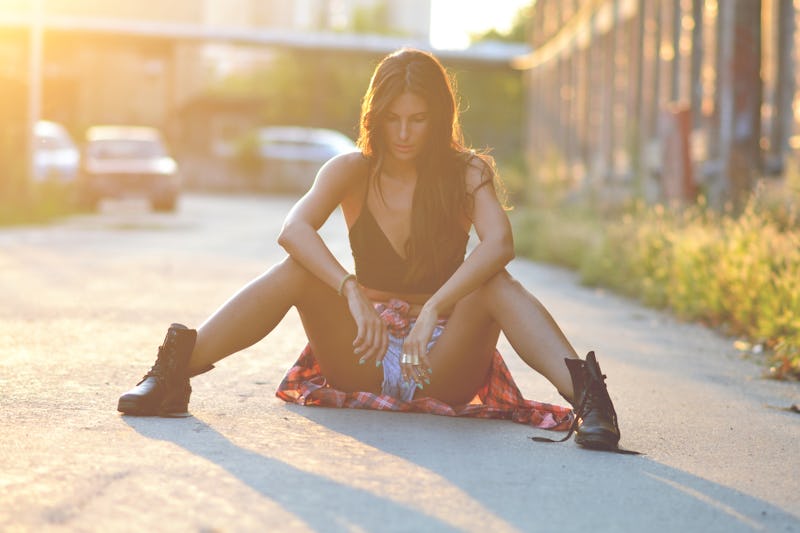 I definitely enjoy wearing my flip-flops and sandals come summertime, but just because fall and winter have passed doesn't me we have to stop wearing our boots in the summer.
There's something about wearing a good pair of boots that makes me feel like I can take on the world. Maybe it's the height they give me. Maybe I feel a sense of power when I wear them. Maybe it's the fact that I don't have to worry about whether or not my toe nails are painted! But whatever the reason, I can't get enough of 'em.
Some may feel a bit of apprehension when wearing boots in the summer — because how can you keep comfortable on hot summer days wearing something designed to keep your footsies extra warm? Well, you certainly won't get the breathing room of your favorite pair of sandals here, but with socks, it's really not that different from wearing tennis shoes, right? Not to mention, you don't have to worry about all that dirt and grime that comes from walking around in open shoes.
If you're afraid of looking out of season, well, there's really no point, because you can do what you want when you want in the world of fashion — and for real, when does a good pair of boots really go out of season?
So for some extra inspiration, here are seven ways I've found that boots look phenomenal in the summer — with plenty of Boho charm to boot. (Pun completely intended.)
From my own closet:
1. Boots With Light Tights
Tights or panty hose are breathable enough in the summer to wear without feeling like you've got bottoms on. Plus, they make an outfit look a little edgier by bringing some attention to your legs. I partnered a pair of tights with a floral romper and added my booties for a fun and "leg-licious" combination.
2. Boots With Flexibility
I love this pair of boots. I've had them for years, and as I often have trouble finding knee-length boots that actually go over my calves, these are a total gem to me. They are made out of a soft, faux-suede material, so they can easily be scrunched down and folded over at the ankle, which creates an entirely different and summer-appropriate look. I paired them with a jersey dress, a wide-brimmed hat, and a vintage scarf for a casual-chic look.
3. Boots With Leggings
Leggings are like your pair of tight's older sister. They aren't as breathable, but their similar tight fit keeps the attention on your legs and shows off your boots more than a long pair of jeans would. I chose to pair these boots with a baggy tank and earth tones you might reserve for autumn — because why not bring a bit of fall into a summer look?
4. Boots With A Dress
I love how this Instagrammer has taken an old pair of boots and given some new life to them with that white flowing dress. Her long bag really adds to the Boho vibe, too. There are endless possibilities with boots and a dress for the summer as well. But I'd say if they are higher boots a shorter dress works best, but a longer dress works well with a pair of booties. I bet you can make any combo work, though.
5. Boots With A Romper
Clearly, matching your bag with your boots helps really bring a summer boot look together. Black leather will never go out of season. I also love the dark sunglasses this fashion 'grammer paired with the outfit in that same vein of pulling the black together with the white romper.
6. Boots With Jeans
These boots are clearly made with summer in mind with that laser cut design, which would add a bit more breathing room for your feet. But either way, I love this look with some skinny jeans rolled up a few times to keep the attention on the ankles and boots. Pretty much any pair of booties would look great styled like this.
7. Boots With Cut Off Shorts
Truly, this look has Americana written all over — and not just because this Instagrammer is in front of an American flag! The cowgirl boots with shorts look is something I initially didn't like when I started seeing it several years ago. I live in the south so the trend is pretty big down here. But it's grown on me, and though I might not wear it myself, I still think it's a great way to get some use out of your boots in the summer.
Images: Fotolia; Christie Drozdowski; ojara_, fashion_swoon, footwear gems, mysweetsavannah/Instagram