Natural Skincare Remedies To Soothe Sunburn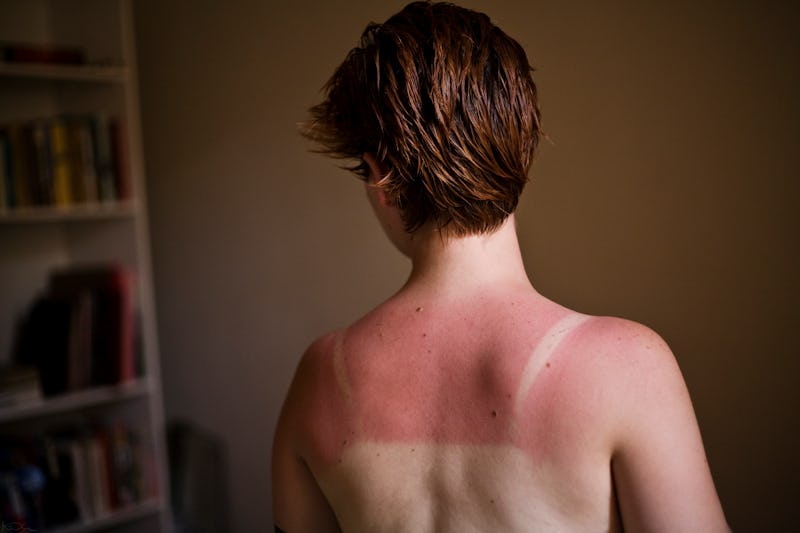 Sunburns are the worst. You go out, spend an incredible day enjoying the sun and everything summer has to offer (thinking your copious layers of sunscreen have you more than covered), only to discover that upon retreating indoors, your nose is Rudolph red, your cheeks and forehead are puffy and sore, and you're seconds away from hopping on your phone to search for ways to heal sunburn. (What did we do before Google? Seriously.) Of course, in days long forgotten, you would have made your way to your pantry or garden, and mixed up a few quick skincare salves or sprays to help expedite your skin's healing process — naturally. And the good news is, you still can!
Clinically speaking, prevention is by far your greatest ally when facing sun damaged skin. Studies now show that even one severe sunburn early in life doubles your melanoma risk later on. And, five or more sunburns at any age have the same effect. So, using broad spectrum sunscreens in combination with good planning is essential. Halting your outdoor activities midday, or at least moving to shaded areas, may actually save your life, even if it feels like it's putting a damper on your fun in the moment. And on days when you know you'll be in unavoidable direct sun, even during peak hours, bring your own shade in the form of a wide brimmed sun hat or parasol.
That being said, life happens, and from time to time, those dreaded burns occur, despite our best intentions. When they do, these natural remedies offer soothing relief, and assist your skin during its rejuvenation process. Plus, if you've got a yen for all things holistic, a good green thumb, or a healthy collection of essential oils at home, you may already have all the necessary ingredients on hand.
Aloe After Sun Relief Spray
Lily of The Desert Aloe Vera Supplement, $10, Amazon
According to holistic esthetician Stephanie Tourles, author of Organic Body Care Recipes , the following blend of essential oils and aloe vera juice boasts both anti-itch and anti-inflammatory properties, and will hydrate skin while it heals from sunburn or windburn. However, remember that with any home remedy, you want to ensure that your utensils and containers are sanitized before you begin.
Ingredients:
1 cup aloe vera juice
20 drops lavender essential oil
10 drops rosemary essential oil
Prep Time: approximately 5 minutes
Blending Tools: spray bottle; shake before each use
Store In: sterilized plastic or spray or spritzer bottle
Yield: approximately 1 cup
Mix ingredients together in spray bottle by shaking vigorously, then spray on skin as often as needed. This spray can be kept for an extended period of time (four to six months) for quick use, but should be refrigerated.
Bragg Organic Raw Apple Cider Vinegar, $7, Amazon
Looking to relieve your seared skin and calm your nerves? Draw up a cool bath and add two cups of apple cider vinegar, then submerge your body and soak for 10-20 minutes. Apple cider vinegar has a pH balancing effect, which promotes healing. If you're not sure which apple cider vinegar to purchase, Bragg is a reliable, organic brand that's well trusted in holistic and natural health communities.
Don't have any apple cider vinegar on hand, and not wanting to purchase your own? Look for some baking soda in the back of your cupboard instead. Most of us have some on hand, and this multi-purpose powder not only contributes to fluffy cookies, but 1/4 cup of baking soda added to a bath has the same pH balancing properties that apple cider vinegar has.
Still no luck? First, you might want to consider replenishing your cabinets, secondly, you can make one last move toward the fridge. If you happen to have natural greek yogurt on hand, that can be applied directly to the skin for the same effect, then rinsed off in a cool shower. It will be chilly, soothing, and balance your skin's pH while reducing some of the swelling caused by the sunburn.
Lavender And Chamomile Hydrosol
Jane Inc. Flower Water Face Mist - Lavender, $15, Amazon
People have been using hydrosols (AKA flower waters) for ages. They are a by-product of creating essential oils, and carry the helpful compounds from plants without being quite as saturated as essential oils (or as irritating, in some cases). Both lavender and chamomile have calming properties that minimize irritation. Lavender in particular works as an antiseptic, and is particularly helpful for sun damaged skin. Plus, they both smell quite lovely. If you're interested in DIY, head on over to joybileefarm.com for a step by step tutorial on making your own hydrosols and essential oils.
Oatmeal Bath
If you happened to have chickenpox as a kid, you'll no doubt have mixed emotions about your memories involving oatmeal baths. They're messy, a little slimy, and very soothing. For the same reasons, oats are great for staving off excessive itching and they're helpful in healing your sunburned skin. Boasting excellent anti-inflammatory properties and some skin lightening properties, oatmeal will help reduce the redness caused by your burn, and gently exfoliate your skin to ease any peeling that may occur.
And, luckily, the recipe for putting this relaxing wonder to work for you is less than extensive. All you need is a nice warm tub of water, oats, a coffee filter or cheese cloth, and something to tie it off with. Begin by running your bath water. Then place the oats within the coffee filter or cheese cloth, folding the outer edges up to create a pouch full of oats. Tie a string or rubber band around the end/edges and toss it into your tub. While you bathe, you can gently squeeze the pouch to release more of the oat compound into your bathwater, giving you the full benefit of the oatmeal's properties, without a clogged pipe! Feel free to add a few lavender flowers to the mix for added healing properties, and a little boost of fragrance.
Images: kevinomara, sweetbeetandgreenbean/Flickr; Courtesy Brands