7 Sweat Resistant Foundations For Hot Weather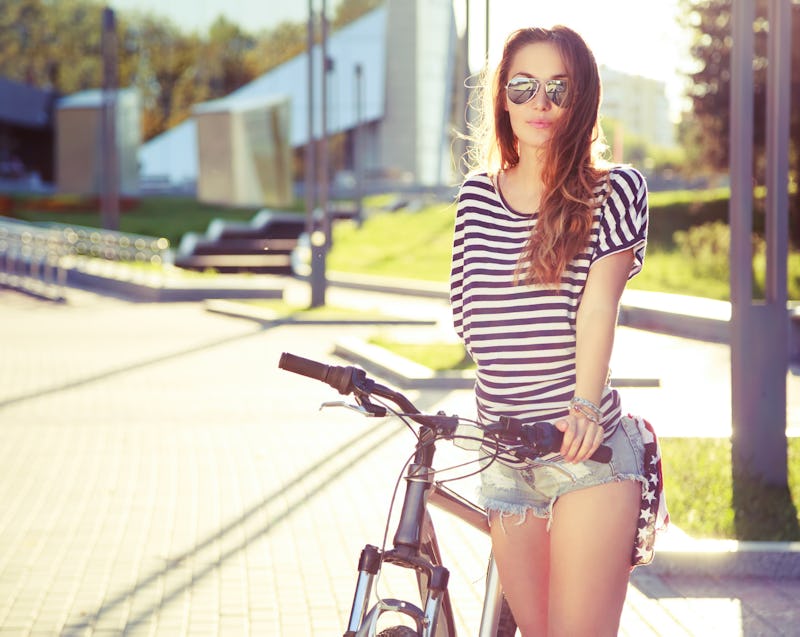 Cheers to the sweatiest days of our lives! Just kidding, but seriously, cheers to sweat proof makeup for women brave enough to attempt wearing a full face of product come summer. After all, it is that time of year when stepping outside for 10 minutes alone results in drenching bodies (it can't just be me!).
Like many women, I try to avoid foundation during the hotter months because having a mud slide on my face is just not my idea of a good time. But sometimes I have to attend events that I know I'll feel more comfortable in with my foundation in tow. This, of course, results in said face looking like a melting popsicle.
During the spring and summer months, your skin will usually be at its oiliest state. This means that your usual face cosmetics will probably not cut it when it comes to your oily pores. You will need a sweat-proof foundation for this hot, humid weather to combat the shine and oil.
Foundation, however, is one of the most difficult makeup products a person can shop for. There are so many brands, shades, and formulas from you to choose from! How do you know which foundation is right for you? Would you rather have a matte face or a dewy face? Do you have oily or dry skin? These are some of the questions that will help determine which foundation is perfect for you.
In the meantime, here are seven products that are water-resistant to help you get through all of the drenching hot days ahead.
NARS 'All Day' Luminous Powder Foundation SPF 24, $48, Sephora
While most beauty lovers are raving about the NARS "All Day" Luminous liquid foundation, I advise you to opt for the powder version of this high-popularized foundation. The powder foundation is lightweight and water proof while providing your skin with great radiance. Also, this foundation includes a dose of sunscreen to protect your face from those UV rays.
Bobbi Brown Skin Foundation Stick, $48, Amazon
This foundation is perfect for the ladies who are always on the go. Bobbi Brown's stick foundation comes in a variety of shades and provides great coverage for hyper-pigmentation. Plus, this foundation contains oil-controlling minerals to combat sweat, water, and humidity. Bobbi Brown definitely gets us when it comes to no sweat makeup tips.
Smashbox Studio Skin 15 Hour Wear Foundation, $45, Amazon
Smashbox definitely did a number with this foundation. Its Studio Skin product is a long wearing, hydrating foundation that has a sweat-proof, transfer-proof, and humidity-proof formula. Ensuring every day will be selfie day this summer.
Clinique Stay-Matte Oil-Free Makeup, $35, Amazon
I have always been a lover of Clinique's facial moisturizer, but this foundation might be taking over my faves list. Clinique's oil-free foundation is perfect for the ladies who love a good, matte finish. This foundation absorbs shine and resists sweat, which is great for those of us who forget their blotting sheets (OK, am I the only person who does this?).
Makeup Forever Mat Velvet + Matifying Foundation, $48, Amazon
This liquid foundation provides the perfect matte coverage while letting your natural glow seep through. Plus, this foundation comes in numerous shades and has a water-resistant coverage.
Estee Lauder "Double Wear" Stay-in-Place Liquid Makeup, $35, Amazon
This is a highly popular foundation and it deserves all the glory. This 15-hour formula will have your face looking flawless all day. It provides a fresh, natural look that lasts through the heat, humidity, and non-stop activity.
MAC Pro Longwear Nourishing Waterproof Foundation, $32, Nordstrom
MAC Cosmetics carries a variety of foundation, but this one is perfect for the sweaty months. It is water-proof while providing 24 hour coverage. Plus, this product can be used as a concealer to spot treat for those who would rather not wear a full face of makeup.
Images: Fotolia; Courtesy Brands