Gretta Monahan Trades Red Carpet For The Aisle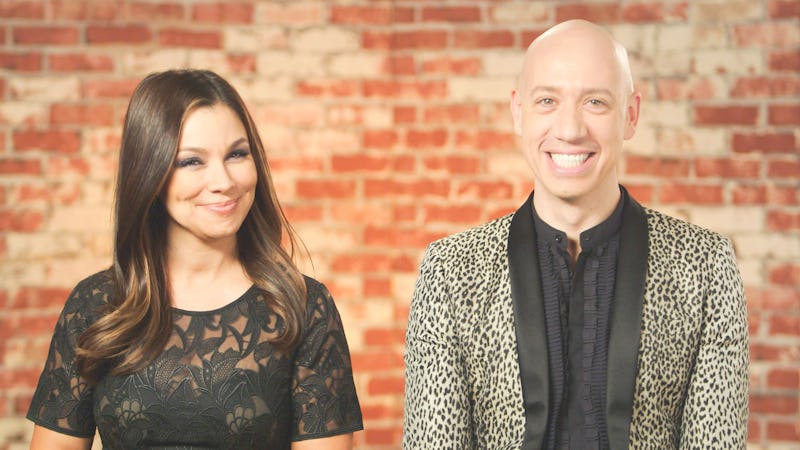 There are wedding-gown-hunting shows, like Say Yes to the Dress. There are fashion makeover shows, like What Not to Wear. Then there are shows that try to do a little of both. David Tutera has My Fair Wedding, and, now TLC is launching a new one, Brides Gone Styled, on June 12. For Brides Gone Styled, a bride with perhaps questionable fashion sense will pick out her favorite wedding gown, and put it up against choices by two celebrity stylists, Gretta Monahan and Robert Verdi. Monahan and Verdi have huge, ivory shoes to step into, following in the footsteps of TV stylists like Tutera or my beloved Randy Fenoli from Say Yes to the Dress. So, who is Brides Gone Styled 's Gretta Monahan, and why should brides trust her?
Before we get to Monahan's credentials, let me say this about the show: I hope Monahan and Verdi will actually take the brides' personalities — the brides this season are going to be a hippie, a tomboy, a goth girl, etc. — into account when choosing dresses for them. The show says they're hoping to pick gowns that will "flatter" their brides, and I hope that means inside and out, and not just picking a dress that matches the platonic ideal of what a bride should be. The best weddings I've been to, the couples have found a way to use typical weddingy things like the gown, decor, venue, and food to express who the are as a couple. You can totally find a hippie/wedding mashup. In the end of the show, the brides get to choose if they like their original dress better than the stylists' choice. We'll see how Monahan and Verdi do. Until then, here's more about Monahan.
She's a Head-to-Toe Fashion Girl
After graduating from FIT, Monahan approached fashion and beauty from all sides. In addition to doing fashion shoots and editorial work, she also became the owner of a boutique, Gretta Luxe; a chain of salons, Gretta Cole; and a spa, G Spa. Basically, if it makes you pretty, she's on it.
She's No Stranger to TV
If Monahan looks familiar, it could be because she was a co-host — excuse me, "fashion accomplice" — on Tim Gunn's Guide to Style. So not only does she have experience righting the paths of wayward fashionistas, she's also done it on-camera. "It's a great perspective to have Tim very much on the design level, being exacting and precise, and me on the practical level," she says in a video interview. "After all, I'm a woman. I really do get the parts that are sensitive." I wonder if Monahan and Verdi will have the same division of labor.
Tim Gunn Isn't Her Only Fan
Monahan also makes frequent appearances on The Rachael Ray Show. In the clip above, she shows audience members how to get two or three days' worth of looks from styling hair once, which, though possibly unhelpful to brides, the lazy beauty maven in me appreciates.
She Wrote The Book
If you like her look, you don't have to be a bride and go on Brides Gone Styled to get Monahan's fashion advice. She wrote the book: Style and the Successful Girl: Transform Your Look, Transform Your Life . Not sure how helpful it'll be for freelance writers who work from home and never need to change out of their PJs (ahem), but it could be helpful for those of you who, you know, interact with the public sometimes.
Her One Piece of Beauty Advice?
"Exfoliation is the most underrated beauty treatment," she told More magazine. "It improves the look of your skin without being invasive." Get out those scratchy scrubbers, ladies.
She's A Mom To Kai
And he's going to be one well dressed little dude.
Image: TLC; grettamonahan/Instagram