How To Keep Your Hair Straight In The Summer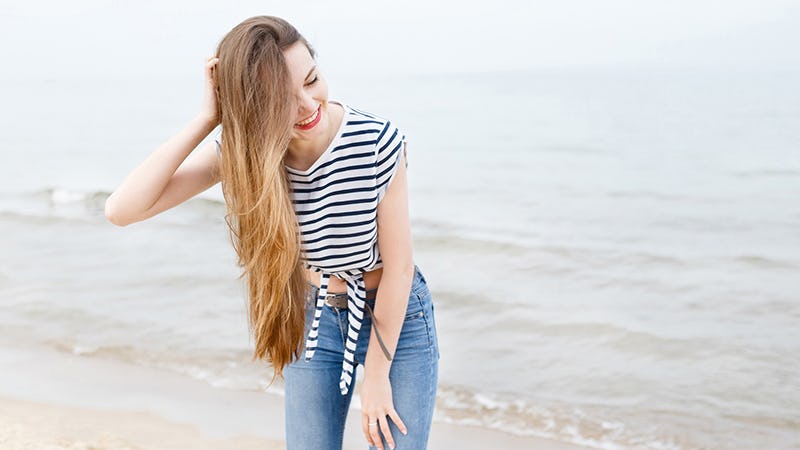 Humidity is the enemy of a good hair day, especially when you're trying to make your hair stay straight. A deliberately mussed coiff with a loose, beachy texture might be improved by the addition of moisture, but a simple straightening iron is no match for 80 percent humidity if your hair has the tendency to frizz at the very suggestion of vapor.
Though the summer forecast for your blowout may seem grim, there is hope for your hair beyond a baseball cap or a slicked-back bun. Thanks to a host of innovative new formulas, there is a hair straightening solution to suit every style regardless of your budget, time constraint, or distaste for destructive chemical ingredients. Type-A personalities with packed schedules and limited funds may wish to indulge in an at-home keratin treatment, while a Brazilian Blowout guarantees lasting results for those with greater financial flexibility. However, if your primary concern is those sporadic occasions on which your locks need to look their best, priming and prepping products are a quick and effective fix. So set down your industrial-size firm hold hairspray and cancel your order for that harsh, chemical-laced infomercial product promising 12 months of straight locks, because your summer of straight, glossy locks begins now.
1. Assess Your Salon Treatment Options
If you're willing to make a commitment financially and have a three hour window available in your schedule, a hair straightening treatment may be the answer to your hair woes. In-salon hair straightening treatments predominantly fall under three primary categories: Keratin Treatments, Thermal Reconditioning Treatments, and Chemical Relaxers. All three options do owe their straightening success to a cocktail of chemicals, so be sure to research your chosen treatment and salon carefully before committing.
The middle ground between a chemical relaxer and a quick once-over from your hair straightener, keratin treatments capitalize on the protein keratin, a component of your hair itself, to gloss strands and coax frizz into submission. By combining keratin and several other components with a flat iron, wavy locks can be melded into a straighter style for up to six months. However, keratin alone does not possess the capability to straighten strands. Powerful chemicals including formaldehyde are combined with keratin to produce the results consumers often see in their hair, but the additive is considered carcinogenic, or cancer-causing, in high doses by The International Agency for Research on Cancer. If you choose to indulge in a keratin treatment, you may wish to find a salon that uses a gentler alternative to formaldehyde in their formula.
A deeper treatment than keratin, thermal reconditioning utilizes chemicals such as thioglycolate to rupture the cystine bond of each hair follicle and subsequently reshaped with a neutralizing formula and a straightening iron. Despite the promise of incredibly straight strands for months on end, the procedure can cost up to $1500 and may cause consumers with fragile strands to fry their locks — or worse, lose their hair. Many consumers are willing to disregard the potential drawbacks in pursuit of impossibly polished locks, but anyone seeking straighter hair should carefully assess the state of their hair and the chemicals used in the treatment before moving forward. According to the International Journal of Trichology, the similarly intensive process of applying chemical relaxers to hair is extraordinarily detrimental to strands, and therefore shouldn't factor into any consumer's hair straightening options — unless supremely fried hair is the look you seek.
Phyto PhytoSpecific PhytoRelaxer Index 2 for Normal, Thick, Resistant Hair, $65, Amazon
The thought of a professional clad in a mad scientist getup to straighten strands may cause some consumers to cringe in terror. Luckily, there are self-administered, at-home alternatives with similar results for those who crave more creative control. In addition to providing a more wallet-friendly option for those on a budget, many at-home systems are also formulated without the potent cocktail of chemicals that pose health risks for adherents to in-salon treatments.
In order to find an at-home solution that is both potent enough to produce results but safe for first-time users, search for multi-step systems that nourish hair with natural ingredients while smoothing unruly locks. According to the Environmental Working Group, lye, ammonium thioglycolate, and formaldehyde, and hydroxide may be detrimental to consumers' health, and should therefore raise red flags when included in the ingredients list of an at-home treatment. While the results seen from at-home treatments will not last the three to six months commonly reported after professional straightening treatments, consumers may experience more polished locks for a month or more.
3. Investigate Daily, Quick-Fix Remedies
Oribe Purse Size Impermeable Anti-Humidity Spray, $41, Amazon
If your commitment phobia stands in the way of a salon or semi-permanent over-the-counter treatment, reach for a low-impact but equally advantageous daily remedy to counter stressed strands. Products such as hair primers, leave-in conditioners, and perfecting top-coats are the perfect quotidian preventative measures to take against heat and humidity.
To keep your daily 'do in place, massage a hair primer into moist, post-shower locks. If your hair is fine in texture and naturally straight, you may only need a dash of primer to tame strands before reaching for your hair dryer; however, those with wavy or curly, thick hair may wish to add a straightening balm for increased smoothing power. After evenly applying your chosen styling products to your hair, rough-dry your hair using a diffuser-capped hair dryer.
When your hair is approximately three-quarters of the way dry, clip your locks into several sections and train your dryer on each individual portion, using a mixed-bristle paddle brush to keep hair taut. Once you have dried each section, mist hair with a flexible-hold hairspray that is designed to withstand humidity. If you still feel as though your locks need further straightening power, run a medium-heat flatiron through each section before spritzing on your hairspray. Outside of finding yourself stuck outside during a surprise summer shower, these three steps should ensure smooth sailing.
Images: ilya_oreshkov/Fotolia; giphy.com (3)