These Sex Scenes Are Too Hilarious To Be Sexy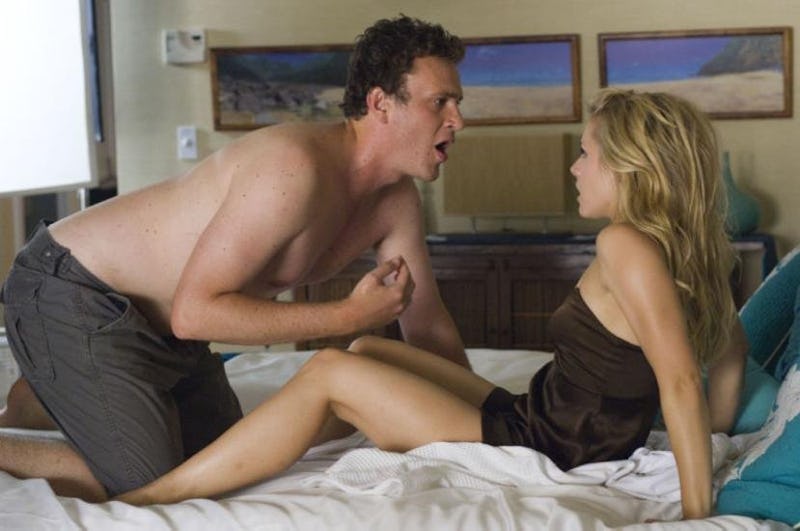 Sure, sex can be pretty... well, sexy. But it never seems to be as sexy as it is in the movies. Sometimes I watch some movie sex scenes and I think, "This isn't what the sex I'm having looks like." With their perfectly scripted dialogue and their perfectly positioned bodies and their perfectly edited music and their perfect damn bodies, it's downright unrealistic! Honestly, I take comfort in the fact that, in reality, sex is more like a comedy of errors, or an arrangement of body parts that sometimes get in the way. That's why I appreciate movies that make sex even more ridiculous than it is in real life. Sure, some of them take it too far and are completely ridiculous, but that's why comedy is so great, right? The truth it always tells is in the absurd. (I mean, who hasn't had some guy suck your face à la Jim Carrey in Dumb and Dumber? No? Just me?)
Anyway. To make us all (I hope) feel better about the bad sex/the no sex we're having, here are nine sex scenes that are too hilarious to be sexy. While these are definitely not safe for work, don't worry about them being too sensitive to watch with even the most timid of friends. There's no chance of anyone getting turned on while watching these sex scenes, that's for sure. (Unless, maybe, they have a thing for the way Carrey kisses in Dumb and Dumber?)
1. Dumb And Dumber (1994)
What girl wants to be kissed like this? Because really... I'm guessing a grand total of zero people.
2. Howard The Duck (1986)
Sex with an animatronic duck is definitely not sexy. It's also definitely enough to mess you up for life.
3. American Pie (1999)
Male strip tease + premature... ahem... satisfaction is the opposite of sexy.
5. Forgetting Sarah Marshall (2008)
I'm usually a fan of full frontal dude nudity, but knowing that a break up was looming made this sex scene too sad to be sexy.
6. Bridesmaids (2011)
Who knew sex with Jon Hamm could be anything but hot?
7. MacGruber (2010)
No one needs to hear those sounds.
7. Austin Powers: International Man Of Mystery (1997)
For me, it's the teeth — but all of the frolicking and rotating on the bed could be the thing that makes the sex scenes in this movie too funny to be sexy.
8. Naked Gun: From The Files Of Police Squad (1988)
At least they were promoting safe sex?
9. Anchorman: The Legend Of Ron Burgundy (2004)
Time to go to pleasure town, people.
Who says that sex always sells?
Image: Universal Pictures; Giphy (9)